On our Great British road trip we've stayed at numerous hostels. Some big, some small, some tiny.  On average the smaller ones are usually the best value for money but this isn't always the case.  We recently had the chance to check out the YHA in Oxford for 3 nights thanks to Hostelworld.  It's definitely a big hostel with a prime location too.
I've long said accommodation has to do just two things.  Give you a good nights sleep and make you feel welcome.  I was prepared for a lack of both these things for some reason. Big hostels haven't always been the kindest to us in our trip.  But I was to be surprised.
Staying at the YHA Oxford
We parked up at Oxford's handy 'park and ride' car park.  A mile from the hostel but an easy 15 minute walk or of course just a cheap bus ride away.  The distance is worth it if you're driving as the parking was just £1.50 a day.  A miracle for city parking.  We've paid up to £18 a day in some cities we've visited.  If you're visiting Oxford by train or bus the location couldn't be better.  Right next to the station and a very easy walk to the centre of town where you'll find lots to do.
Entering the hostel we were greeted by the friendly staff and probably one of the best lobby areas I've seen in a hostel.  Lots of comfy seats and sofas, a real cafe feel with food and drinks on sale too, music playing in the background and warm soft lighting.   All very relaxing and pleasant.  Better than some hotels that cost twice as much.
Hostel bedroom
We were given key cards to our room with no deposit which is good.  The door to the stairs is secure too.  There's no lift to help us with our bags but there's only two floors anyway.  Our room was at the end of a short corridor.  One that was quiet and contained just a handful of rooms. So very little noise from the hallway.  Our private room was small but had everything we needed. The door just swang past part of the bed and with bags was a bit of hassle to get in and out.  But once we were in it was fine.  We had a double bed with a single bunk above it.  An interesting design which is handy for families on a budget.  We had our own bathroom with hot shower, a small flat screen tv and even bed side lamps for nighttime reading.  Small but cosy and inviting.  Our room overlooked the train station and we could sometimes hear the announcements on the platforms although only very quietly thanks to two layers of windows.  We also occasionally felt the rumble of trains too but neither the noise or vibrations ever woke us up.
Hostel features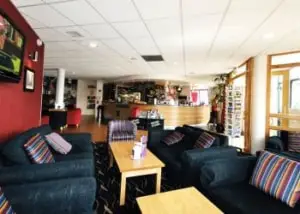 The features in this hostel seemed to be proportional to the amount of guests at peak season and how much they're likely to use them.  The boathouse restaurant was big and had a decent menu.  Open in the evenings and the place for one of the best breakfasts I've seen at a hostel.  Full fry up and lots of other options like fruit, yogurt, prunes, toast, cereal, juices, teas and coffees.
The self-catering kitchen had 3 sets of everything including ovens.  Lots of well stocked cupboards and enough space for the usual ballet dance of multiple people trying to cook meals.  We could use the boathouse dining tables to eat at so there's plenty of room once your meal is ready.  The games room had a pool table and some comfy sofas to watch the giant TV too but we preferred the coffee-shop ambiance of the lobby area where we could check our emails and relax.
Of course no hostel is perfect.  Nearby parking would have been handy rather than a mile away.  Our room just had enough room to open the front door so a little extra space for bags would be useful. Other than that I really can't fault the place. It was big enough to be useful but cosy enough to have atmosphere and promote conversations with fellow guests.
Exploring Oxford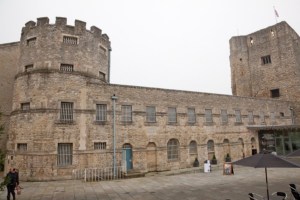 Oxford has long been a place very fond to me.  I was born here in and my grandparents lived here for much of their lives so I've visited parts of the city numerous times.  It's sad to say I've actually rarely visited the centre of the city as I was usually just here to see relatives.  Oxford is a wonderfully walkable city and its centre was just 5 minutes from the hostel.  We walked around the former Prison of the Oxford Castle.  Now a museum and luxury hotel too.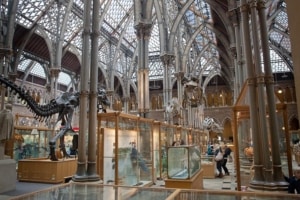 Pitt Rivers museum of biology is a great place to visit with a huge collection including some very famous ones.  It's like something from the movie "A night at the museum" and the building alone is worth checking out.  My favourite exhibit is the shrunken heads, I remember seeing those as a child and its great to see they're still there.
There are of course many university colleges to explore, most of which you're free to walk around the grounds when they're open.  The alleyways and streets are filled with wonderful cafes and pubs, usually full of students too so the atmosphere is always lively here.  There are plenty of good walking tours in many languages, often done by students in their spare time.
With the stunning architecture outside and the cosy pubs it's a city that welcomes you with open arms.  After all many of its central inhabitants are a transient crowd from all over the world.  So it's naturally a very liberal place.
All in all we had a great time in Oxford, made all the better by a good nights sleep and a great hostel to hang out in.  Proving that big hostels can be good hostels.   Our thanks to the YHA Oxford for their hospitality and for sponsoring our stay along with HostelWorld.com and thanks for their support on our Great British Road Trip.