There are some weird and wonderful festivals and parades in the world. Once such oddity is "The burning of the clocks" which takes place every year in Brighton, England. The festival takes place on the winter solstice, the point at which the nights are at their longest and daylight is in short supply. Started in 1993, this is a new tradition rather than any ancient festival, pagan or otherwise. It's growing popularity within the town has ensured it continues and hopefully will do for many years to come.
The parade involves many local school children and adults who create lanterns from cane and tissue paper, often in the shape of clocks. There's usually also dragons, mythical monsters, aliens and goblins. With each year they get more ornate and more impressive in size too. The parade also plays host to a number of local samba bands which are a growing fashion in this town. They seem to be part of a lot of parades in Brighton now and a welcome addition to liven up the atmosphere with music and dancing.
Starting at the famous Royal Pavilion gardens in Brighton, the parade marches through the busy streets and along the sea front, past the Brighton Pier and down to an area along the beach known as Madeira drive. Thousands of people congregate here to watch the parade arrive.
The climax of the Burning of the clocks festival is the collection of the amazingly crafted lanterns in to large containers which are wheeled out on to the beach to a large cage adorned with more clock shaped lanterns. This process can take some time as each year there seems to be more and more lanterns! It must have taken days to create some of the amazing lantern structures, but after a few pyrotechnics the entire mountain of lanterns is set alight and burns ferociously for 2 minutes max.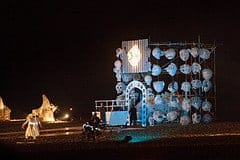 The crowd cheer and celebrate the last day of long winter nights and the dawn of shorter nights ahead. Fireworks explode in the sky above the burning pile to extend what would otherwise be a very quick burning. Tissue paper tends to ignite quickly and burn out in seconds!
The burning of the clocks is now a firm fixture on Brighton's social calendar. A chance to take part in a relatively new tradition.
For more information check out the burning of the clocks website and the wikipedia page.