If you've ever embarked on an independent travel adventure in any country you'll know that often the first type of transport you'll encounter is a taxi. In fact this first journey can often shape your perception of a new destination and set impressions that can last the entire trip. Speaking to fellow travel bloggers I know a common complaint is the hit-and-miss affair with taxi cabs and independent transport options on the whole. So you'll not be surprised to learn that I'm always looking for better ways to improve journeys when I'm travelling and to keep both my budget on track and the quality of my travel experience high! I was recently asked to review one such online service in Brazil that aims to do just that. Offering a reliable taxi service, easy booking and affordable options too. Called oCab it highlights a growing trend in online-only private taxi companies that are competing directly with the traditional (and often unreliable) taxi services as well as other online competitors like Uber. The difference here is the quality of service and both reliability and accountability. Something that competitors always suffer with. Based in Rio de Janeiro but currently expanding to other major Brazilian cities, I put oCab's online service to the test. Here's my in depth oCab review.
My oCab review
Their website is very modern and bright with a clear message and plenty of information on their services. I spent a good while just reading through their "About" pages to find out exactly how their service worked and plenty of information on the vehicles they use. Its always good to see transparency and honesty to build confidence in the company. When booking cabs from thousands of miles away that can have such an impact on the start of your travels, this information is invaluable. I felt confident that these guys would do a good job or at the very least would be easily accountable for any issues and able to sort any problems.
It's worth noting the waiting times and extra fees especially if you're flying in to their main city or Rio de Janeiro. Your flight could easily be delayed so its important to know how long your private cab will wait for you and what extra costs may be incurred if you are running late. Lets face it most flights run a little late or if they are on time you can be delayed at border control or even the baggage reclaim. The good thing about this service is you can include your flight details with your booking and usually you wont be charged anything for delays as the driver can keep an eye on your arrival and be there at the appropriate time. If for some reason that's not the case then the first 20 minutes waiting is free, after that its $0.70 per minute which could soon add up. So definitely worth planning ahead properly and having your flight details ready when you book.
Using the booking service online
Making a booking online is done via a large Google map and easy to use form that collects all the information they need for the booking. Unfortunately the site doesn't work too well in either Apple's Safari browser or Internet Explorer. When using these browsers a message pops up that translates to "This site is not supported by Internet Explorer and Safari and can suffer malfunctions. We advise you to perfect navigation using Google Chrome or Mozilla Firefox". Not the greatest thing to read when you want to book. Thankfully I was using Google's Chrome browser which could translate the Portuguese in to English for me.The site does offer English, French and native Portuguese but it seems not all messages have been translated yet. Hopefully they will in the near future.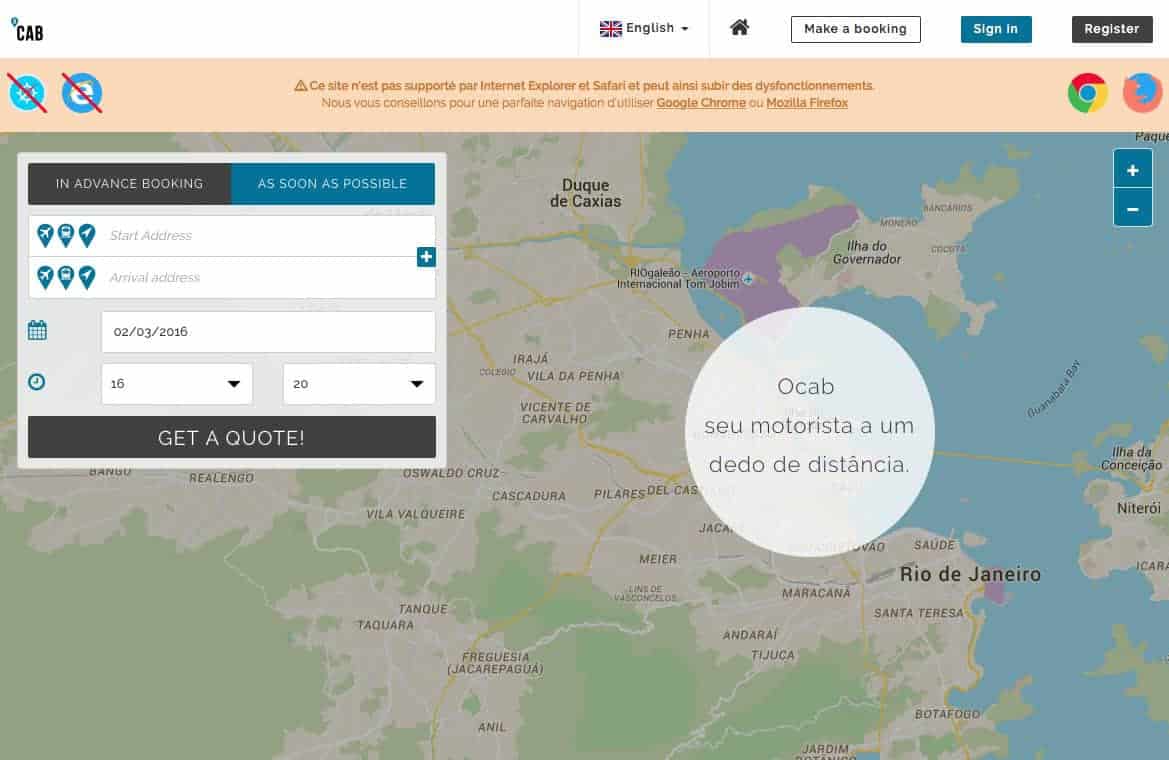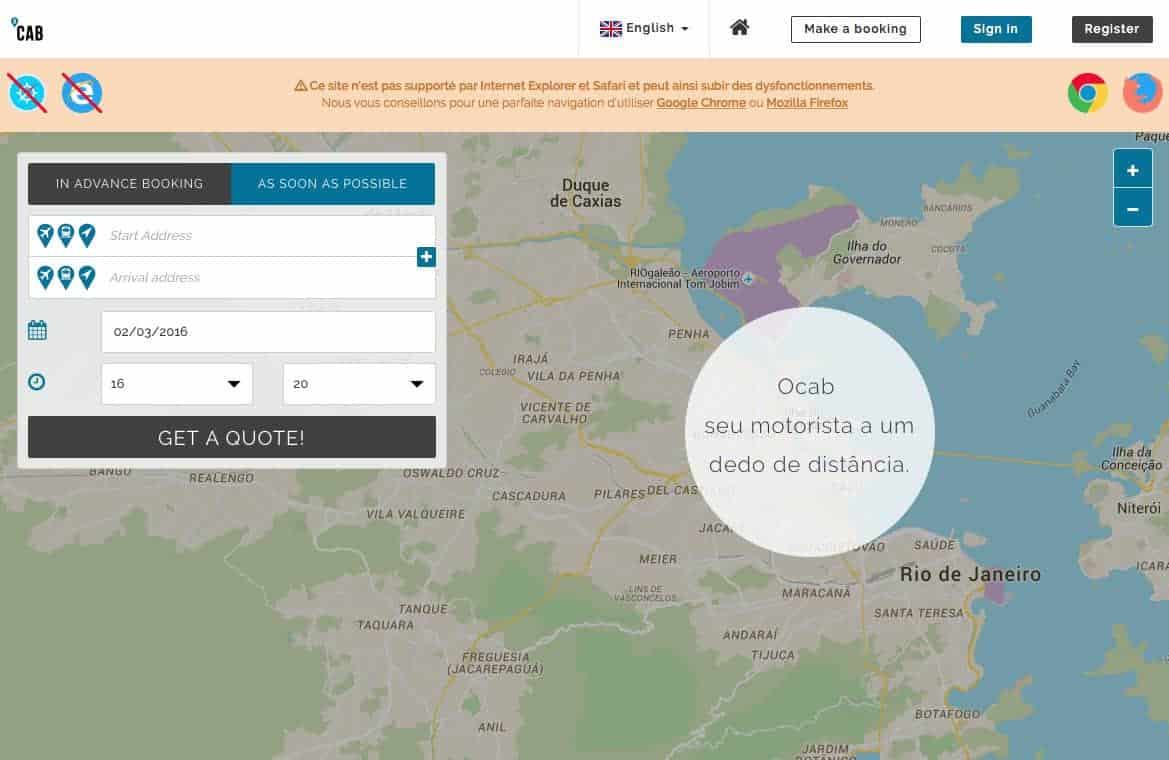 The map updates in real time as you enter the details of your booking. I found this to be both useful, especially for browsing around the city of Rio, but also a little frustrating when I discovered I couldn't use the map to "pin drop" where I wanted to go. If for example you wish to be picked up at the airport and dropped off somewhere along the Copacabana you can't drop a pin at the beach and automatically get the nearest address. You have to specify the exact address you want to go to in the form. I'm sure most of you will have the address of your hotel, restaurant or apartment handy before you make the booking but still it would be a nice feature.
Also worth mentioning you will need an exact address. When I typed in "Ipanema" a number of suggestions were given but clicking on any of them just displayed a message saying "Please give a precise address arrival". So make sure you're armed with precisely the location you want to go to. I'm sure this wont be a problem for many but it did take me few moments to get used to their search system.
Airport pickup and hotel drop off
So lets say I'm flying in to Rio's Galeão International Airport from London and I'm staying at the Windsor Excelsior Hotel in Copacabana. Booking the cab from an airport is made easy by the handy icons next to the search boxes. Just click on the plane icon and you're given a list of Rio's main airports. Galeão or GIG is first on the list and I'm prompted to enter my flight details. I'm flying in on BA249 so I entered those details and very impressively I'm given all the info on my flight time, estimated arrival and advice on what time to book my cab. I really like this feature as it gives me confidence that oCab and its staff are aware of my flight details and based on their experience with this local airport can help me book my cab. There's a handy "Book a ride how long after landing?" drop down menu where I selected 35 minutes just to be on the safe side. That gives me some 55 minutes after landing before the cab starts costing me money for waiting. You don't have to enter flight details if you prefer not to (or you're just using the airport as a starting point without flying).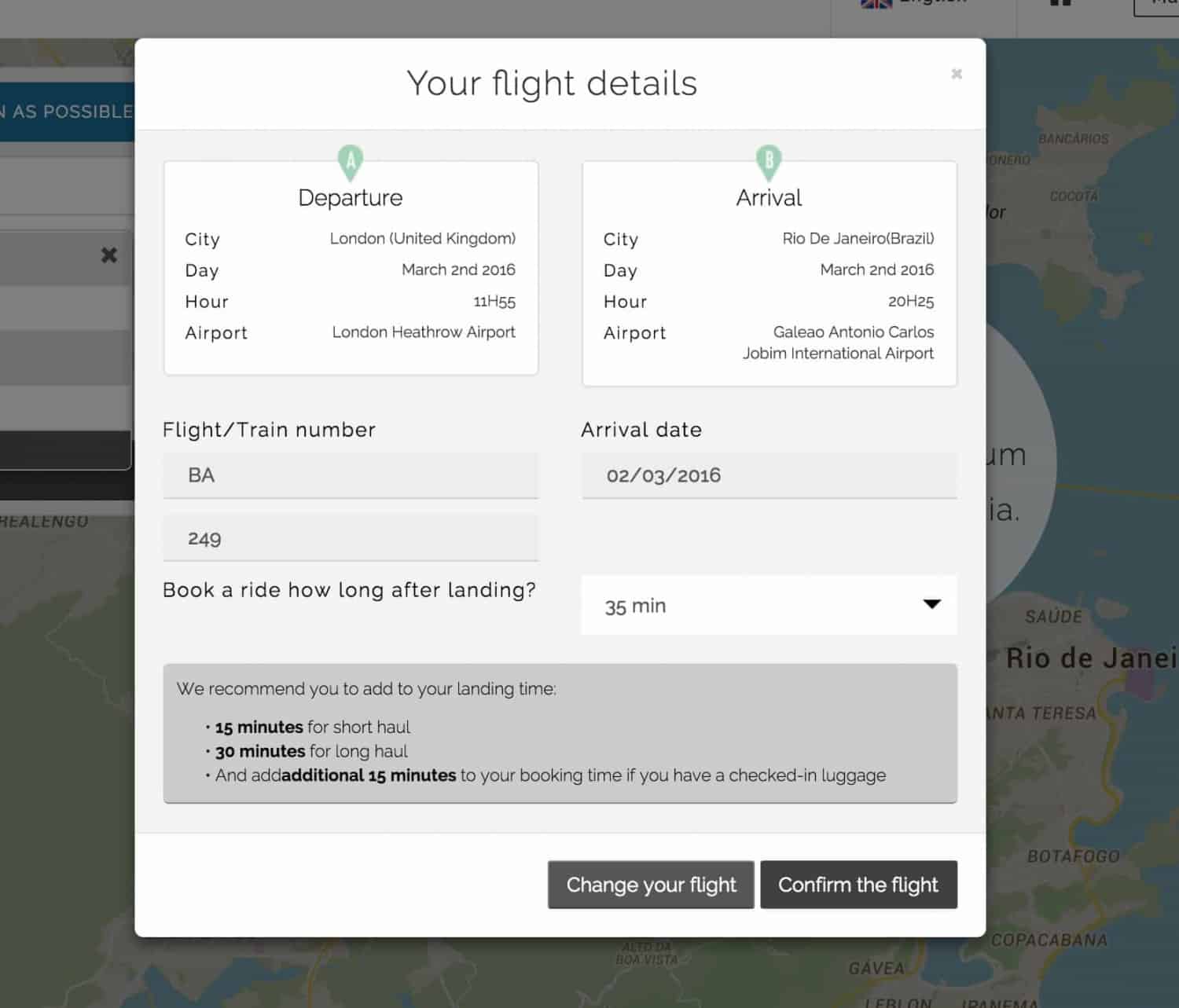 Once the pickup point is confirmed its on to the destination. The map updates to highlight this and prompted me to enter the exact address of the hotel. I was worried the address I had may not be exact enough but thankfully it was and a big black pin is dropped on to the map. It also shows me the suggested route although I should point out this is merely Google maps giving its preferred route, local drivers know the streets much better than a search engine so you may find your journey is shorter and easier than the map might suggest.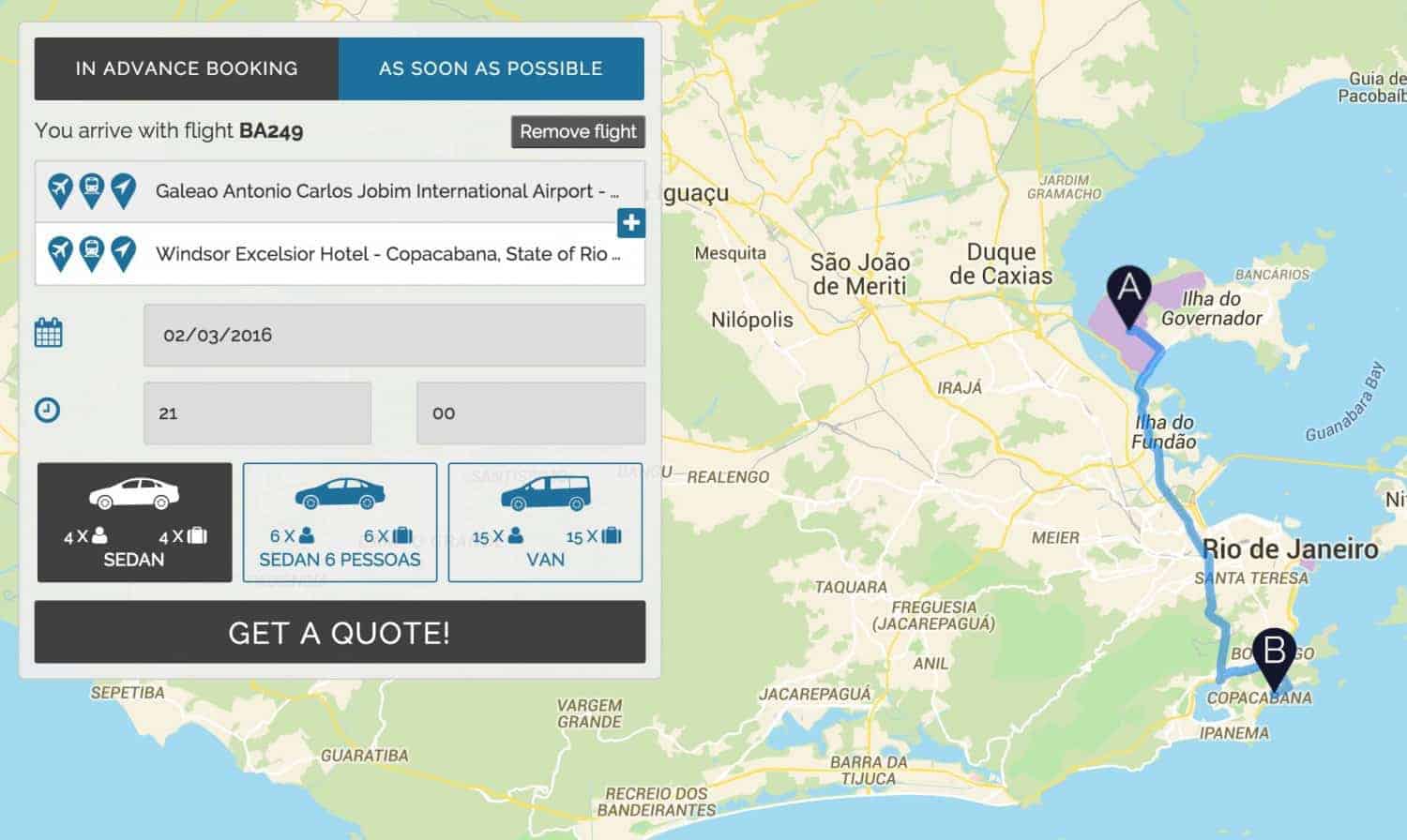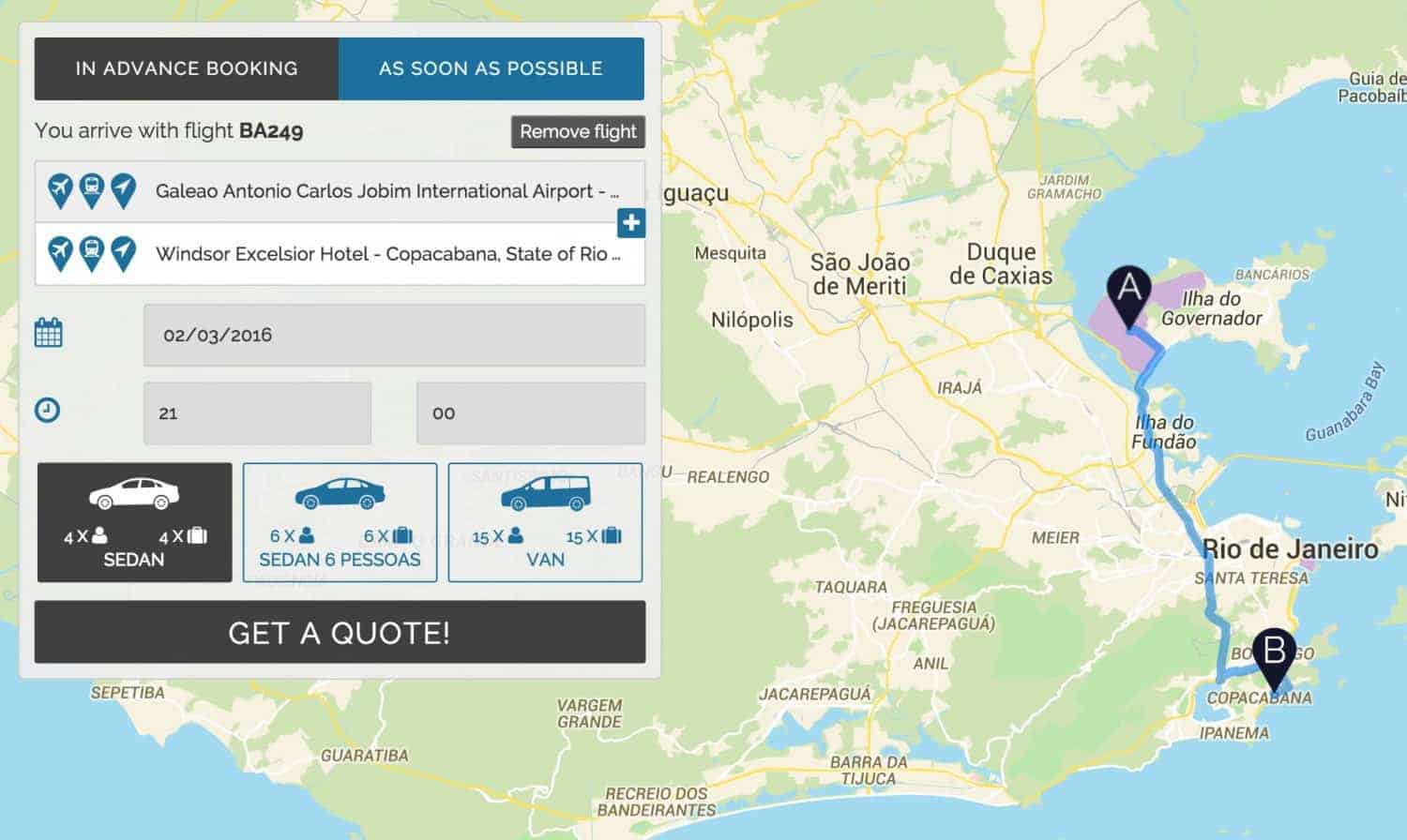 You can now set a date and time for your journey, if you've already entered flight details the information is copied here so you can quickly move on to vehicle type. There's three simple choices here, regular Sedan that can fit 4 people and luggage, a 6 seater "people carrier" or a minivan that can accommodate 15. In my experience its not the people that are the issue when picking a vehicle size, its the amount of luggage you bring so pick your vehicle carefully. A regular Sedan can only really carry 4 people if all 4 have medium sized luggage and small carry-on bags. For anything more I highly recommend you book a vehicle with more space as you'll soon fill it. If there's 6 of you with large suitcases and plenty of carry-on then book the minivan. Don't start your travel adventure crammed in to an undersized vehicle or be disappointed at the airport when you find the car you booked can't fit your luggage in.
Time to pay
The next step is paying for your booking. I know to some it may seem unusual to pay for a taxi before you've completed your journey but this is fast becoming the norm with online services and I much prefer it as you know exactly what you're paying, you don't have to deal with tips or paying in local currency when you arrive. It makes the whole service a lot easier and I like to know exactly what I'm getting before it begins. The payment process is painless and I liked the way the information is summarised, even giving you a journey duration and estimated time of arrival. You can easily modify your journey here if needs be.
In order to use their cab service you have to register which may surprise some people. The reason here is that while the cab service is accountable for their side of the business arrangement, your participation in the booking is something you are accountable for. Your information is kept securely and it also offers more functionality to you like favourite addresses, booking history and passenger names. You can also add credit card details for super quick bookings. Very handy if you use this service regularly or have multiple journeys during your stay.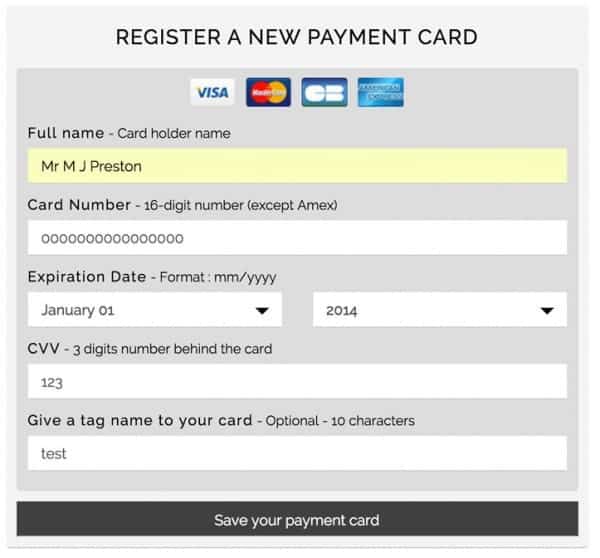 One major drawback to the registration process is that I was taken away from my booking and made to register and log in, when this was done I clicked on my account details and my yet-to-be-completed booking had disappeared! I had to re-enter all my details which was frustrating. It didn't take me much time but I do wonder why this happened. If you're already logged in this doesn't happen so it might be worth registering first to save a little time.
Once your card details are accepted you can confirm your booking and you'll be emailed full details for reference. Its always worth printing these out in case there's any issues when you arrive.
Conclusion
On the whole my oCab review found the service very easy to book and despite a couple of stumbles along the way I felt very confident they could deliver on the promises their website makes. In fact you can even review your journey on the site and give feedback to help ensure future journeys go without a hitch. The peace of mind you get from knowing the first journey of your exciting holiday is all taken care of really makes all the difference. Their prices are reasonable, especially if you're sharing with family or friends.
Mobile app
They do have a native iPhone and Android app but only in Portuguese at the time of writing. If you're going to Brazil I highly recommend brushing up on the local language!
The oCab review was sponsored by oCab, all opinions are my own and the review was conducted independently by Matt Preston for Travel With A Mate.