Its been 5 long years since I last skied and a whopping 17 year gap before that. I've always loved the feeling of skiing but for some reason have never considered it essential for a winter getaway. When I was asked to take a trip to Austria with the "Ski Again" campaign I was unsure just what my abilities would be like. I could barely remember the basics, would I recover some of my former skiing skills and find a new passion for ski holidays? Only one way to find out!
Alpbach, Austria
My destination, Alpbach in the Austrian alps, just an hour from Innsbruck which has plenty of flights from all major UK airports and a few smaller ones too. Its one of the most scenic landings you'll ever experience as you glide down between the snow capped mountain peaks. It gets no less scenic once you're on the ground either, my drive through the valley and ascent to Alpbach was beautiful with fresh snow clinging to the trees all around. There's a definite sense of winter wonderland here, something we could neither emulate nor cope with in England. Alpbach is a small rural village that is regularly voted the most beautiful in Austria and its easy to see why. Traditional Tyrolean style buildings with barely a hint of modern architecture, plenty of hotels and restuarants to keep tourists well looked after too. A perfect winter village.
I barely had time to check-in to the hotel before being whisked off to hire some skis, boots, poles and helmet to keep me safe. The anticipation was certainly building and within a couple of hours after my arrival I found myself heading up the mountain with my private ski-shool instructor Max. I had no idea if any of my previous skiing experiences all those years ago would be of any help to me now. With skis firmly secured to my boots and poles in hand I gingerly followed Max as we took a simple shallow run, turning a few times at steady speed. It almost felt like magic when I found myself (fairly) in control and with a broad smile on my face felt it coming back to me. That wonderful feeling of gliding over soft snow leaning from left to right, performing rather rusty parallel turns. Skiing is very much like riding a bike although clearly I still had a lot to learn.
My Ski instructor
There was no time to waste, Max was quick to point out the many ways in which I was going wrong and rather than take it easy on my first day he set to work challenging me with maneuvers and runs I would never have even contemplated without an instructor. Indeed the last time I skied in 2011 I had no instructor so learnt nothing to improve my rather basic skills.
Max never took it easy on me with a relentless 2 hour session on my first day, I fell over 4 times and clearly had to improve my balance if I was to become a better skier. Max was the guy to make it so! He was very good at reading what I may be capable of and pushing me right to the limit all the time. This did wonders for my confidence as with each exercise we attempted I felt a great sense of satisfaction. We even repeated some of the harder exercises later in the session to see just how my balance had improved. This is something only an instructor can give you when skiing. That pragmatic approach to improving and guidance to build up confidence.
Day 2 on the slopes
After a quiet night at my hotel enjoying Schnitzel and local beers, day 2 would be fun but intense 4 hours of challenging skiing, first to Alpbachtal Wildschönau, a modern and very accessible ski lift up the mountain that overlooks the village. The weather was perfect with decent snow on the ground and not a cloud in the sky. Sun cream is a must when skiing as the UV rays come at you from all directions thanks to the snow. We headed straight for the red runs and worked tirelessly on my rather dodgy parallel turn technique. While the workout was tough it was so satisfying to feel improvements with every exercise we did and every slope we tackled. I could feel noticeable improvements in my abilities and the more we skied the more confidence I had to tackle harder runs. I always judge a day by how many falls you have and today was just 2. Much better!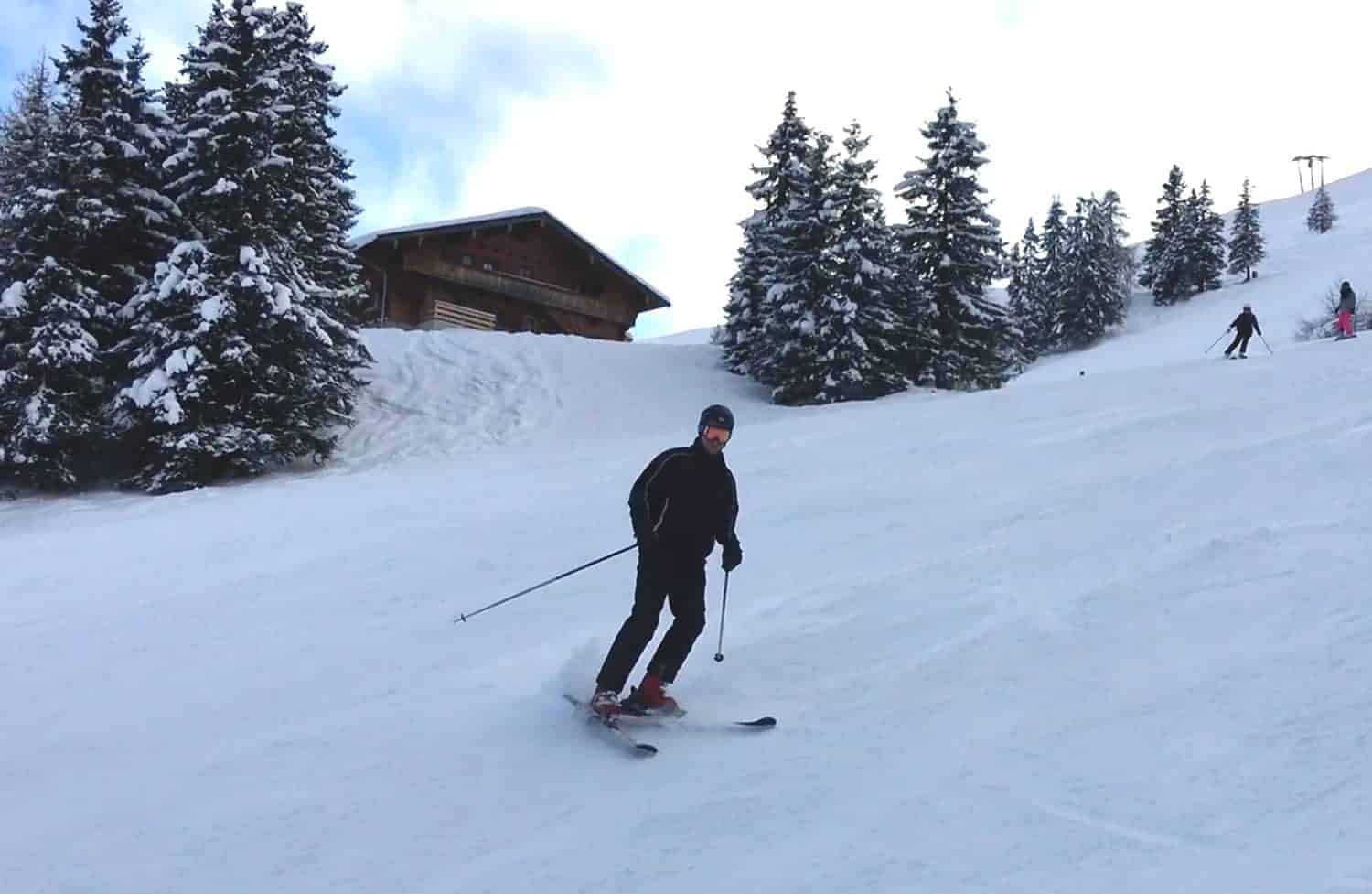 By lunchtime my thigh muscles were burning having not had this much of a workout in years. With boots so tightly strapped to your ankles you tend to lean on muscles rarely used and shift weight from one leg to another with each turn. Its one of the most enjoyable exercise regimes I've ever had barely thinking about the energy exerted. After lunch came my first milestone challenge when Max said "Shall we do a black run?". In the past I would never have gone near them but I figured with an extremely competent (and enviably fit) instructor beside me it seemed like the perfect opportunity to push myself to the limit. It was incredible as we set off down the steep run, noticeably devoid of other skiers which one could argue makes it safer to ski. My intense training was put to good use and although I still had much to improve upon I made it down with no falls, just a huge sense of satisfaction, especially when you look back up the mountain and realise just how far you've travelled on skis.
Apres ski in Reiht
While Skiing is mainly considered a daytime sport the town of Reiht just a few kilometres from Alpbach offers night time skiing on their brightly lit ski runs. You can also do a night time Toboggan tour that Michael Mairhofer from the tourist board was keen to show me. While its been 5 years since I last skied its been decades since I last when sledding but with a new found love of challenging myself I wasn't going to let the opportunity pass me by. We rode up the mountain in the gondola and took a short hike through the trees away from the flood lights and into farmland.
With head torches on and a full moon to illuminate our experience Michael gave me just one piece of advice "If you're going too fast just pull the front of the toboggan up". He then went shooting down the hill and what seemed like a hundred miles an hour with me screaming along behind him digging my feet in to the icy snow to steer and brake. It was an exhilarating and terrifying ride shooting along through the trees on snow covered roads that link the farms and fields. With nothing more than the trees around us lit by our torches it was an adrenalin fuelled experience that I highly recommend, sure to get the blood pumping and heart racing.
It sure helped me work up an appetite for some local cuisine at the Gasthof Dorfwirt restaurant in Reiht. A family owned and award winning restaurant and guesthouse with a cosy atmosphere and some fantastic dishes. I loved the Fried Emmental Cheese with Cranberry sauce and for main the tasty and very traditional Tiroler Gröstl a staple favourite among many locals with diced beef, potatoes and a fried egg on top. We had a great evening discussing local traditions, the history of Alpbach and the contrasts between this region of Austria and my life back home in England.
Making the most of my ski time
My last day of skiing seemed to arrive all too soon but with a full day ahead of my I was determined to put my new and improved skills to work and see just what I was capable of. I felt I had already come so far since my wobbly start and dodgy technique of the first day. The weather on this particular day was very different to the pure blue skies and endless vista of mountain tops I had enjoyed for the last two days.
I opened the curtains to see thick clumps of snow gently falling, making for quite a beautiful sight although my mountain view had disappeared in to cloud. By the time we made it to Inner Alpbach base the snow had eased but the fog grew thicker the further we climbed. Our first run of the day was in a total white-out, I couldn't tell the ground from the sky with very few reference points other than Max ahead of me in his bright blue ski instructor jacket. Without him it would have been a much more scary experience and our efforts to ski the highest mountain peak and its challenging black run were thwarted by the weather. Thankfully as the day progressed the weather improved and so did my skiing! My parallel turns were now sweeping, well balanced and usually in control! We skied right back down to the base of the gondola along a ski road called "Route 66". While this could have been an un-challenging experience the winding hairpin road offered plenty of chances to go a little off-piste and take short cuts between the tracks. Something I never would have attempted just days before. I nearly fell over 7 times during the morning but thanks to my newly improved balance was able to catch it every time and recover.
Skiing backwards
After lunch was a chance to have some fun, ski any style I liked and learn just a few more tricks before the day was done. One such trick was something I remember seeing instructors doing some 22 years ago when I first visited Austria on a ski trip with school. Watching them effortlessly spin 180 degrees and ski backwards down the mountain before spinning back around. Max said it was no problem to teach me but I wasn't so sure. Skiing backwards is essentially a "reverse snowplough" technique where the backs of the skis touch rather than the front.
We headed to the shallow blue run where I had initially taken to the snow on my first day, but this time to ski backwards! Within a few minutes I'd picked it up and was slowly skiing in reverse, turning left and right with Max showing off. I've never been so pleased with myself and after going up the button lift a couple of times I not only got the hang of it but could do the full 360 degrees I'd seen all those years ago. A very audible "woohoo!" could probably be heard by half the people on the mountain that day, all thanks to my fantastic ski instructor.
Check out my skiing backwards abilities! I always wanted to do this! All thanks to #SkiAgain in #Austria #Ski pic.twitter.com/rdjvAekPls

— Travel With a Mate (@TravelWithAMate) January 27, 2016
Conclusion
I am truly astounded by my Ski Again experience, if you'd have asked me at the start of my week if I'd be laughing my way down black runs and showing off my backwards skiing trick it would have been an emphatic-able "no, surely not!". I was just hoping not to fall over too much and to see in what small ways I could improved. I leave beautiful Alpbach and Austria with a new found love of skiing, something I must make an annual event as Max told me I clearly had a natural talent. There are so many ski resorts I'd love to visit around the world but the friendly people of Austria and beautiful village of Alpbach is somewhere I would definitely visit again. Some great runs, excellent instructor, warm and cosy restaurants and the perfect place to Ski Again!
A huge thank you to Max my ski instructor who bought out the best in my skiing, pushed me all day long and knew just how to explain what I was doing wrong. I never would have imagined I'd improve so much after so many years without skiing! Also a big thank to Michael Mairhofer for the great Toboggan tour, check out more detail on that at alpbachtal.at/en/winter/tobogganing and for all the latest from the Alpbach slopes visit alpbachtal.at/en/winter/skiing-alpbachtal.
Check out the Hashtag #SkiAgain for the latest experiences and check out #FeelAustria for some inspiring photos, videos and tweets from this beautiful country.