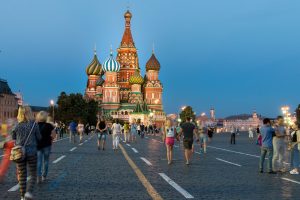 While Russia is famous for its historical heritage and museums, Moscow, as the country's capital, is the real heart of Russia. The global city is home too many heritage sites, including the Kremlin (UNESCO declared heritage site). 
Moscow is also a center of economic, cultural, and political activities for entire Eastern Europe. The Russian 'Moskva' is a hub of the country's educational, cultural, and industrial activities. 
What's more, the city is best known for its unique and historical architecture. Every Moscow street can surprise you at every turn with its state-of-the-art buildings of global history and importance.
To all the backpackers planning to visit Moscow: stop searching Google to find different sites in Moscow worth visiting. This article is your go-to itinerary to use most of your time and visit as many places as possible during a 3-day stay in Moscow!
Visa Requirements To Visit Russia
If you're wondering about visa requirements and the time-consuming visa application process, there is good news!
The Russian government has introduced electronic visa applications for citizens of many countries who want to visit Russia for tourism or business purposes. You can submit your application within minutes from home on https://russian-visa-application.com/ using any working device!
The process of the eVisa application has been designed to be convenient and straightforward. You need only three documents to file your application. It requires you to submit a passport with at least 6 months validity, photo, and confirmation of insurance covering the trip to the Russian Federation.
The visa stays valid for 30 days, and you can visit Russia once. You need to submit your eVisa application at least 4 days before your planned trip as it will take up to 96 hours to process your request and send you your visa via email. 
3-Days Moscow Itinerary: Places to Visit and Things to Do
Please note! Don't forget to exchange some money before going to Russia. It's always recommended to have some cash at hand. The currency used in Russia is known as Russian Ruble, and 1 USD Dollar = 74 Ruble. 
Now, here is the summary of what you can do during a 3-day visit to Moscow.
Day 1:
Red Square
GUM Store
St. Basil's Cathedral
Kremlin
Day 2:
Lenin's Mausoleum
The State Historical Museum
Alexander Gardens
Bhoshli Theatre
Day 3:
Walk-In Arbat
Cathedral Of Christ The Saviour
Gorky Park
Izmailovsky Market
Day 1
Red Square
After eating your breakfast, start your first day by visiting the historical building of Red Square. It is the central building of Moscow as all the major streets start from here. Besides, the building is surrounded by all the historic buildings. To name a few, it includes St. Basil's Cathedral and the Kremlin.
Red square got its name from a word of Russian vocabulary, Красная, meaning 'red,' and it is related to another word 'krasivaya' meaning beautiful. The name was given by Tsar Alexei Mikhailovich. 
GUM Store
You might wonder who would want to visit a department store on a journey of historical exploration. But there are some reasons why the GUM store is on the list, and you will understand it once you reach there. It is known for its historical architecture, two-level galleries, and glass roof. 
GUM is home to many international brands, and you can shop around or just roam to explore the beauty. You can also visit Stolovaya (Russian Canteen) to feed yourself with mouthwatering Russian delicacies.
GUM stands for Glavniy Universalniy Magazin or Main Universal Store. This 240 meters long department store is definitely a site that shouldn't be skipped. 
St. Basil Cathedral
Previously, the tallest building of Moscow, St. Basil's Cathedral, is known for its colorful domes and flame-like shape. It is home by Red Square, and you can visit it by walking through the Red Square. 
This unique building of Russia has a history worth remembering, and you won't want to miss a sight like this, especially when visiting Moscow in winter. The view can be more intriguing with a touch of snow and lights. 
Kremlin
The Kremlin is acknowledged as Russian Citadel, and it has five palaces, three cathedrals, walls, towers, and museums. You will find a flood of visitors at the Kremlin no matter in which season you're paying a visit. It is home to the Russian President. It wouldn't be wrong to call the Kremlin a separate city within Moscow. 
Some great things to see in the Kremlin are:
Ivan The Great's Bell Tower( from outside)
Patriarch Chamber Museum
Three Main Cathedrals of The Late 15th Century
Tsar's cannon (biggest cannon known in the world)
Day 2
Lenin's Mausoleum
Start your second day with Lenin's Mausoleum. The Mausoleum is the resting place of Lenin, the founding father of the Soviet Union. You must know that entry time to Lenin's Mausoleum is limited from 10 a.m. to 1 p.m. Therefore, you should be there before time as queues can be very long. 
You can take your belongings like a camera, phone, etc., inside, but taking pictures is strictly prohibited. Thanks to the inside atmosphere you may feel very comfy as the place is uncrowded. You can visit the Mausoleum on Tuesday, Wednesday, Thursday, and Saturday. Therefore, plan your trip accordingly. 
The State Historical Museum
The next stop will be the State Historical Museum at the North End of the Red Square. The museum was built to recognize Russian historians, philosophers. 
The National Museum was revived by Vladimir Shervud in 1875 and currently hosts more than 4 million items. You can visit the museum from 10 a.m. to 6 p.m. The entrance fee is 700 Russian Ruble for adults.
Alexander Gardens
Make your evening worth it by visiting the Alexander Gardens, one of Moscow's first urban parks. 
The garden has two levels, and the upper garden hosts the Tomb of the Unknown Soldier (a dedication to Soviet Soldiers who embraced martyrdom in World WAR II). 
Bolshoi Theatre
There can be no better way to end your day than attending the world-famous Opera performance at Bolshoi Theatre. The theatre is most famous for its Opera and ballet shows of Swan Lake and Sleeping Beauty.
It will surely be a worth-experiencing visit to the Bolshoi theatre and simultaneously cross off the last must-visit place from your Moscow bucket list.
Day 3
Walk-In Arbat
Let's explore the old Moscow on the third day of your trip. Old Arbat has been a street in Moscow since the 15th century, with craftsmen, traders, artists, and Russian nobility in the pedestrian street. 
The food street with several cafes and restaurants can be your first stop for a traditional Russian brunch that will get you much energy needed to explore Moscow's remaining attractions planned for this day. 
Cathedral Of Christ The Saviour
Tsar Alexander, I signed a manifesto to build a cathedral in honor of Christ The Saviour. Located on the Northern bank of the Moskva River, it is a 103-meter tall building. 
You can pay a visit to the Cathedral to pay tribute to Christ, The Savior. 
Gorky Park
The next stop after the Cathedral of Christ will be Gorky Park to make your evening memorable and pleasant. The green space is within walking distance from the Cathedral and can be visited by crossing the bridge. It is home to a culture full of historic galleries, churches, and other sites such as Muzey-used Tolstovo. 
Spend your evening in the park. If you are lucky, you can participate in a concert or event since they are pretty often organized there.
Izmailovsky Market
Visiting Izmailovsky Market before ending your three-day trip to Moscow certainly makes sense. It is a market as well as a historical site designed in the 16th-century style. You can find stalls with everything from snacks to souvenirs. 
Find something unique and bring gifts to your family and friends. There are many tourist-dedicated shops so it is advisable to visit them if you want to buy something as it might be challenging to negotiate with Russian traders in English. 
https://www.youtube.com/watch?v=NyTXBPJgUNs
Metro stations and the metro of Russia are world-famous. But traveling by metro is economical and definitely worth experiencing. You can use the metro to travel around the city. There is also an option to hire a taxi to move from one place to another. 
Final Words
This 3-day itinerary can be helpful if you plan to visit Russia and its fantastic capital soon. After getting familiar with this exemplary itinerary, planning your stay and exploring the city may be a bit easier to organize. 
All there's left to do is to apply for your Russian e-Visa online and pack your bags while waiting for approval!