Few travelers can journey all the way to Australia and not at least take a shot at surfing.
It's a national past time–people cheer it on, catch waves before or after work and sport surfer style in their cossies and clothes. Everywhere you look along Oz's east coast, surfing is there.
The Making of Mojo
This notion wasn't lost on surfing mates Nathan Folkes and Dan Van Der Mere. The former carpenters wanted to pass on the love of surfing and the surfing lifestyle to others from Australia and beyond.
So in 1998, they created Mojo Surf School, which encompasses trips north from Sydney to Byron Bay and vice versa to let guests stop at some of the best surf spots along the New South Wales coast.
In addition to supplying introductory surf lessons in Sydney and Byron, Mojo provides two overnight surf sites: a remote camp in Crescent Head (and "remote" means traveling 30 minutes down mostly dirt road to get there and going without cell or Internet service) and a more populated area in Arrawarra called Spot X.
Mojo Options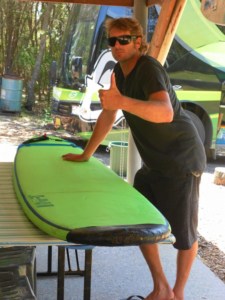 The company offers several surf packages depending on a traveler's budget and time constraints. Trips run northbound and southbound via a huge Mojo coach transporting guests to the various sites. The staff can also arrange accommodation and individual bus travel for those requiring it when the trip ends. Those needing to return to their point of departure, however, can also get coach service through Mojo while the rest of their group travels on.
The first Mojo option is the 3-day Runner, which offers four surf lessons at one site for $435 AUD.  The 5-day Great Aussie Surf Adventure, the most popular option and winner of the best tour in NSW in 2008 and 2009, gives seven lessons at two camp site for $685. Longer trips include the 7-day Livin' the Dream, which offers nine surf lessons for $895, and the 12-day Go Pro Surf Adventure, which provides 16 surf lessons to get guests to an intermediate level for $1,580. Mojo also features weekend getaways and 4-day "surf and stays."
Mojo caters to all ages and activity levels. During a recent experience on its 5-day Runner, guests ranging in age from 18 to 45 took surf lessons. They also can provide boards and wetsuits for guests of all sizes.
What's Included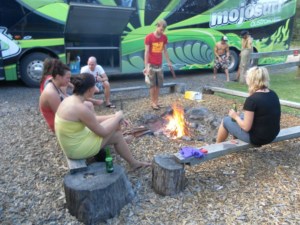 Aside from transportation and surf lessons, which include surfboards and wetsuits, Mojo supplies dorm-like accommodations, with bed linens provided. There is no storage, though–guests simply leave their belongings out in the rooms. Aside from clothes, cossies and toiletries, travelers only need to bring towels, a hat, sunscreen, a flashlight, camera and money for alcohol and snacks.
To make up for all the energy burned surfing, Mojo feeds guests generous portions of healthy food three times a day, including vegetarian options. Staff allow smoking and alcohol consumption in designated areas.
The Instruction
Staff across the board–no pun intended–seem friendly, good-humored and helpful.
Components of learning to surf largely involve timing the wave correctly and then standing up in the right position on the board.  Instructors teach everyone the three kinds of waves–surging, spilling and dumping–so they can learn when to try to catch one and go over the parts of the surf board.
Kim, who heads Crescent Head, dropped the pressure level for first-time surfers: "Don't worry about standing up.
The main objective is to paddle through the water and catch your own wave." Still, at both camps, instructors made sure everyone got a chance to ride the surf, even if that meant holding a surfer on his board and pushing him along with the wave at the right time.
Mojo instructors also told guests what they were doing wrong technique-wise: standing up too straight, not bending enough, not having their legs wide enough apart, etc. Surfers who get the basics down can learn more techniques, such as how to turn on their boards when riding waves.
Those who've never surfed before may benefit from taking the southbound trip from Byron, as the first stop on that run, Spot X, offers slightly calmer waves more suited for beginners–the surf at Crescent Head proved to be a little rough.
Instruction at Spot X is also a bit more organized, with stretching, yoga and technique lessons taking place before surfers paddle out to sea. At both camps, surf lessons take place rain or shine, unless severe thunderstorms begin.

The Atmosphere
The daily schedule goes something like this: wake up, eat, surf, eat, surf, chill, sleep.
Guests at both Crescent Head and Spot X receive wake-up calls between 7 and 8 a.m., after which they must "grab a feed" and then get into their wetsuits, collect their boards and head to the beach. Surf lessons can last up to two hours. The 5-day Great Aussie Surf Adventure encompasses seven surf lessons, the first one taking place shortly after arrival at the first camp in the afternoon.
Surfers get two lessons, one in the morning and one in the afternoon, the next day, followed by morning instruction the next day before the ride to the next camp, two lessons the next day and the final in the morning on the fifth day.
Crescent Head provides a bit more of a family-friendly atmosphere, as it's operated by a couple with a baby and a dog. At night, guests can take a short stroll to a campfire spot where staff allow drinking and music. This site usually only hosts one group at a time, which allows guests to bond in a more close-knit setting. Spot X provides lodging and surf lessons for several groups of guests at a time, so it lends more of a young, hostel-type vibe where people intermingle. Drinking, game playing and music are permitted right in the common areas.
Our Verdict
Mojo provides adequate basic instruction for first-time surfers. Not every person will be a natural, but instructors will help those struggling to ride that first breaker.  For others, the surfing may come second to the atmosphere, which is fun, chill and full of chances to meet travelers from all over. Between the accommodations, transport, meals, surf lessons and atmosphere, a Mojo package is worth the price.
Visit their site for more information on Mojo surf schools.