While in the Witsundays we sent our trusted contributor Jason Hosler to try out a sailing tour from ISail. One of the most beautiful areas in the world to sail. Here's his full report.
First, a short history
ISail Whitsundays
was started in 2007 by Luke and Tristram Mairs. The brothers began sailing early in life through competitive endeavours and sought to offer tours to uncrowded locations while providing high quality and personal service.
It is for this reason that each of the three boats they now own and operate carry a maximum of 10 or 12 passengers. They were looking to continue doing the things they loved while enjoying their water 'toys' including Standup Paddleboards, SeaScooters, clear kayaks, and kites.
They now include combinations of these activities on each of their three boats. Blizzard is their newest boat and is the one I had a pleasure of sailing on.
Blizzard
My fully booked tour of ten passengers was met at Able Point Marina in Airlie Beach by the boat's skipper, Dave. He led us along the jetty towards Blizzard and after passing by other boats, large and small, in good condition and bad, we arrived at our home for the next two nights. There, we met the deck-hand and chef Elly.
She is backpacker from England who has been working on the boat for the past two months. Elly got us to take off our shoes and put them in a bag since barefoot sailing really is the only way to do it!
When we arrived on board Blizzard, Dave told us about the boat and its amenities including toilets, showering, the very important beer fridge, and anything else we were curious about. I was pleasantly surprised to learn the boat was only 7 months old! "New boat?" I thought…Sweet! Blizzard was built in France last year, transported to Airlie Beach, and has only been in operation since November of 2011. My first impressions of the boat were that it was incredibly clean and made great use of the space it had.
I was shown to my room: a private twin bed suite that I was sharing with a fellow backpacker that I had been travelling with for the past week. There wasn't much storage space but, then again, how much storage space do you need for a two-day, two night trip? It was enough and, as I discovered later, the beds were incredibly comfortable!
Sailing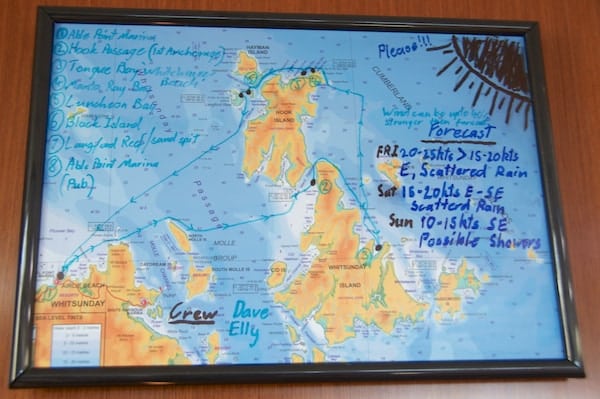 Dave loves to sail whenever he can. The boat was built for it so why not use it? He especially loves to put it to the test when he sees other boats on the horizon. Nothing beats the thrill of coming from behind and catching and passing competitors' boats.
Unfortunately though, the wind was not on our side for most of the trip. The first afternoon, we got a good taste of it and sailed from Airlie Beach to Hook Passage. The engine was cut and the only sound coming from the boat was the wind in its sails and the water below as Blizzard sliced gracefully through it.
All ten of us customers sat on the high side (safe side) not the low side (suicide) of the boat to help keep the boat in balance (or at least to make it seem like we were helping!).
The journey took around two hours and was quite exciting. I had never been on a mono-hull sail boat like this before so it was exhilarating to look over my shoulder and see just how far the boat was leaning on the port side. It conjured up thoughts of flipping over which were quickly dismissed as I sipped at my refreshing beer. The sun set while we made our way to our anchorage which made for a beautiful backdrop.
Upon arriving at our destination, Dave took care of paperwork while Elly brought out some delicious appetizers and the rest of us started to get to know each other over a few drinks. A delicious supper was served and we ate it up on the deck before spending the rest of the night sharing stories of our travels.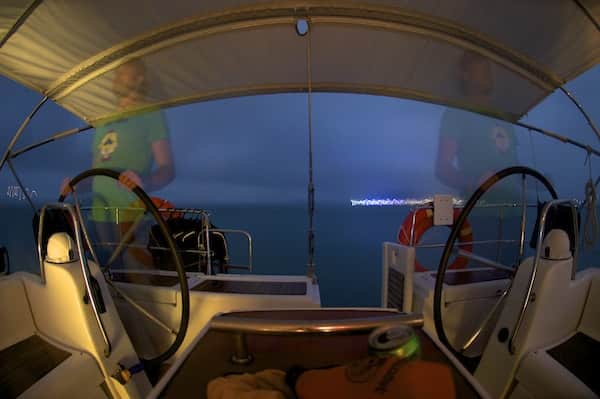 On the second day, we set sail from Tongue Bay towards Hook Island. The wind was light so Elly and Dave brought out the spinnaker which is a massive lightweight sail which can only be used in light winds. We got going but after an hour or so, the wind was dying so we had no choice but to turn the engine back on.
There were some other boats on the horizon that we were chasing and even though we didn't gain much ground, we were the only boat under sail. The others didn't use their sails at all and I was happy we had the chance to give it a try!
The wind was quite weak on the way back to Airlie Beach on the last day so the crew pulled out the spinnaker one last time to see if we could get some decent speed with it. After all the set up to get the spinnaker out it was used for only about thirty seconds before the wind completely vanished.
This made sailing back to the marina impossible so we had to resort to the engine instead. Dave was upset by this because, having come from a racing background and being the sailor he is, he feels immense pride sailing home and ideally passing slower boats along the way. He's a competitor and he really wanted the chance to challenge (and beat) other boats to the marina.
Whitehaven Beach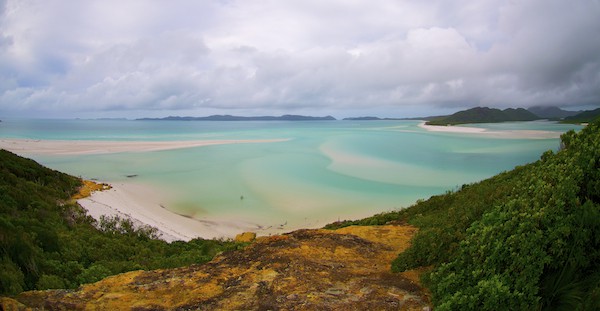 At Tongue Bay on the first morning, we were taken to shore in the small inflatable boat that is towed behind Blizzard. Since tides weren't quite right for the best viewing from the lookouts over Whitehaven Beach, we walked out to the beach itself first.
This beach is the purest silica sand in the world and is so white that it never heats up in the sun. Its reflective properties are so high that all the heat gets reflected back into the atmosphere. We were told of the sandcastle making properties as well but had to find out from ourselves.
We had several hours to do whatever we wanted on the beach so a few of us decided to make sand castles while others went for a swim. It was absolutely amazing what kind of shapes and forms the sand could hold!
This is the first time in my life that I've ever been able to create a bridge over the requisite moat and have it stay structurally sound. Being relatively unartistic, I decided to create a face in my sand castle. To make the eyes, I grabbed a handful of sand from just below the water line and spun it around in my hand.
It turned out to be a stable ball of sand much like a snowball. It was incredible! Again, something I had never witnessed in my life before. Unfortunately, my experiences on Whitehaven Beach may have forever ruined all future sandcastle building attempts.
From the beach, we radioed Elly back on Blizzard who then met up with us and led us to a lookout above Whitehaven Beach. The tide had been lowering the entire time we were on the beach and now we could see more of the white sand like in famous photographs of the beach.
We took our time at the two different lookouts, watching small reef sharks and stingrays swimming in the water below before heading back down and to the boat.
Snorkelling
After eating our delicious lunches onboard Blizzard, we set sail towards Manta Ray Bay at the north end of Hook Island. Upon arrival, Elly handed out our snorkelling gear including mask, snorkel, and wetsuit and briefed us on necessary safety information.
The mask and snorkel were excellent quality and they had plenty of options for all face sizes. I got my GoPro video camera ready and then Dave offered me the use of one that he had as well. I jumped in and took some underwater photos and videos, many of which can be seen in my video of the trip here: Sailing on Blizzard with ISail Whitsundays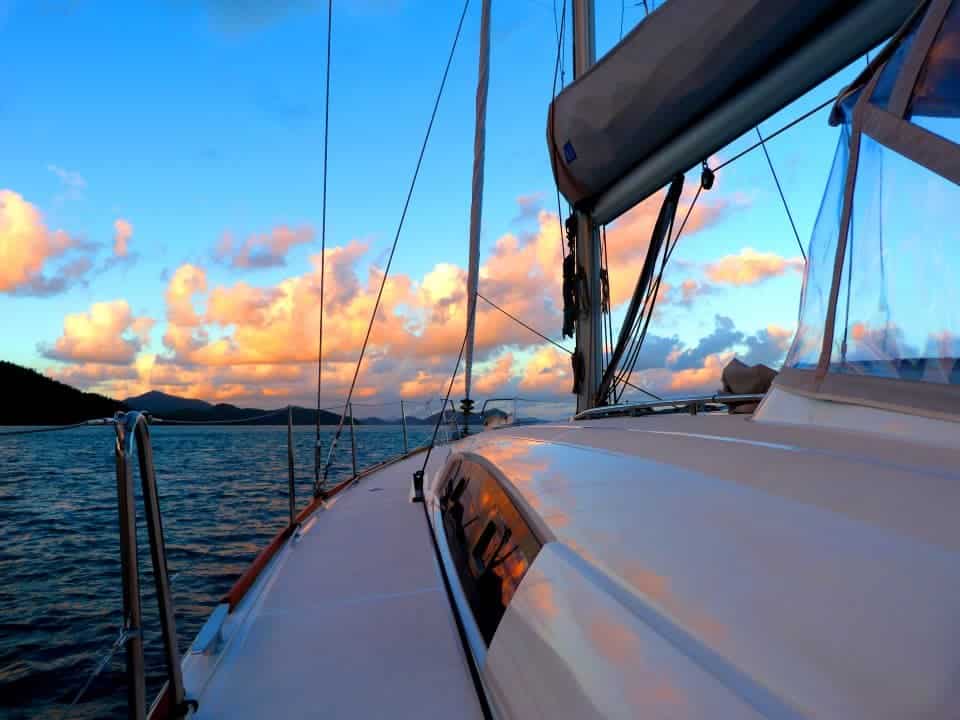 We moved on to Luncheon Bay which was only about ten minutes away for a second snorkel and a bit of paddleboarding. Normally, the trip might only get one snorkel on the second day but since we were forced to use the motor due to lack of wind, we were able to get the second snorkel session in.
I explored the coral here both from underwater with a mask and snorkel and above water on top of an inflatable paddleboard. It was amazing being able to see the colourful coral below me through the clear blue water in the bay.
Much fun was had watching people either succeed or fail while attempting to master the skill that is paddleboarding. Regardless of the outcome, everyone was smiling throughout!
With everyone thoroughly exhausted, we made our way towards Black Island which was our anchor point for the night. The wind was calm which allowed us to stop right at the point where we would be snorkelling first thing the next morning. That evening, we all took it a little easier and most went to bed at a reasonable time.
Myself, however, I stayed up late talking to Dave about all things GoPro and photography and we experimented with our cameras trying to get ghostly shots around the boat while seeing how far my camera's flash could reach. I captured some cool photos of the light rain coming down.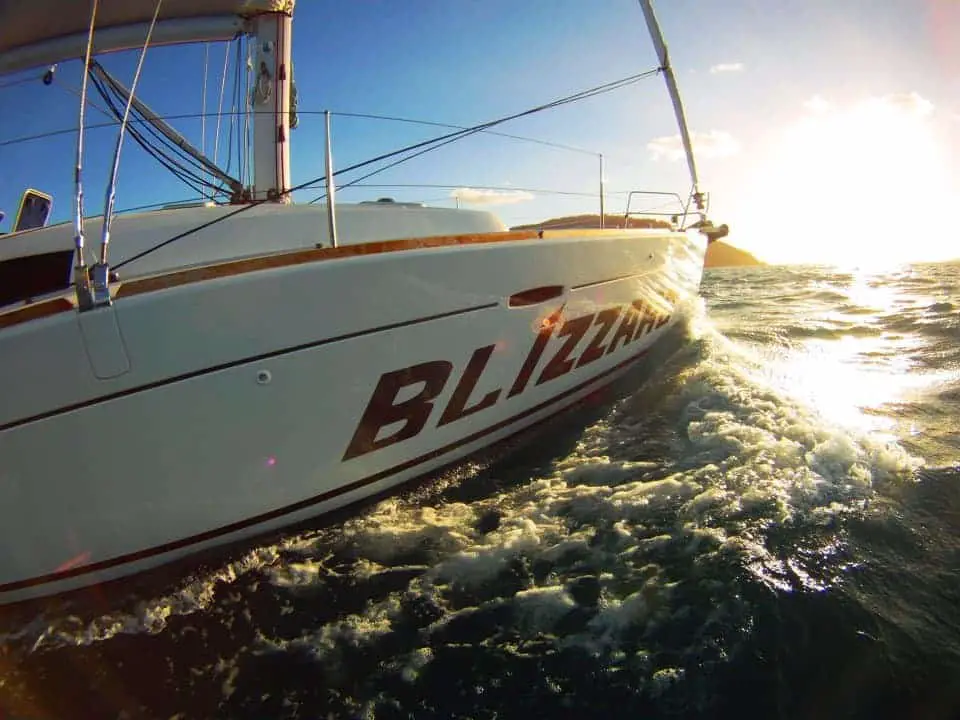 The next morning, we ate breakfast, got our snorkelling gear ready and literally jumped straight off the back of the boat to go check out the reef. This was the first day the sun was out in the morning and it lasted all day! After some time in the water, it was time to move on to Langford Reef and the sand spit. Being only about a mile away, Dave gave the first five volunteers the chance to paddleboard over to the small sand island. I jumped at the opportunity and the four of us that wanted to do it set off towards Langford.
Blizzard sailed on by us and we met up with the rest of our group after our longer-than-expected paddle was finished. We soon began wandering in the shallows and then I spotted a shark! It was a small reef shark only about two feet in length swimming around in a foot of water. I took out my camera and tried to capture it on film. On the other side of the island, one of the other guys spotted a ray and I attempted to film it as well.
The most incredible part and highlight of the trip for me was snorkelling at Langford Reef. It is because here, our entire group was able to swim with turtles. A few of us spotted a couple of green turtles and then kept tracking them and finding others while the
rest of the group got their snorkel gear on and came out and joined us on the reef. We saw at least a half-dozen different turtles and at one point were swimming around with three of them at once. They are such incredible creatures and I couldn't help but think of them as the turtles from 'Finding Nemo'. They were just so chilled you could swim right next to them and they would casually continue on their way seemingly without a care in the world.
Walking along the sand spit which was becoming increasingly exposed due to the lowering tide, we spotted more reef sharks and stingrays and had a little swim with them. Dave brought the power kite out onto the island and some people had a chance to try that out.
It was eventually time for us to leave Langford Island and once we were back on the boat, we were treated to our lunch which had been prepared by Elly while we were in the water. Of course, it was delicious. Chicken salad wraps…a perfect way to end the day. At this point, I looked at my watch. I figured it would be late considering all the things we had already done. In fact, it wasn't even 12 o'clock yet. We still had a half day left and that left a smile on my face.
With lunch finished, we set off towards Airlie Beach. A few hours of baking in the sun later were saying our goodbyes to the crew and boat which made for such an incredible adventure. Definitely a trip to remember!
Summary
I have met plenty of other travellers who have sailed in the Whitsundays. Each trip is similar but one thing has remained true…not one person's story of their trip has made me wish I went on their boat instead. After all, we got 4 snorkels (more than anyone else I've met), 2 stand up paddleboard sessions, incredible food, many laughs, great memories, and it all happened on the newest boat in the Whitsundays, Blizzard!
And Dude! We swam with turtles! Lots and lots of turtles! What more could you ask for?
You can check out more of my photos from the trip as well as Blizzard's own on their Facebook Page here