On our recent Ireland Road Trip adventure we were keen to visit the ancient town of Waterford and visit a few of its historical highlights. While the city holds much charm we're always drawn to the coast and with an invitation to view the Strand Inn at Dunmore East it was an opportunity not to be missed.
The drive from Waterford is easy and pleasant, not more than 15 minutes from the airport which now has regular flights from Manchester, London Luton and Birmingham it makes travel to this part of Ireland very easy. The roads slip down in to the beautiful little bay area of Dunmore East, a sleepy seaside village with just enough going on to make it appealing yet quiet enough to feel tranquil and serene.
First Impressions
The Strand Inn couldn't be better positioned, its pub garden area right along the beach wall offers ample outdoor seating when the weather is right, thankfully during our visit it was perfect with warm temperatures and a calm coastal breeze. As you enter the small bay area its clear that the Strand is the centre point of the village. Parking can be a little tricky thanks to its popularity but thankfully The Strand Inn has extra parking just across the road.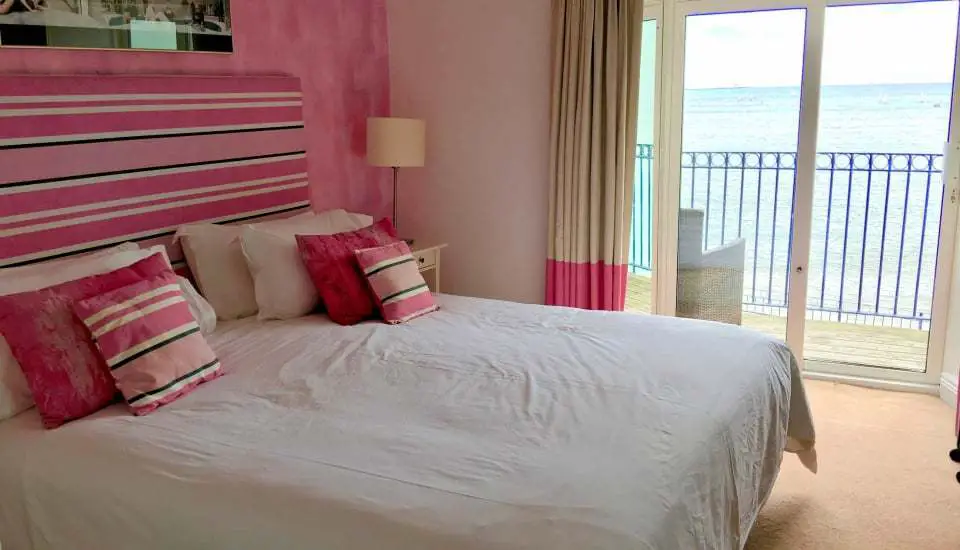 We entered the busy pub and made our way to the hotel reception where the friendly staff helped us check in very quickly and showed us to our room. Meandering through various hallways with creaky uneven floorboards, it had a familiar character from many old seaside guesthouses I experienced as a child. The big difference here is the decor is decidedly modern, bold and artistic. Our sea-view family bedroom had ample space for us 2 adults and a quite little cosy bed for our 3 year old daughter who is now at an age where she likes her own space. The view was indeed of the sea, the steep cliff edge to the left with cute fishermen's houses neatly in a row. Our room was above the restaurant kitchen so the temperature was slightly above average for a hotel room but still pleasant with zero noise from the pub below, not something you can often say about Inns of this nature.
Pub atmosphere
Once settled in we were keen to join in the atmosphere we'd walked through on arrival, so we headed straight down to the bar and found a big round table outside. A chance to sample some local beers while our daughter enjoyed a rapidly melting ice cream. The view matched the mood of the holiday makers and casual afternoon drinkers who resided at the Strand Inn that day. Its always nice to feel you're at the right place when visiting somewhere new and the Strand sure felt like the centre of what was happening in Dunmore East.
The beach
The beach may not be a beautiful sand laden paradise but its pleasant enough for kids to play on. In fact our daughter spent a good couple of hours collecting sea weed and making muddy sand piles (we forgot to bring any castle making equipment!) The water here is shallow and the tide goes out so far its easy for little ones to play in. There was a fair number of crazy adults stripping off and jumping in to the sea too, swimming a few lengths before heading back to shore. A popular spot for this sort of challenge as we saw plenty braving the chilly waters during our stay, not something I'd be prepared to do but clearly fun for those mad enough.
Dinner
We were invited for dinner at the Strand Seafood Restaurant which enjoyed equally stunning views of the bay with its large windows. The seafood on offer was locally caught and wonderfully fresh with some fantastic twists on familiar favourites. The staff were very accommodating with our bold little toddler and we enjoyed some fantastic starters of Deep Fried Scampi and Dressed Crab. We ventured on to the Specials board for main courses of Turbot, Hake and very tasty Monkfish with Chilli & Garlic. The decor and ambience here was equally modern and inviting, the perfect setting for seafood while the sun sets. There's usually 2 mains sittings at 7pm and 9pm but staff are willing to help accommodate you between those times if required. Prices were very reasonable and the service was impeccable. Definitely worth checking out during your stay.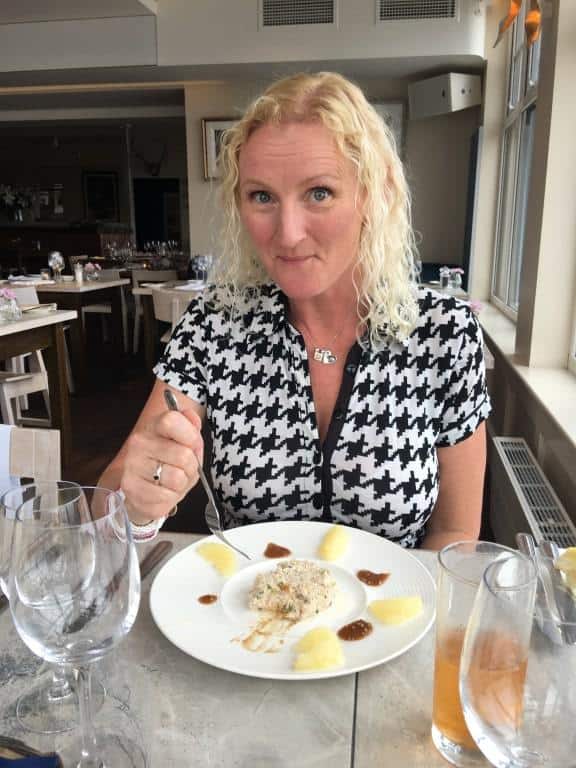 Unlike some Inns I've stayed at before The Strand Inn did a great job of managing a lively inviting pub while also having a quiet guest area. Plenty of space to relax and enjoy the surroundings, whatever mood you're in. While the room wasn't the most modern it was at least well decorated and we enjoyed spending time there, something you get used to doing more of with a toddler fast asleep at 8pm.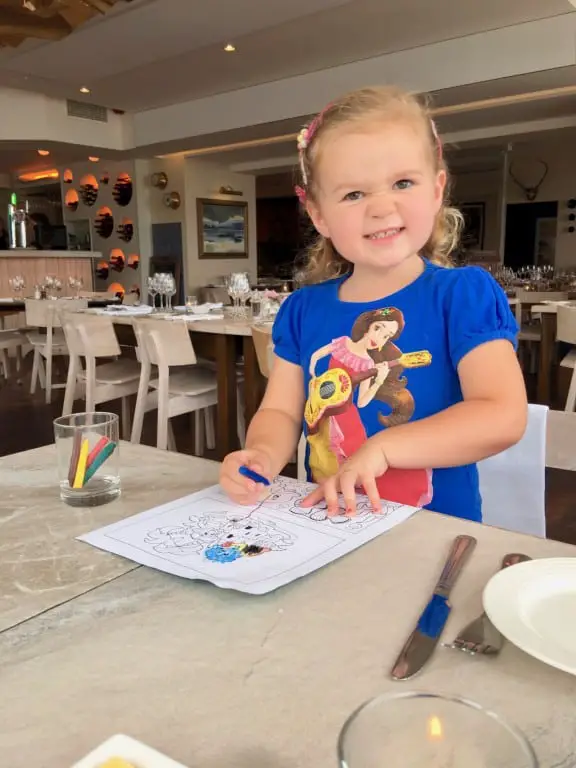 What to do nearby
Nearby there's plenty to do including scenic walks in Dunmore East and drives along the coast. Sailing and scenic cruises too from the cute little local harbour just a couple of minutes drive away and visible from the Strand. There's also Dunmore East Golf Club for those inclined and with just a short drive to Waterford town centre there's plenty to experience there too include the Waterford Crystal factory tour and the Medieval Museums nearby.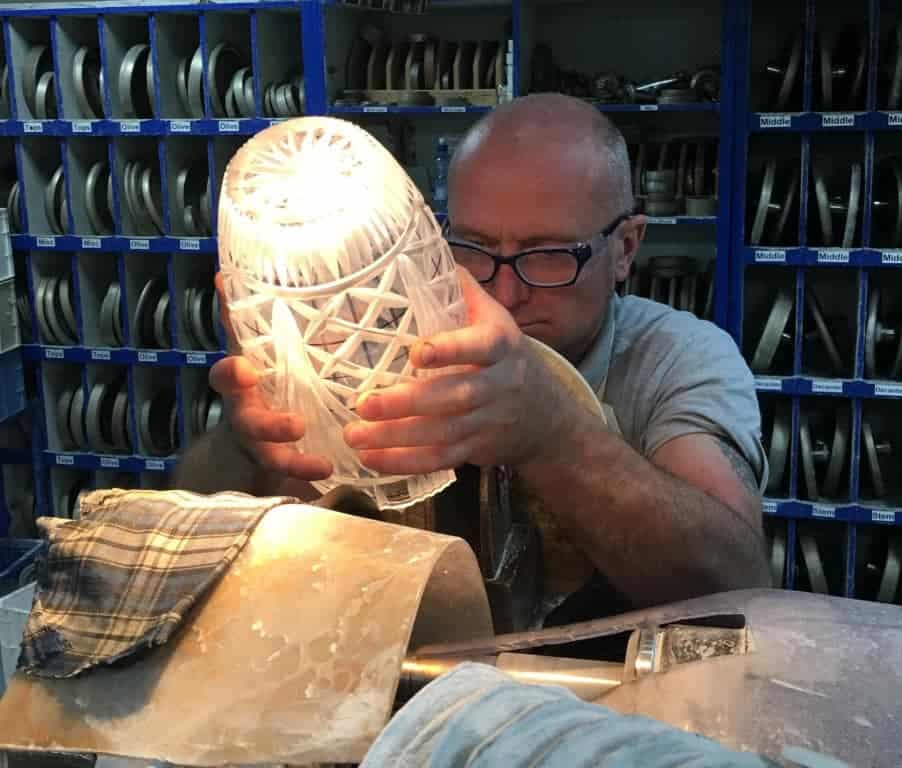 I'd also recommend checking out the pretty little cottages just across the road, pristine and very photogenic.
Conclusion
We really enjoyed our stay at the Strand Inn, its quirky character and bold modern interior design worked hand in hand largely thanks to its fantastic location and great family friendly atmosphere. The service was perfect and the food we an absolute delight too. In fact we're already considering a return thanks to easy international flights from the UK to Waterford Airport. Definitely a little slice of Irish Paradise that's easy to visit again.
Get in touch with the Strand Inn