Whilst planning for our recent trip to the Philippines I quickly got hooked on the idea of doing a homestay.  I wanted the chance to experience a couple of days of real Filipino village life.  Having read a few articles on the subject I came across a company that catered towards just this sort of thing.
Anda Village in Bohol
Our Philippines homestay was actually in Barangay Casica, a small village set amongst the rice fields about a mile away from Anda.  To get there from Tagbilaran, the capital of Bohol, we jumped in a minivan from the bus station and arrived in Anda 2 hours later.  Apart from the usual dawn chorus of crowing cockerels the area and village are very quiet and peaceful.  The locals were very curious of us, everyone shouting hello and even coming up to us for a casual chat and always ending the conversation with "thank you for coming to the Philippines".  With the  beach in Anda not far away it's a great place to get a quick tricycle ride to, have a swim and enjoy a beers watching the sun set, chatting to more locals.  Perfect!
Our host Family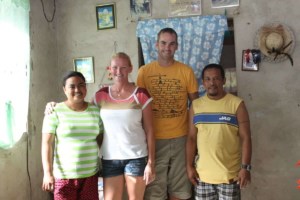 We stayed with a lovely couple called Efrena and Judito Mapesos.  Their home is basic but comfortable and has lounge with a huge karaoke system and a collection of family photos and awards, mostly from their son,  Marjun who is currently away at University in Manila.  There is a western style toilet and Efrena does all of her cooking on the wooden stove out the back.  She told us that wood is the cheapest form of fuel in the area and It's great to watch her cook each day. There is no air-conditioning of course so the afternoons get quite hot but they very kindly give up their bed and their fan to help you keep cool in night.
Anda Waterfall
On the first morning Efrena asked us if we would like to go for a walk up to the local waterfalls. We jumped at the chance of a good walk and cool swim as a reward. It took us around 45 minutes to reach the bottom of the falls, not a hard hike but exercise enough in the morning heat.  Passing small farms and village houses on the way. Once there we were surprised to find the waterfall ran into a large concrete pool.  Not quite the romantic waterfall swim we expected but the pool was clean and it enabled us to cool down.  It was quite a surreal experience swimming in a large pool half way up a hill. We climbed up the hillside for another 20 mins to see the start of the waterfall.
Freshly caught shrimp and fish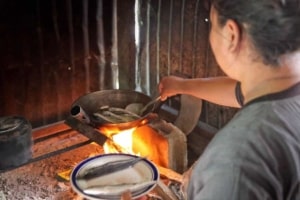 One thing I really loved about our homestay was going out with Efrena to buy food for our dinner.  One day we went to the local market with her and picked up some delicious fresh fish and vegetables. It was great to watch her chatting with the locals and bartering for the best price. It made for a tasty lunch, cooked with huge chunks of garlic. In the evenings we headed out to a lake nearby, armed with torches borrowed from a number of neighbours, we ventured out on to a rocky embankment. Efrena would shout to fishermen somewhere in the darkness and eventually one came over to show us his catch. He emptied his net on to a small grassy area where we waited and helped Efrena sort through the fish and shrimps, picking out the best ones and bartering with the fisherman. It was a fun experience made all the more so by the dazzling amount of stars that were visible in the clear night sky. Back at Efrena's house we had fun eating the freshest of freshly cooked seafood with our wonderful hosts.
With thanks
Thank you to our Efrena and Judito Mapesos for their hospitality at their homestay in Anda. We had a great time and enjoyed chatting with the locals and eating some amazing meals. It's a great way to experience local life and give something back to the local community.  Our thanks also to Philippines Homestay for arranging it.