Website review: HolidayOpenDay.co.uk
Posted in: Website reviews
Travel web sites are some of the most innovative on the internet. When it comes to dealing with "big data" for price comparisons and finding new ways to engage with the visitor, travel companies are trying to push the envelope and do something different in order to stand out. We were asked by TUI UK to check out their latest experimental new approach to helping people find the perfect holiday. Something many other sites have tried but this promised to be something a little different. www.holidayopenday.co.uk?
The concept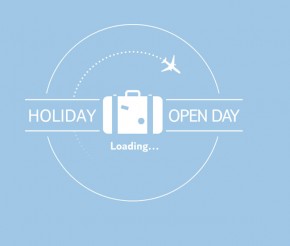 Holiday Open Day is touted as an entraining way to understand more about TUI's brands by means of a "virtual resort" Leading visitors towards the information they need but in a playful and fun way.  Up until now this has usually been done with masses of data in one place. The "Look at how much we can tell you" approach which can be baffling for some and doesn't offer advice on what might be right for you. So the idea here is to virtually try before you buy. To see a day in the life of the type of holiday you might want.
The homepage
When you first visit the site the homepage couldn't be more simple. Just a couple of buttons on a full screen design. There's a discreet timeline at the bottom so you can see how far along your "virtual day" you have progressed. Hovering over the buttons plays a video clip giving you a hint at what's in store. Be warned there's music playing when you hover but you can disable that by clicking on the animated volume control bottom right of your browser.
Couples Getaway
Clicking on "Couples Getaway" video will start to play shot from a first-person angle. Flying off to our virtual destination, taking a cab to the resort, being greeted by the doorman and taking the hand of a loved one, leading to our hotel room and stepping out on to the balcony. Pretty much the same steps we always take when arriving. Everyone checks out the balcony view before unpacking right?
The video stops here and you're greeted with a couple of options. Do I relax by the pool or head to the beach? Clicking on relax by the pool plays another video of me (apparently I'm a woman), removing my headphones and taking a dip in the pool. Then it's on to the spa with a click of my mouse, relaxing in a jacuzzi before a massage. This is all bringing back lots of happy memories of my resort holidays, making full use of all the facilities to really unwind. Definitely time for a cocktail at sunset to finish off my first day nicely. Just enough time for an evening stroll along the beach. Aaah that was fun. So what was the point of all of that?
Finding the right holiday destination for you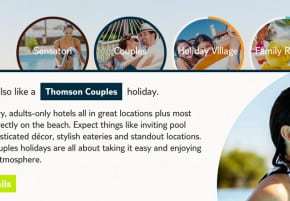 While I was enjoying the videos and reminiscing about my previous trips, the site was busy analysing my choices to see which TUI based product would suit me best. The page you're presented with gives you a break down of the matches that best suit you with a percentage ring around each option at the top. There's information the Sensatori resorts of Sharm El Sheik and Turkey. There's external links taking me to specific products and brand pages on Thompson holidays. It was interesting to see how much my choices effected the outcome, I went back to the homepage and tried a few more scenarios. While all the possible outcomes are still presented to you their order is changed with the most suitable on the left.
I did encounter a few buffering issues with the videos which was frustrating, but these could easily be caused by my connection rather than the site. Some of the videos were a little jerky too which didn't stop me being able to tell what was going on but when a video is full screen and wobbling around it can cause visual discomfort for some people. Thankfully the videos are fairly short and you're soon asked to make another choice.
Conclusion
Holiday Open Day is an interesting take on the concept of experiencing a product before purchasing. Not an easy task when the product is a holiday. While the videos were entertaining it was more the prompt to think about what I would do on a typical day  that made me make a more refined decision when it came to  booking a holiday at the end. What would I really do on holiday? What things would I prioritise over others? While the choices were fairly simple the exercise of giving these questions some thought actually helped me decide what I really wanted.
If you're looking for some inspiration or re-assurance about a holiday style or type of resort then HolidayOpenDay.co.uk is a great way to visually see a slice of your holiday. Of course its a rose-tinted look at the prefect holiday but the site does a great job of helping you refine your holiday choice and pointing you in the right direction for a Thompson or First Choice product. Definitely worth a play the next time you're considering booking a resort holiday. Check out www.holidayopenday.co.uk? and give it a go yourself.