At the top of our list of must-do attractions in New Zealand was the Hobbiton Film Set near the town of Matamata. A must for any movie buffs like us and a chance for us to get our geek on and immerse ourselves in this amazing fantasy world.
Located in the centre of the North Island of New Zealand, the drive to Hobbiton was like entering a different world before we'd even arrived!
The lush green rolling hills that we remember so clearly from the Lord of the Rings and Hobbit movies are not a one-off occurrence at the set. In fact our drive from the Waitomo caves was one of the best of the entire trip, winding through beautiful hills and valleys, sheep grazing on the undulating landscape.
The weather was on our side, warm and sunny like a beautiful spring day, just right for exploring an outdoor film set!
Starting our tour
We arrived at Hobbiton HQ in our glorious Maui Motorhome where we found a cafe, souvenir shop and check-in reception for the tour. Its from here that you join a tour group and your guide to be taken over to the Hobbiton film set, hidden within a valley just a couple of km away.
There's some great souvenirs here worth checking out, really unique items that makes great gifts for any LOTR fans.
We were very lucky to visit the site in a private mini-van, perfect for us to take our time and make the most of this amazing place, usually tours are taken to the site in a large green coach completely with tour guide.
The drive over to the film set is very picturesque with plenty of sheep in the farmer's fields all around us, in fact they have full roam of the road too so occasionally we slowed to give way to our furry friends.
As we drove through the hills the landscape opens up with a majestic panoramic view of the Hobbiton set, with parts of it facing back towards you as you drive along the upper most edge of the site. It's a surreal moment where visions from movies you've seen in the cinema and on TV suddenly take tangible form and tease you as the drive concludes at a small car park. We were very eager to start exploring as was our 18 month old daughter.


The Green Dragon
Our first stop was The Green Dragon, One of the few buildings on this outdoor movie set that is actually a fully working building, the rest of course is movie magic with facades of hobbit houses in the lush green hillsides.
The Green Dragon pub serves as a centrepiece to the entire site and facilities for tourists including refreshments and toilets.
The attention to detail here is truly stunning with beautiful round windows, dark rustic interior and crackling log fire in various rooms of the pub.
Its almost impossible not to feel you're somewhere real, somewhere thats been here for hundreds of years with a rich history displayed on shelves and mantlepieces.
You have to repeatedly remind yourself that none of what you see existed before 1999 when work started on building the set and the Green Dragon itself only opened in 2012.
Lunch was provided in true Hobbit style with a fantastic board of hearty sandwiches and pies all washed down with an "authentic" tankard of local beer. It also gave us a chance to quiz our guide about the Hobbiton film set and challenge her uber-geek levels of knowledge about the films.
Some 2,000 tourists visit the set during peak season scheduled tours throughout the day.
This helps keep visitors numbers to a manageable amount and stops the film set from being swamped by people.
We're all here to see the set after all, not the hoards of paying customers, so this crowd management makes a huge difference to the enjoyment levels.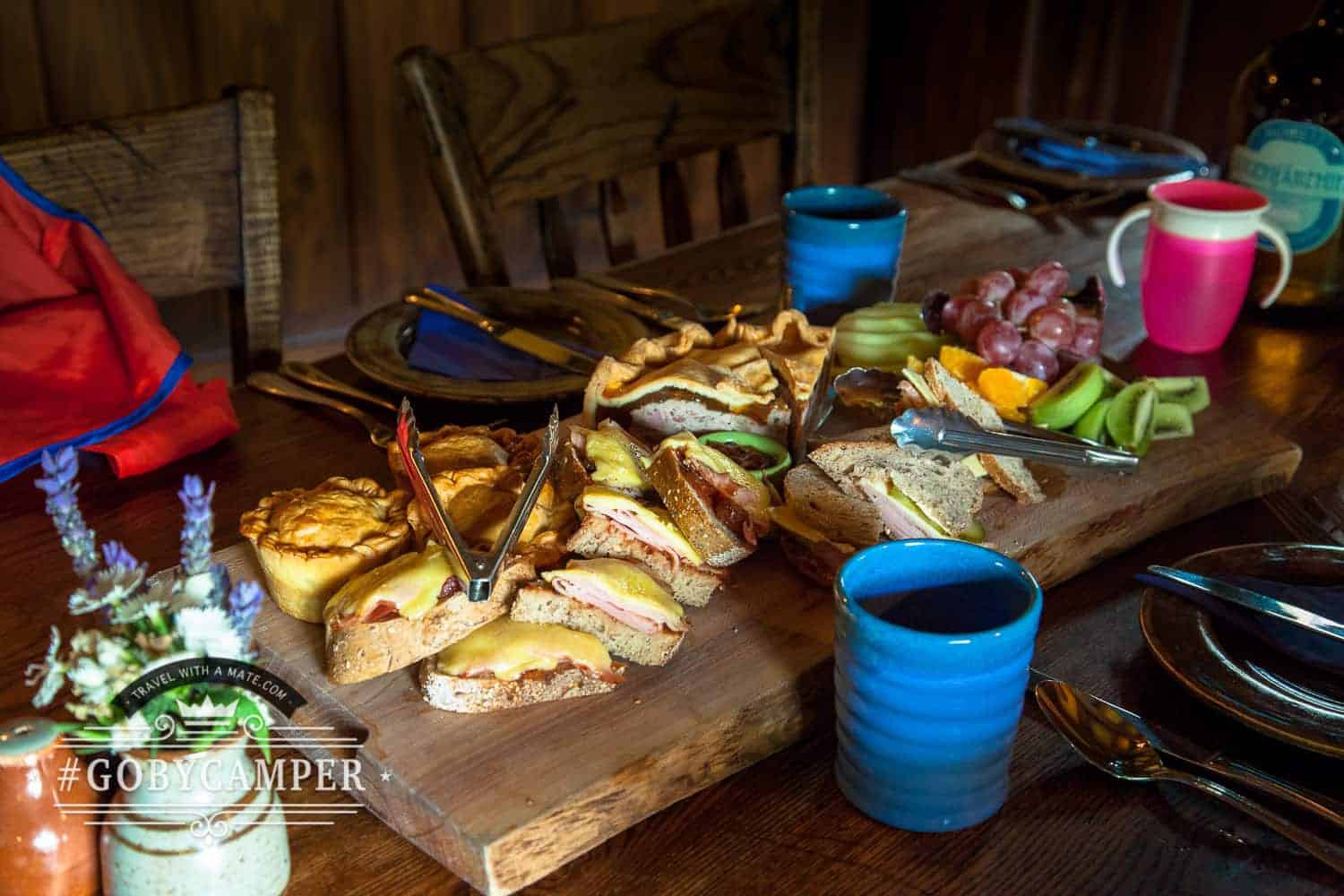 While we may be geeks there are far more geeky visitors to the site than us (although maybe not on this particular day), some come in full Lord Of The Rings fancy dress, there's been birthday celebrations and even weddings here too.
The Green Dragon has a function room in the form of a large yellow marquee tent, this has to be the ultimate place to have a party! Maybe I'll get an invite one day!
After our scrumptious lunch it was time to explore this incredible site. First a walk along the edge of The Water along to East Farthing and on to The Garden where real vegetables are being grown and either used in meals at the Green Dragon or the lucky gardeners get to take some home.
Either way it means this area of the set is a hive of activity and looks positively alive, adding a real sense of community to the whole place. Its hard to believe this entire site was once swamp land and was drained in 1998 when work began on building the set.
An easy walk up the hill on green and orange footpaths leads you past plenty of "Hobbit Holes", small houses fit only for a hobbit, built in to the sides of hill.
They look so natural here and in dare I say a very inviting way to live too! The warmth of the earth around you and pretty gardens to tend to with beautiful views of the countryside. Perfect!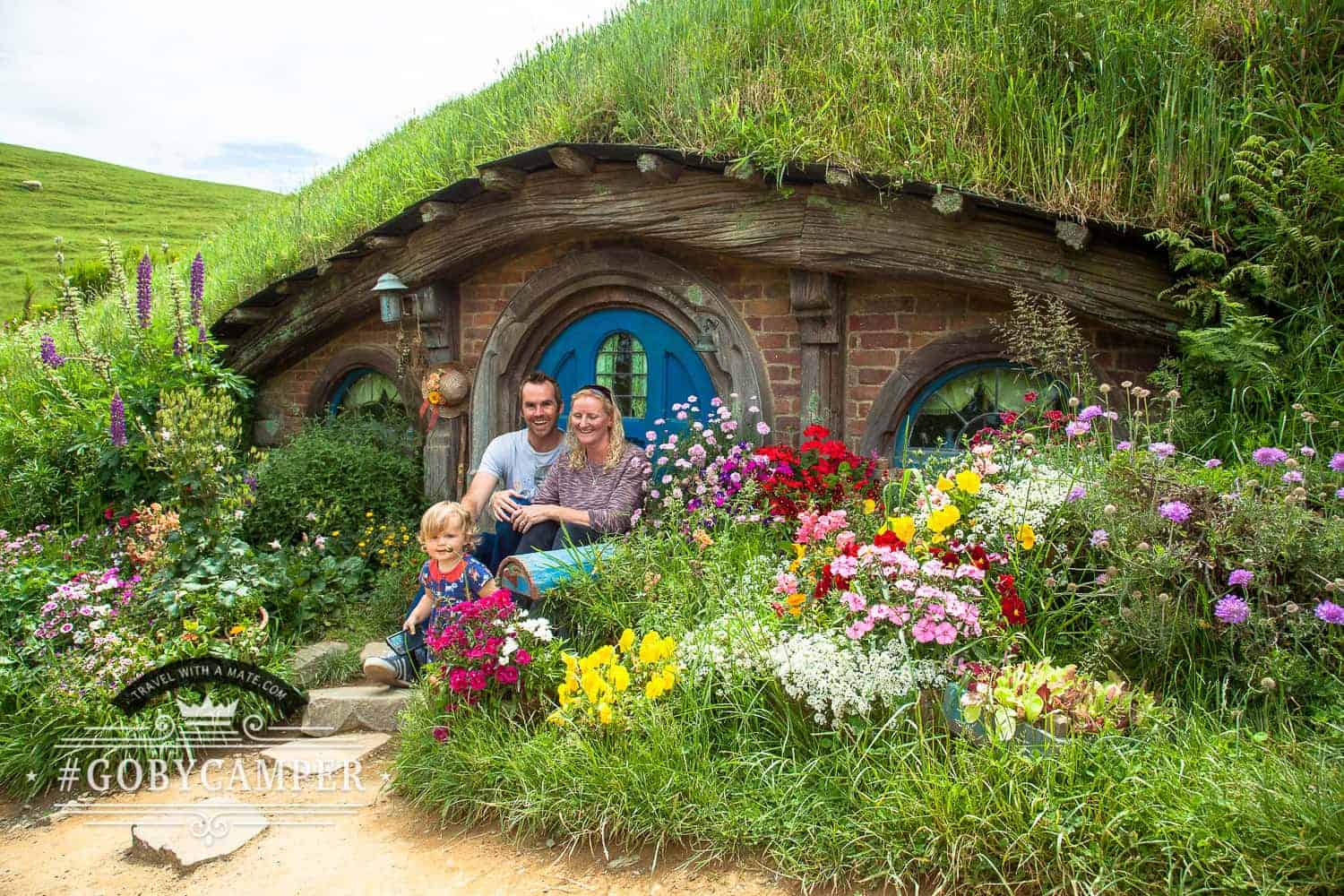 Hobbit Hole Highlight
The films would of course have you believe that the insides of each and every house is a cosy wooden interior with log fires, ancient hobbit artefacts and a general slice of "old England" but in reality its very different.
The doors lead to no where, well that's not strictly true, they usually lead to just enough space to store extra umbrellas should the heavens open above Hobbiton and catch out unprepared tourists.
Most doors are kept closed to keep the movie magic alive, all except one door you'll find up in Bag End at the top of the village. Overlooking the entire site you'll find a dark green door surrounded by beautiful flowers and sense of uniqueness about this particular Hobbit hole.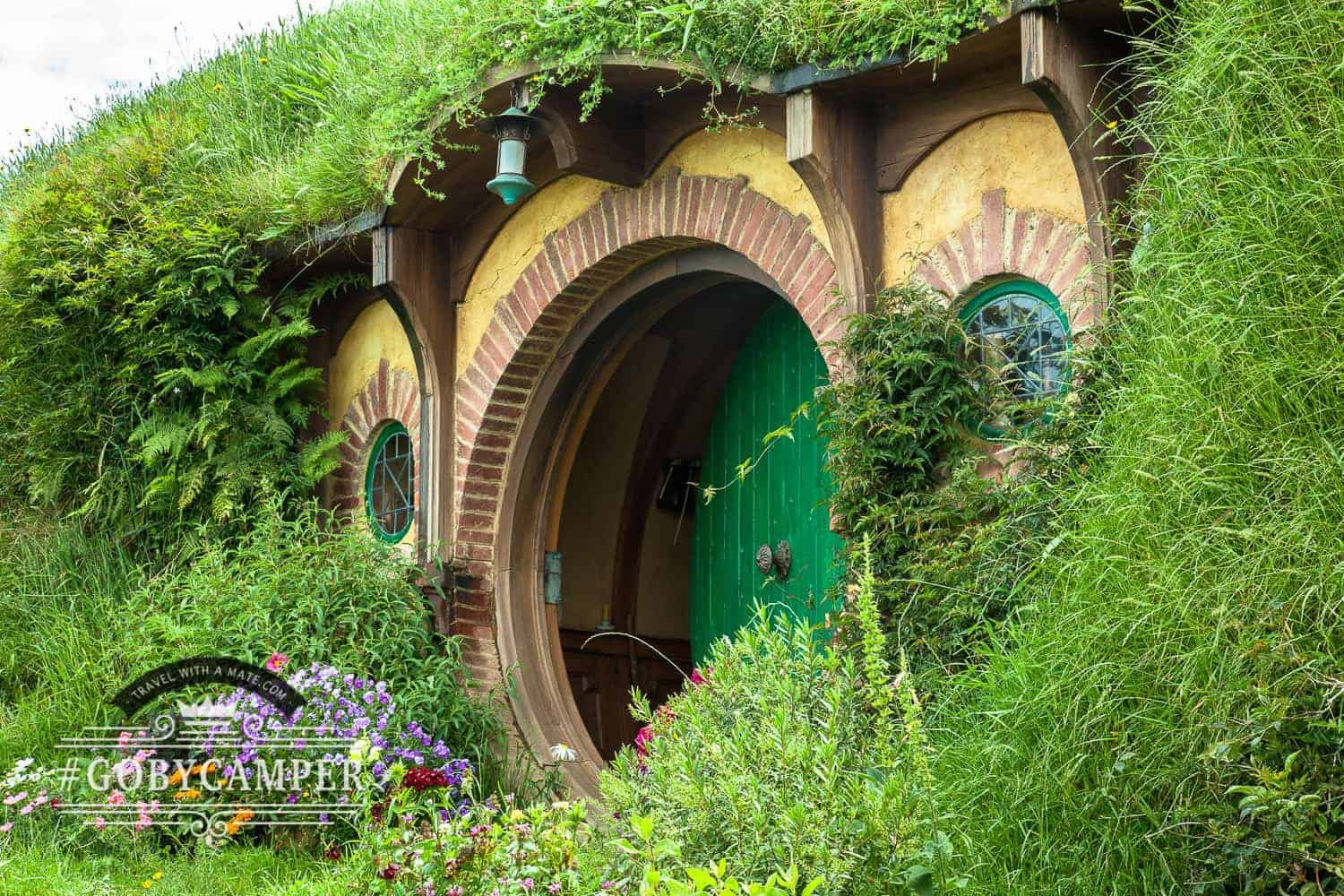 For this is Bilbo Baggins home and it looks like he may have left in a hurry as the door is open slightly.
Its a tantalising doorway suggesting a world of adventure and excitement within. Amazing how such a little thing can tease us visitors and of course everyone is desperate to have their photo taken here.
To stand outside such a famous door it really brought the movies in to a much more 3 dimensional realm.
A tangible change from what we'd seen on the silver screen, to something real, or at least perfectly faked.
Hobbit Party
The centrepiece of the site is The Party Tree and Party Field, a communal area that featured heavily in the first movie of the Lord of the Rings trilogy. A place where hobbits come to party and hold festivals.
The enormous tree towers over the site and the children's playground here is not only rustic enough to sit perfectly within the grounds, its also enjoyed by tourists! Our daughter delighted at going up and down on the see-saw with another visitor's child.
Its the little things like this that bring what is essentially an uninhabited and faked village to life with laughter and happiness.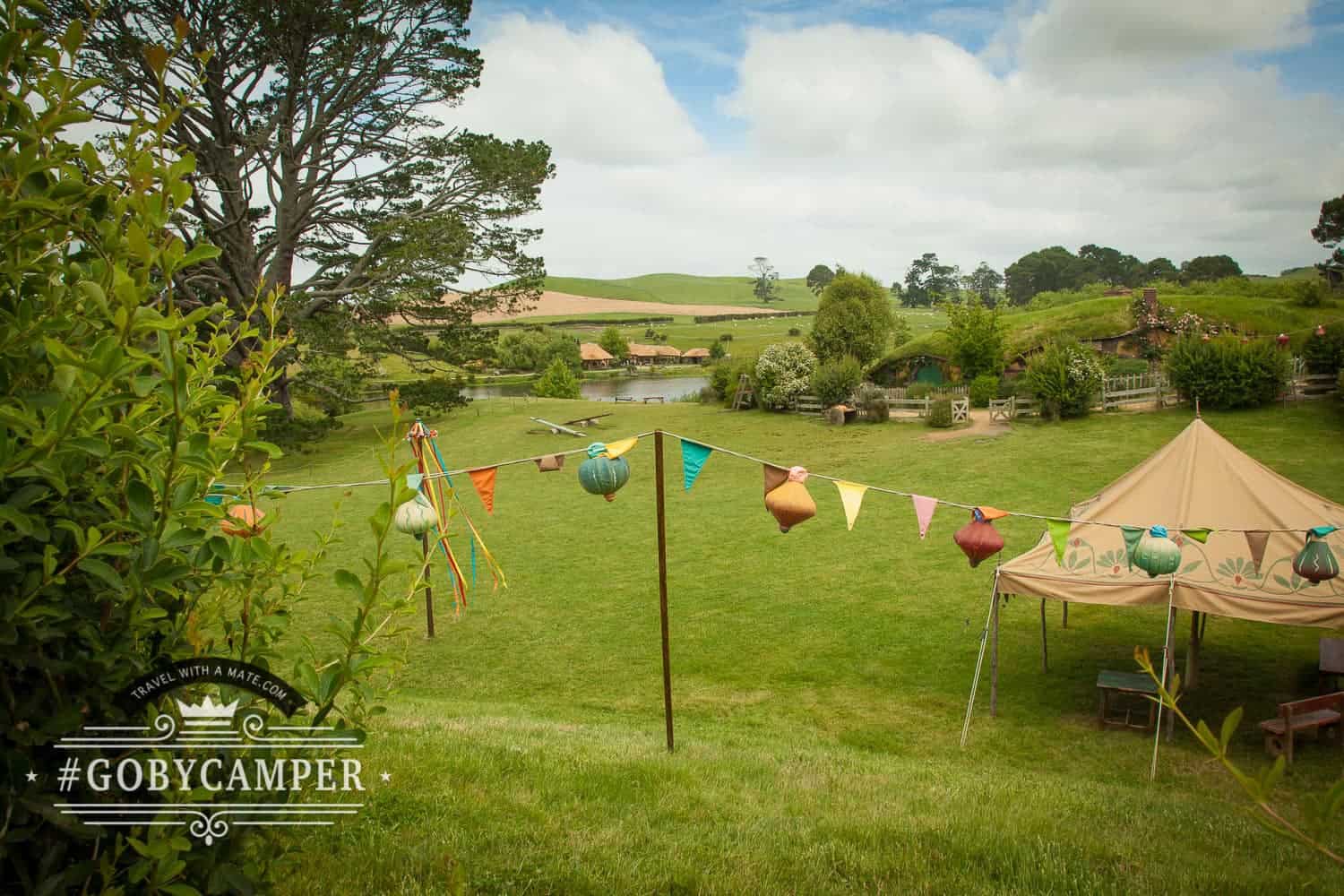 After a pretty walk along the Merry Meander through the woods past the Watermill, also a function room, back to the Green Dragon, we stopped for a quick refreshment and a chance to take a few more photos in this beautiful venue.
Even the toilets look authentic here with dark woods and rustic charm. Being English and living in the west England countryside too, I felt very at home here. It made me feel very lucky to live somewhere that has pubs not too dissimilar to this one.
Only their age and history differ. One could argue the significance of this pub beats many old English pubs anyway!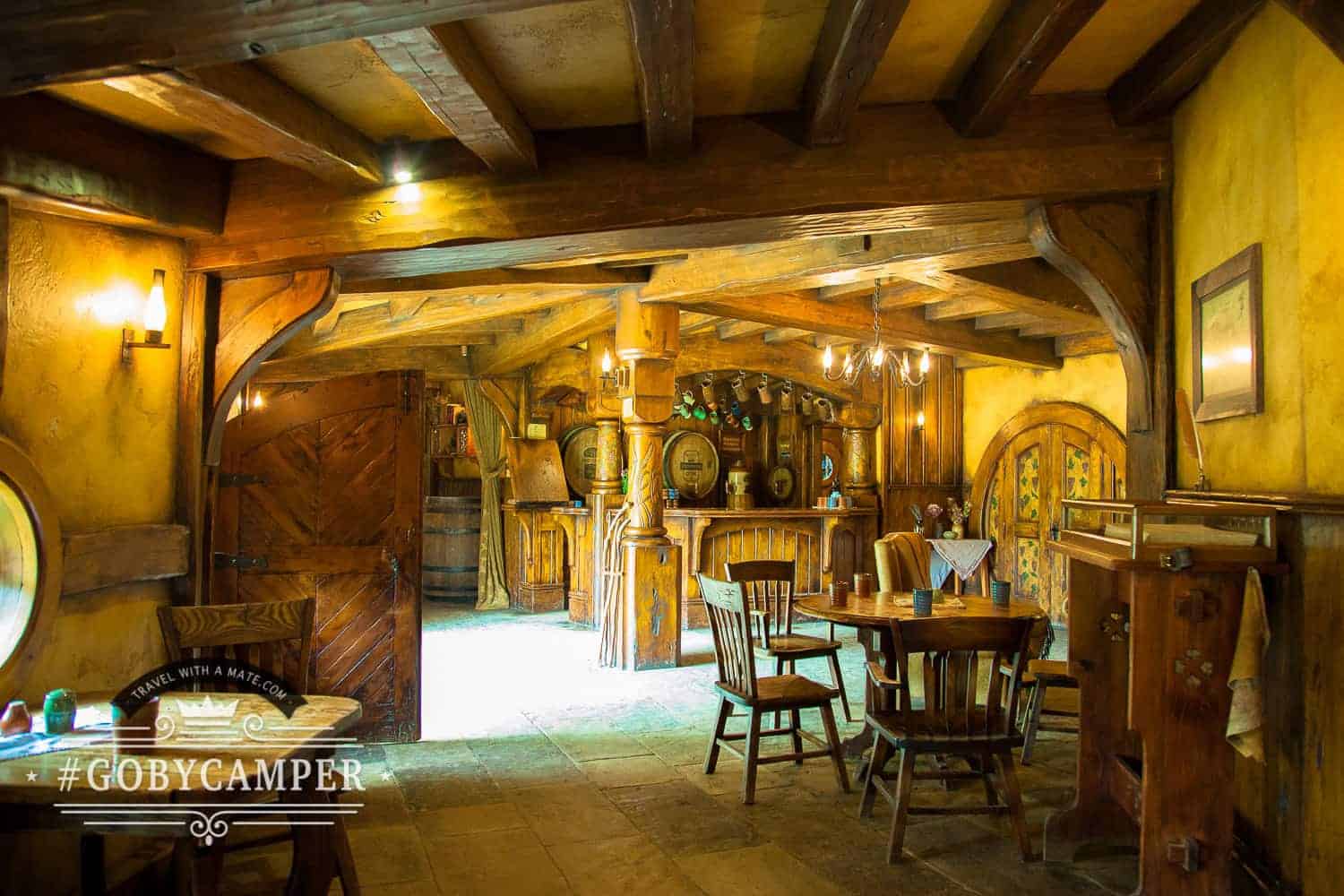 Somewhere special
Its this feeling of being somewhere so special, that meant so much to the 500 strong cast and crew that worked here making The Lord of the Rings and The Hobbit movies, that means so much to the many millions of fans too, I could have stayed here all day.
From every vantage point around the movie set you feel you're taking in a view that deserves to be savoured. There's no sign of 21st century living anywhere around you when you're walking along the paths by the cute Hobbit Holes.
The authenticity here is amazing, even the clothes on the washing lines are changed regularly to give a real sense of a village very much alive and lived in.
The only downside to our tour was having to leave, we were even teased with the fantasy of laughing off our return to reality and heading back to the Green Dragon instead for another pint of Hobbit Ale and dinner. Something we would have done in a heartbeat!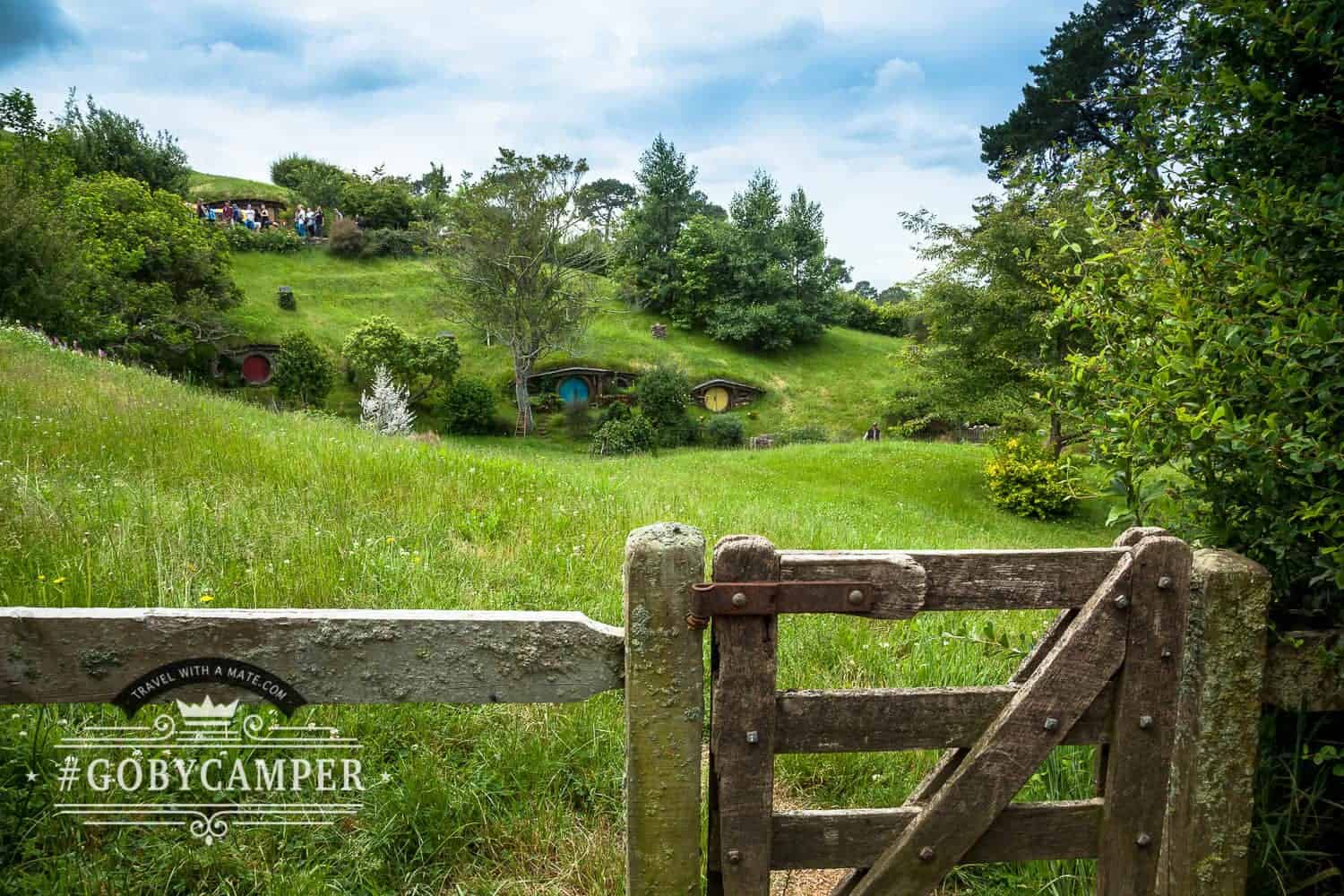 A huge thank you to Hobbiton Tours for the hospitality and fantastic tour. Our guide was wonderful, very friendly and welcoming with a seemingly endless knowledge of the movies the set and everything that has ever happened here.
There was no question left unanswered and we had plenty too! A visit to the Hobbiton film set instantly makes you want to watch the movies all over again and I could happily revisit the set and explore all of their tour options.
The evening banquet experience definitely caught my attention!
Find out more
You can book a tour online at www.hobbitontours.com and be sure to check out their Facebook Page for all the latest news too. They're also on twitter and Instagram so worth following there too.
Prices and Discounts
For the latest deals on group visits, private tours and even booking the venues within Hobbiton for private events check out hobbitontours.com
Read more
Thank you to our sponsor Mai Motorhomes for their support on the #GoByCamper road trip in New Zealand. To see what else we've been up to in New Zealand check out the links below.