Its hard to belief that our epic 2,000km road trip from Sydney to Cairns had finally reached its destination. The drives north of Brisbane were long and took up much of our days so reaching our final stop meant the end of our time with "Betty" our beloved Britz Campervan.
As I'm sure most people experience, the itinerary for the last destination is very different from those before. There's a sense of closure and of unwinding a little more. I find constant travel to be a heightened experience so arriving in Cairns signified the end of this feeling and a chance to relax. We arrived on the outskirts of town to find the Coconut Resort BIG4 Holiday Park, and talk about saving the best until last!
Big 4 Coconut Resort
I do feel a special mention is worthy here as this was a holiday park way beyond anything we'd experienced before. The BIG 4 brand has been of great quality all along our #GoByCamper road trip but at the Coconut Resort they'd really gone all out to make this the best possible holiday park! The site was huge, big enough to be given a guided tour in a golf cart adorned with a large sculpture of Nemo on the roof! The staff were extremely friendly and welcoming, the park was absolutely immaculate and there's plenty of accommodation options here. There were so many great pools and water parks, play areas both indoor and out, and we'd arrived just in time to enjoy free pancakes in the morning on Thursdays! This park alone made us wish we'd arrived in Cairns maybe a day or two earlier! Its easy to see why there's a cabinet crammed with awards trophies at reception. If you're driving to Cairns I highly recommend this BIG4 Holiday Park.
Exploring the city
Cairns is really quite a small city. It seems to sprawl on forever but don't let the wide roads and industrial areas fool you. The real heart of Cairns is by the sea and is so small its easily walkable. They've crammed all the best restaurants, promenades, playgrounds and bars in to one compact area that makes enjoying it all just that little bit easier. We had no problem parking our Britz campervan too as the street parking ran parallel to the road and there's some great spaces opposite the beach front eateries. A walk along the promenade here is worthwhile and there's some great information boards along the way too. There's very little beach to speak of in Cairns although they've made a little effort with a tiny patch of sand, the rest is shallow water and sediment that stretches out quite some distance. Never-the-less its a pretty coastline with hills rising either end of the bay as it curves away from you.
Cairns Promenade
The best place to hang out is clearly the lagoon and its popular any sunny day of the week. This was perfect for taking our toddler for a paddle and the shallow water throughout is a haven for those wanting to cool off from the hot Aussie sunshine. Thankfully there's some shaded areas to the pool as well so you can keep your kids out of the sun.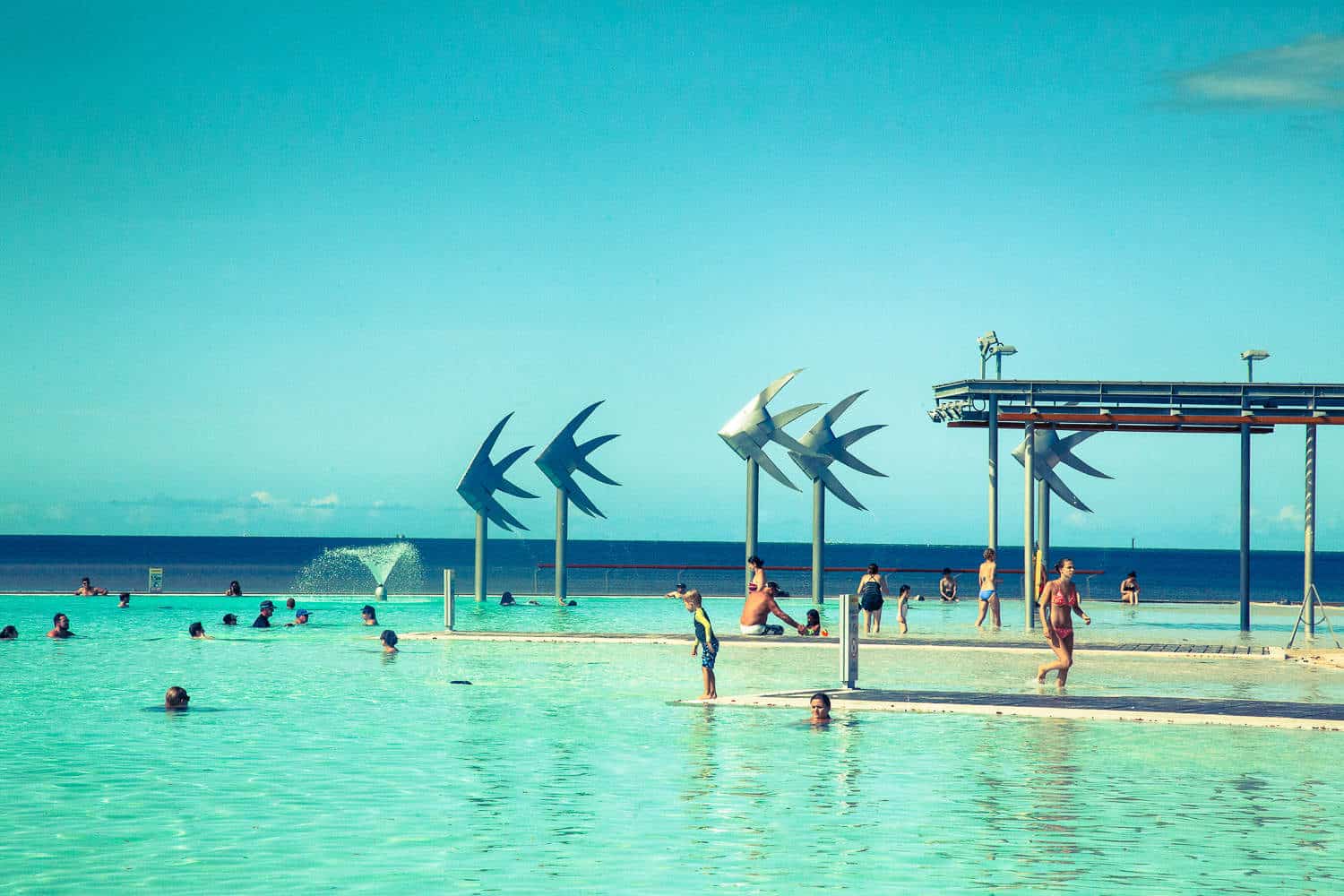 The sunlight as definitely increased as we've worked our way north to Cairns so factor 50 is still very much advised. its easy to spend a few hours at the pool as its great for people watching, the parkland around it also filling up with sunbathers and people meeting after work. The only slight issue is the constant buzz of helicopters heading out to sea for scenic flights and returning to the helipad just a couple of hundred metres from the pool. Still it was fun to watch them come and go as we paddled in the water.
Campervan Family time
One of the great things about our Britz Campervan road trip has been the constant family time we've had. Its not often your vehicle is your living space and it creates a close bonding environment you just don't get at home. The holiday parks really compliment this too with plenty of activities for kids of all ages. I've really enjoyed the family aspect much more than I expected, our little one breaking the ice with other families as she's a very confident toddler. We've also watched out daughter grow over the last few weeks, clearly understanding more about the world around her. She gets excited every time the campervan stopped at a new destination, clapping enthusiastically as we show her another amazing sight. Its easy to worry that all this constant travel would upset a child's routine and cause distress but nothing could be further from the truth. We've seen that children adapt very quickly, enjoy new experiences and thrive when put in to unusual situations. While our daughter's routines have definitely changed, with a lot more flexibility in mind, travelling this way has given her so many welcome distractions. I think she'll really miss this campervan. I know we will!
Check out all our Australia #GoByCamper posts here
Introduction to the #GoByCamper road trip in Australia
Video message from Sydney
Port Stephens and Port Macquarie
#GoByCamper photoblog – Part 1
Progress report from Byron Bay
Visiting Rockhampton
Follow our next adventure in New Zealand
We're flying on to New Zealand for another 3 weeks of epic road trip adventures! This time with Maui Motorhomes. Flying in to Queenstown and heading North for 22 days finally ending at Auckland. You can follow us with the hashtag #GoByCamper and #MauiMotorhomes. Be sure to follow us on Twitter and you can also follow @MauiRentals for the latest news from them.