For decades Goa is a destination that signifies exotic holidays, spiritual awakening and freedom of travel. Pretty much the 3 reasons we all love to travel the world. So what brings so many people back to this Indian paradise each year? Goa is a mecca for backpackers and flash travellers alike. Its beaches, amazingly cheap food and warm tropical climate entice many.
A different kind of India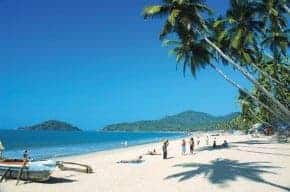 Goa is quite a contrast from the rest of India, this is mostly due to its Portuguese occupation which lasted for some 451 years! The population in Goa is a mixture of Hindus and Roman Catholics with a small Muslim minority too. Even with the mixture of religions and cultures you'll find Goa is a very laid back place and widely considered one of the most peaceful states in India. In recent years the transport infrastructure has improved leading to an increase of tourist from neighbouring states. So now more than ever Goa feels distinctly Indian. For those travelling from outside India its never been easier to get there.
The real Goa
While there are a number of cities to visit, the real Goa can be found in the many villages worth exploring. The villages of Goa are where the real charm and character of the Indian state appear. Unlike urban areas, the villages tend to be quiet and clean, friendly local people running local businesses that are usually better value for money. This isn't always the case of course, the more popular tourist areas suffer from the usual "tourist tax" you find around the world. I recommend checking out the villages of Assolna and Benaulim. Also Britona, Savoi Verem and Goa Velha are well worth hiring a bike and heading out from the tourist areas for a quieter slice of Goan life.
Best time to visit Goa
I recommend the best time of the year to visit Goa is around mid-November to mid-February when the weather is warm but not too hot, dry and comfortable. Being near the Arabian Sea, Goa enjoys cooler temperatures than some parts of India, with warm and humid days for most of the year. May is the hottest month reaching 35C (95F). Monsoon weather arrives in early June and helps to reduce temperatures a little. Although of course the heat is replaced by torrential rain instead! Many say Goa is at its best during the monsoon season as the lush green vegetation comes alive all around you. By September the monsoons decrease and the weather remains cool with its coolest around mid-December to February. Expect about 29C (84F) during the day and dipping to a comfortable 20C (68F) at night. You'll find the temperature decreases more further inland as the land rises in altitude.
Best beaches in Goa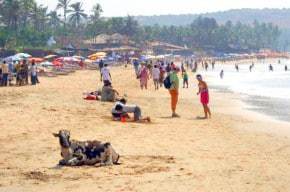 Goa is famous for its beaches of course, along with it's beautiful Hindu temples and Catholic churches. Anjuna Beach is one of the best places to check out along with Chapora Fort. The main tourist attraction here is the beautiful 1920s Albuquerque Mansion. Anjuna was famously the place where the hippies of the 60s and 70s would hang out. You'll find a fantastic flea market here every Wednesday although it's changed somewhat from it's local and "hippy" feel, now selling modern tourist items and occasionally local craft items. Head to the nearby village of Arpora on a Saturday night to check out the open air bazaars, only there outside of monsoon season of course.  Arambol Beach in the north of Goa near Pernem is also worth checking out for a quieter experience. There's a lot less hotels and restaurants here but the shallow water is beautiful and great for a dip.