We recently flew from Singapore to Sydney, two places we've been to before but this time we have a family.
Our little daughter, at just 16 months old, is a travel junkie too but long haul flights are a new experience for us all.
Travelling on planes without children is a very different experience so we were keen to see how Singapore Airlines would make our journey as comfortable and easy as possible.
Checking in at Changi Singapore
As many travellers will tell you, any flight starting at Changi Airport in Singapore is a delight. Constantly voted the best airport in the world and its easy to see why. The whole experience is relaxed, quiet and calm with plenty to do before you board your plane.
Check in is still a personal experience rather than using faceless machines and security is conveniently located at the gates rather than after check-in so you feel you've made it through to departures a lot quicker than any other airport. There's a butterfly sanctuary, a free cinema and plenty of places to check your emails and charge your phones too.
There's also some great views of the runway to help pass the time. It all helps create an atmosphere of calm and serenity which should help any nervous flyer.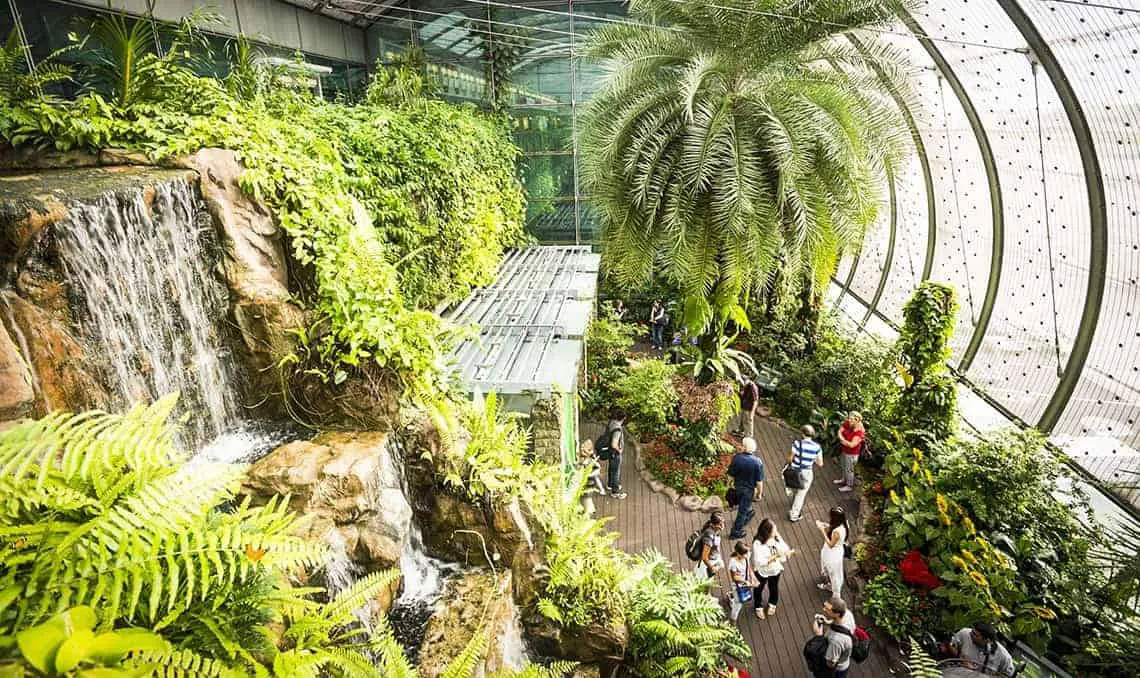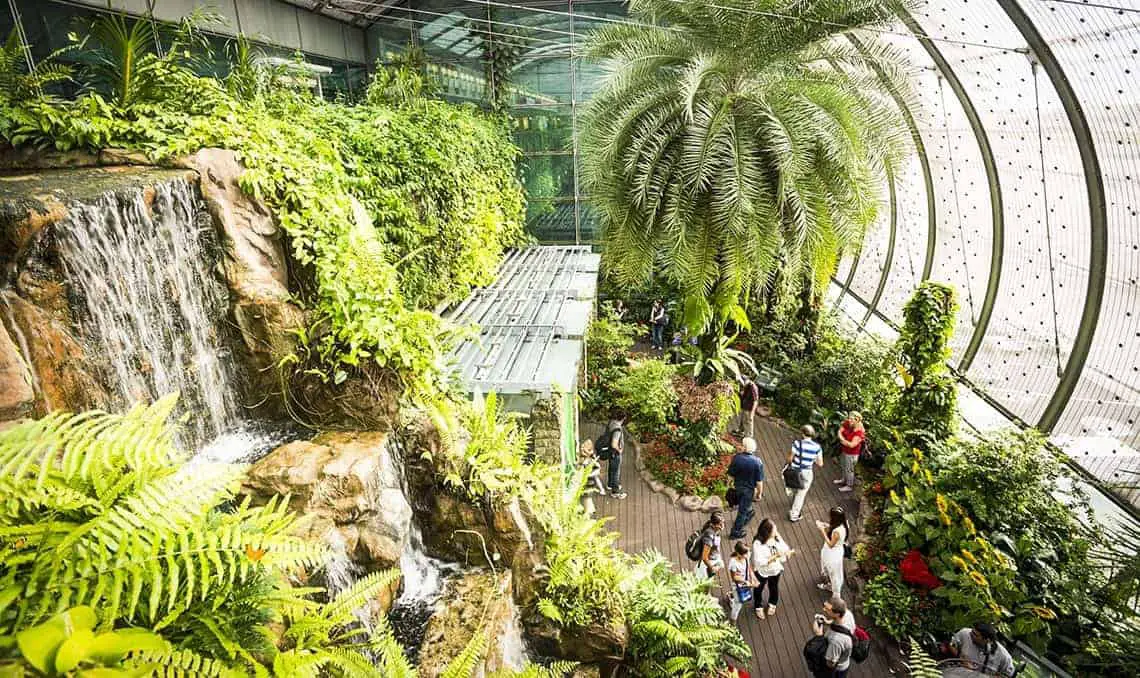 Travelling with a child
All this serenity can be entirely lost on kids who live by their own moods whenever they feel like it! Thankfully the play area at Changi helped burn off some energy and when it came time to board our Singapore Airlines Boeing 777-312 our daughter was suitably tired.
We had bassinet seats thankfully so she had somewhere to sleep after takeoff. When you're traveling without children, taxiing to the runway for takeoff seems to take forever, but with kids you hardly have time to notice you've left the ground as you're busy entertaining the little one and making sure they're happy and comfortable.
The flight path is fairly bumpy as you cross from one jet stream to another but once you're over Australian land its much smoother. So expect a bit of turbulence in the first few hours.
Bassinet seats
The interior of this particular Singapore Airlines 777-312 was relatively old, at least by the modern standards of some of their fleet. It could definitely do with an overhaul as my seat cushion had collapsed somewhat leaving a metal bar pushing against my thighs.
Not the most comfortable of economy seats. The bassinet was perfect for our daughter who merrily dozed in it apart from during moments of turbulence when we had to remove her. Its a real pain but I fully understand the safety aspect of doing this.
People with long legs (like me) usually end up with our knees jammed against the seat in front, no issue with that in the bassinet seats but its impossible to put your legs out straight too so expect some discomfort after a long haul flight.
I recommend getting up every hour or so for some exercise, if you're travelling with children you'll no doubt be up every 10 minutes with them unless they're sleeping. Our daughter very much enjoyed walking up and down the isles, chatting to the passengers and flight crew too.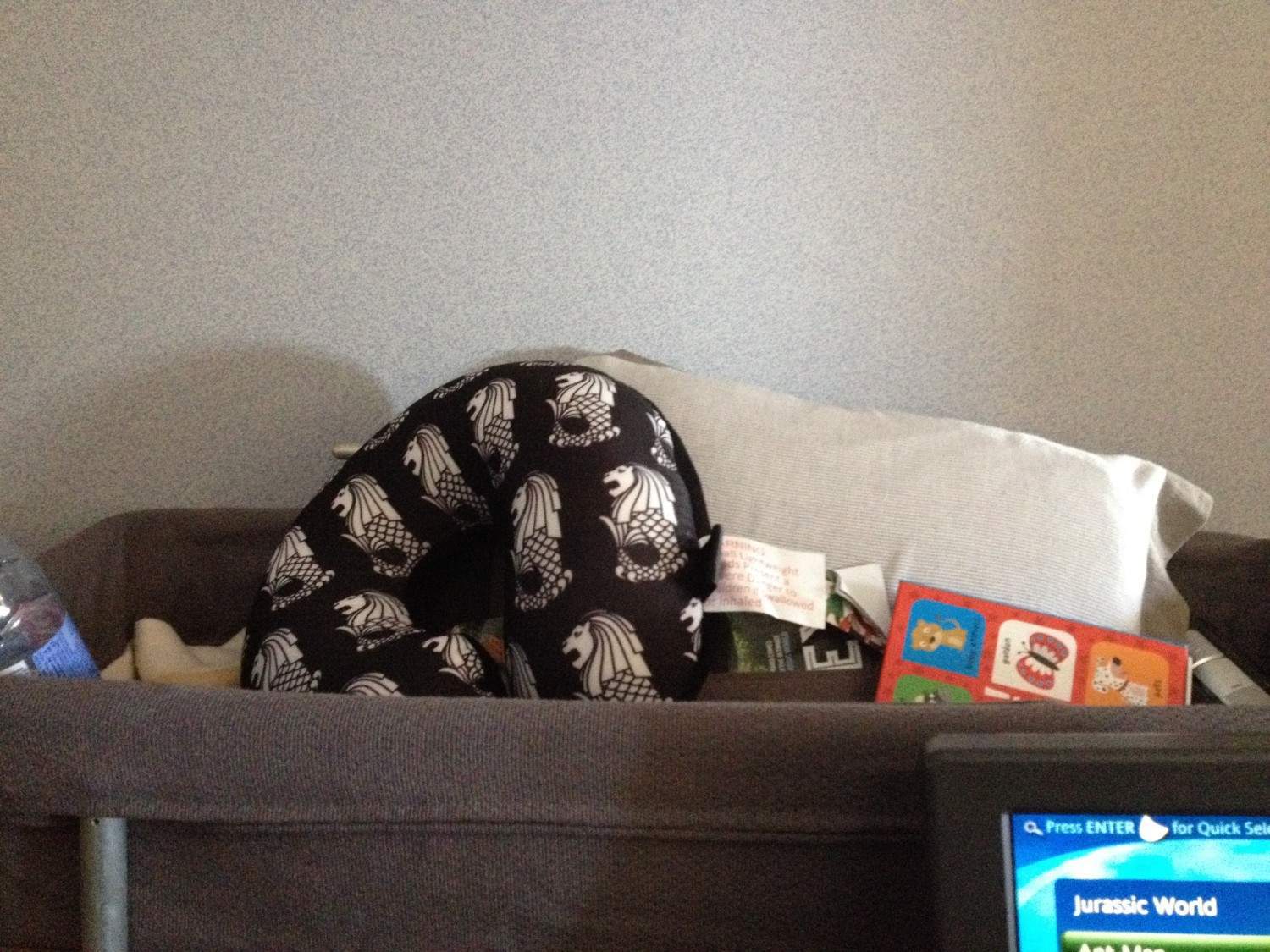 As with all parents using Bassinet seats you'll soon find that its more useful as a shelf for all the books, cushions, toys, drinks and other baby paraphernalia you may have.
Our daughter only slept a total of 3 hours out of the 7 hours on SQ211 so for the other 4 hours this is pretty much how it looked. Every bassinet in use around us looked the same. Its amazing how much extra you need in your carry-on bags just for children!
In flight entertainment
On-demand systems are the norm these days so standards in delivery and movie selection are what we look benchmark them by. Singapore Airlines consistently has a great selection of movies and TV from around the world. With high numbers of Chinese, Indian and European travellers their selection is huge and well varied. Larger than any I've seen on other airlines.
I have a feeling the collections are so big the computer systems they run it on have trouble delivering so much content to all of the passengers as I've experienced freezing and jumping video on all Singapore airlines flights recently. The free headphones in economy class are frankly rubbish, with no high range and jarring mid range audio quality.
Thankfully I always travel with an adapter that allows me to plug my own high quality noise cancelling headphones in to the seat. I highly recommend doing this and I'm quite surprised at how bad the free headphones are these days.
They're also in-ear style ear-buds which aren't to everyone's preference. Business get over-the-ear higher quality headphones, its a shame this doesn't apply to all classes. My screen also had a few issues displaying everything with a blue tint if I put it in the wrong position.
Definitely showing signs the equipment had seen better days, hopefully this plane (9V-SYG) will get an interior overhaul soon.
Food
As this flight left around 9:45am Singapore time and Australia is 3 hours ahead we were served a lunch at around 11:30am. Some airlines don't offer any meals to children but thankfully Singapore Airlines do with a choice of 3 options you can select online before your flight.
Children can be picky about food at the best time of times so its impossible to know exactly what you might be getting and whether the child will like the food. The biggest issue is timing as we had turbulence during the serving of food.
This meant we had to have our daughter on our laps and strapped in so we ate separately and had to send the child food back, being told she had to eat it within 1 hour. The large lump of processed spinach wasn't to my daughter's taste and it didn't look very appetising to us adults either.
Thankfully she loved the turkey and potato. I recommend bringing snacks of your own that your child is guaranteed to eat as the whole long haul flight experience may put some kids of formal meals like this.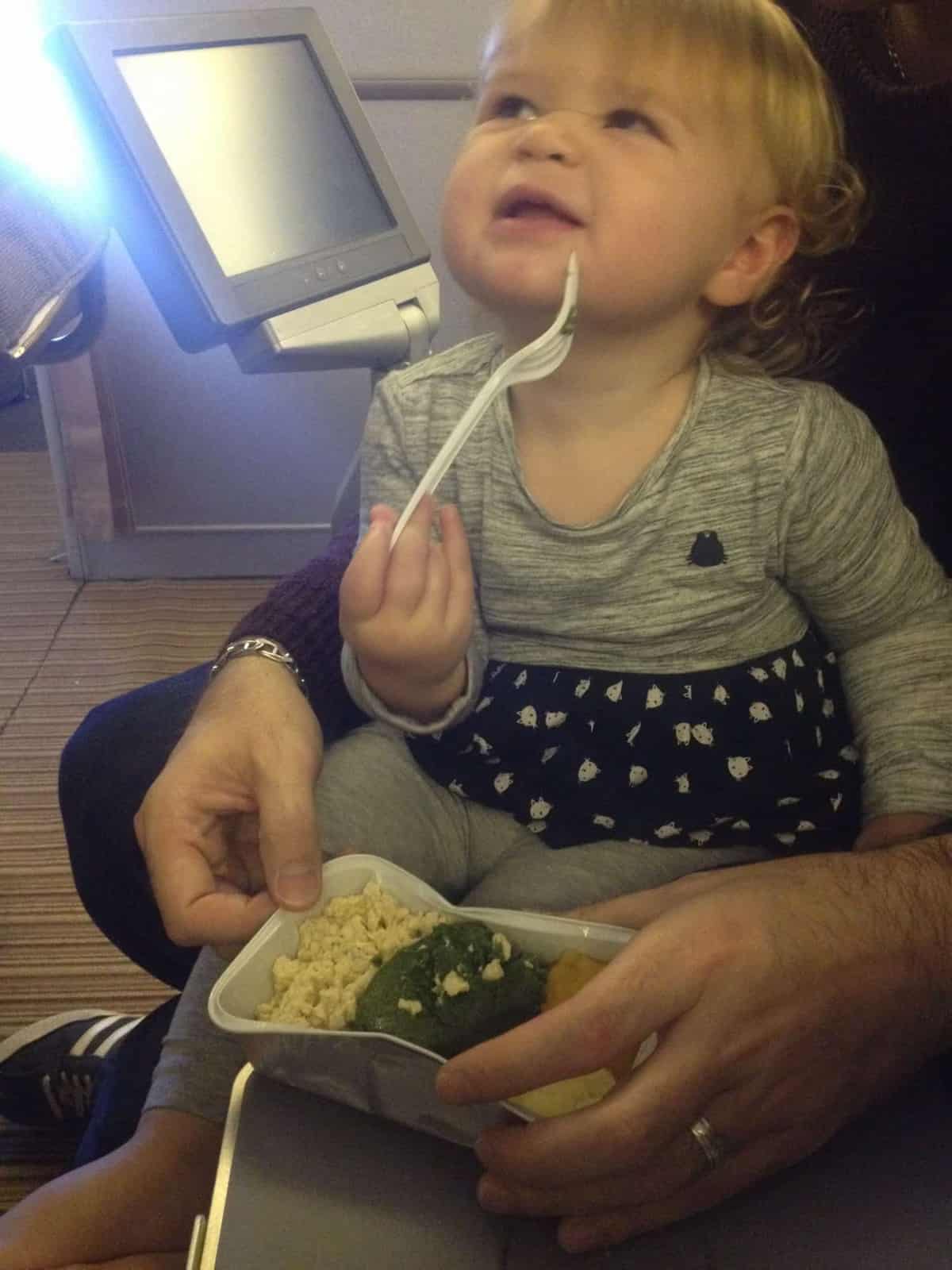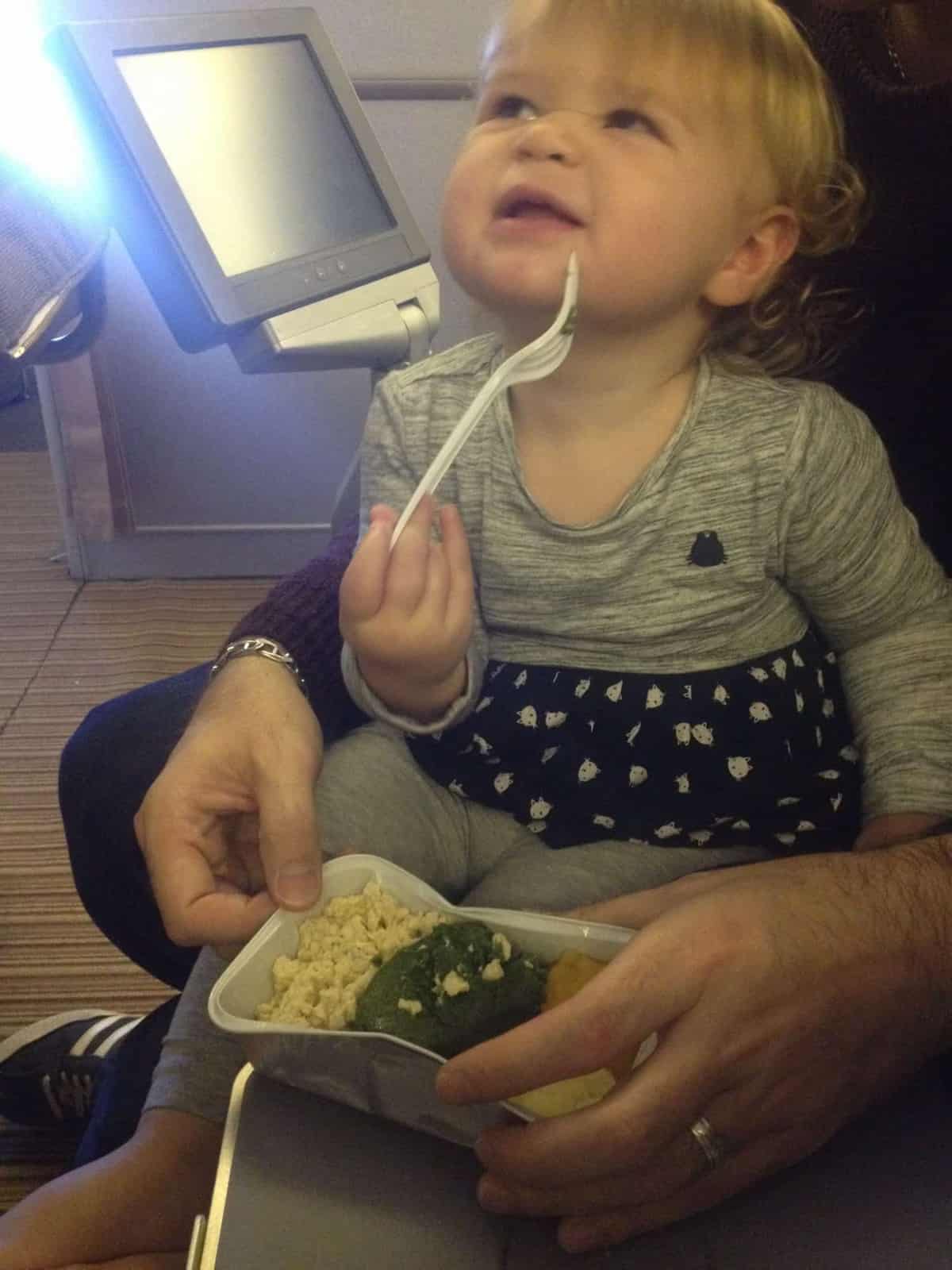 The biggest issue was actually caused by very poorly designed bassinet seats. Because there is no seat in front all of the usual in-flight furniture like tray table and TV are built in to the seat. With my daughter sat on my lap it was impossible to move the tray table far enough away for us to use it.
I'm by no means a large person either and our daughter isn't even 18 months old, yet there was no way she could eat her food while sat on the lap of an adult. The only way we could feed her was by her sitting on my wife's lap and using my tray table to rest her food on.
Not ideal at all and if you're travelling alone with your child I'm really not sure how you would feed your child any meal provided by the airline. Thankfully the new interior of some of the Singapore Airlines 777 fleet have addressed this problem but older planes like this one are definitely an issue.
With the bassinet in place, TV out, tray table out and no movable arms on the seats, its all a bit cramped and very limited on space.
Uluru
The highlight of the flight was quite unexpected. On the in-flight map I could see we were approaching Uluru aka "Ayers Rock" and wondered if it would be visible from the plane windows. I noticed another passenger was searching for it out the door window so I knew we were getting close.
The pilot then announced that we'd been given special permission to fly closer to the famous red rock and it would be appearing on the right of the plane within a few minutes. Everyone got very excited and some generous passengers offered us a better view from their seats for a brief while.
It was amazing to see one of the most iconic landmarks in Australia as we flew overhead, quite spectacular and a real treat!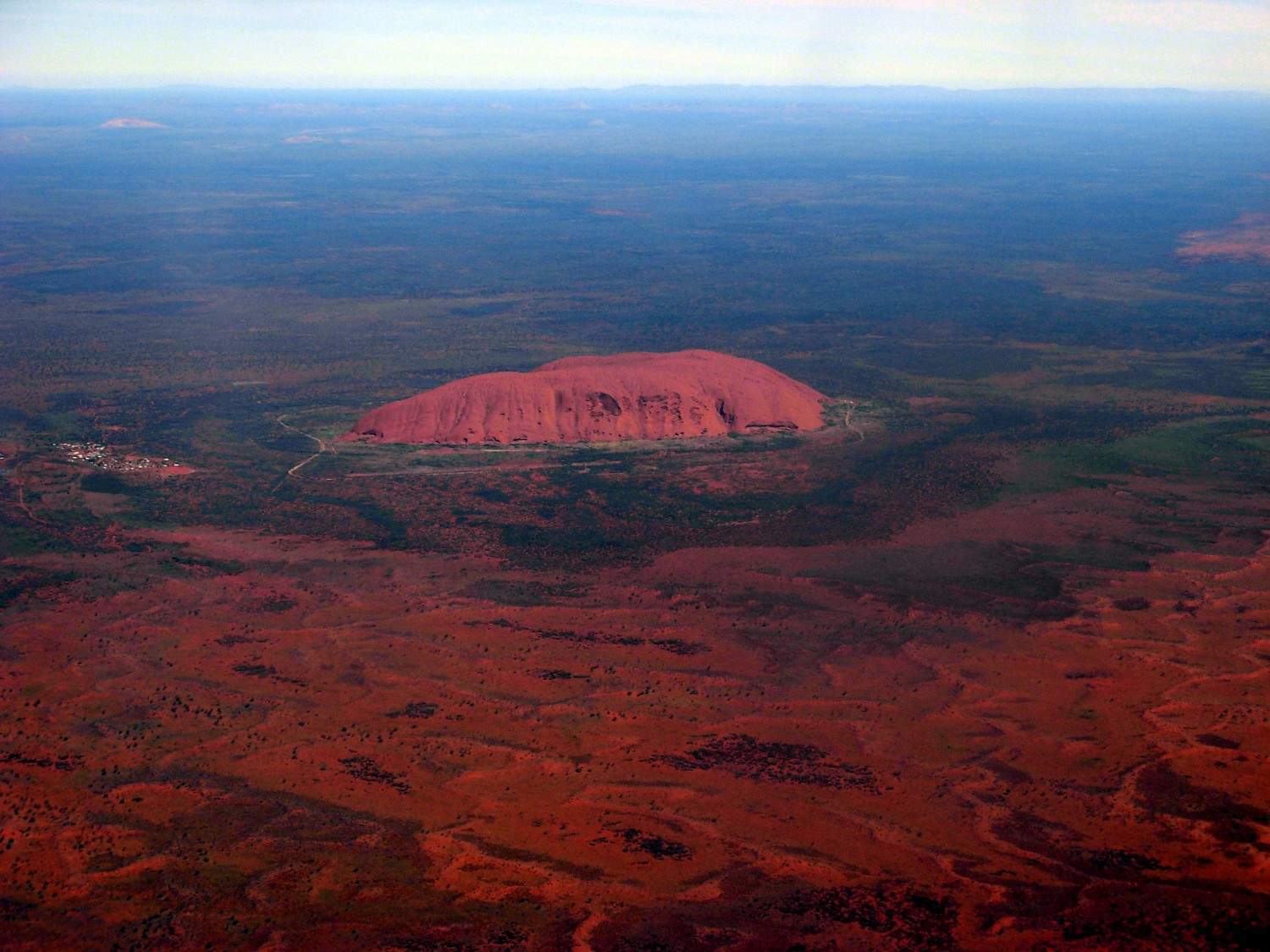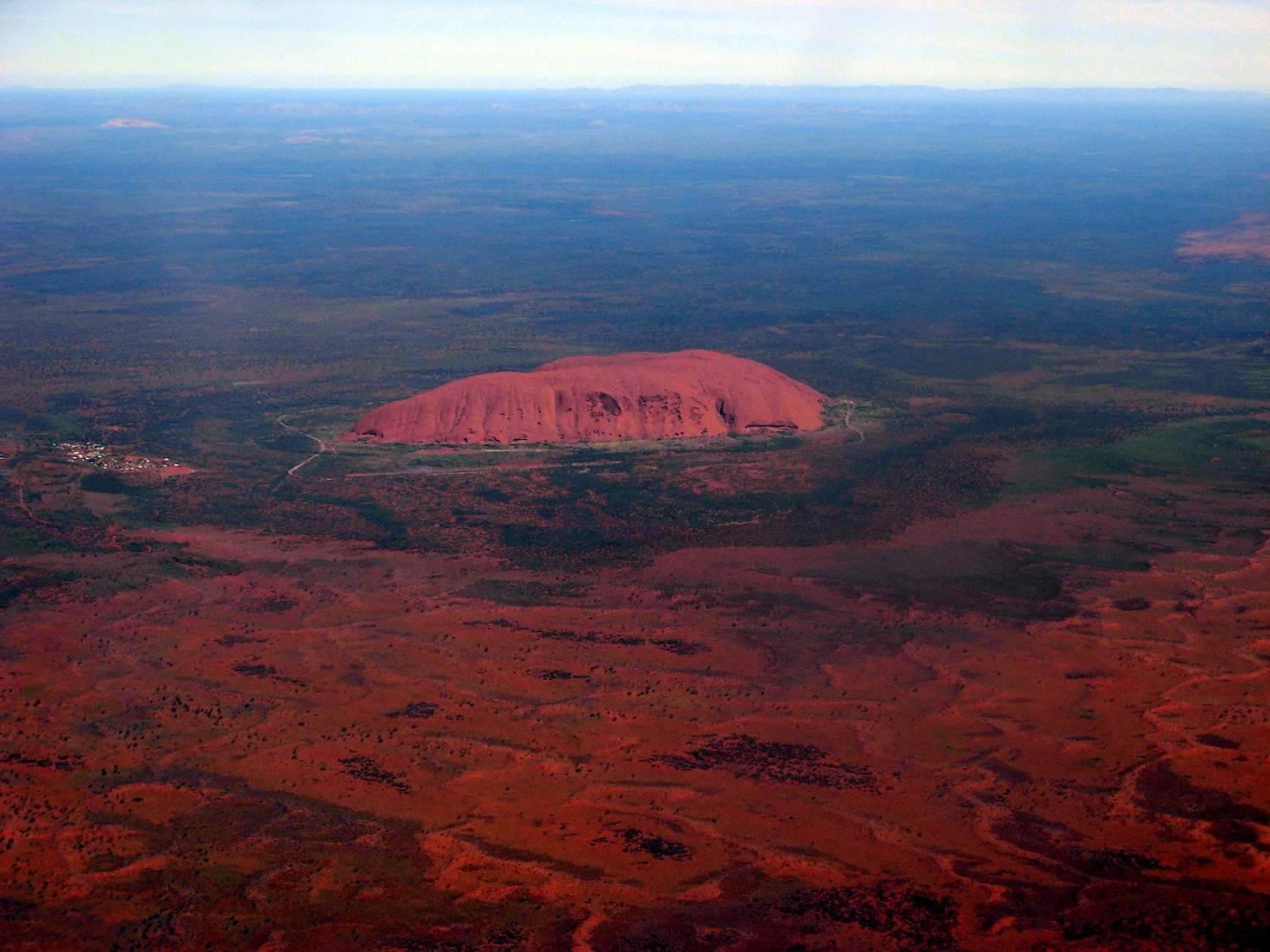 Conclusion
Long haul flights go surprisingly fast when you travel with a toddler. There's so much to do in order to keep them happy, entertained, fed and sleeping comfortably. The 7 hour flight whizzed by and the surprise sight seeing above Uluru added something special too.
Our daughter was mostly on fine form and travelling with young kids is a real ice-breaker with other parents too. The staff were helpful and the bassinet was definitely useful although the interior design made life difficult for people travelling with children under 2 that don't have their own seat.
With thanks
A big thank you to Singapore Airlines for their support with this review. You can book flights directly with them at the Singapore Airlines Website and follow them on twitter for all the latest news and very helpful customer service.