By Keri Allan from LadiesWhat.co.uk
As the Philippines is made up of over 7,000 islands each with their own unique feel and experiences to offer, any visitor to this amazing country is totally spoilt for choice! During our recent trip as guests of the Tourism Promotions Board Philippines, one of our stops was the wonderful island of Bohol, which is a great place for first time or return visitors alike. There's so much on offer, but thanks to our brilliant guide Cecile, we can show you five of the top things you shouldn't miss during your stay in this tropical paradise.
1 – A trip to the Chocolate Hills
One of the most iconic images from Bohol has to be the Chocolate Hills. From the two best viewpoints on the island these oddly cone-shaped hills reach as far as the eye can see and vary in height from 30 to 120 meters. There are over 1,200 hills in total, and their name comes from the fact that the grass turns brown towards the end of the dry season.
At Carmen you can get an amazing view of the land by climbing the 200+ steps up one of the hills to look over the peaks and valleys. Awe-inspiring to see, I loved the mythical stories that the locals share about the creation of the hills.
One legend has it that the hills were created when two warring giants turned Bohol into their fighting ground. They created massive mud boulders to hurl at each other and the remnants of these are the hills we see today. A more romantic tale is that of a giant who fell in love with a local women. Heartbroken when she died, the story goes that his falling tears formed the hills as he walked across the land.
2 – Try out stand up paddle boarding
If you'd like to try out a water sport but are not feeling adventurous enough to give surfing a go, stand up paddle boarding (SUP) is a great choice. Much more chilled out than I expected, our experience involved an hour of gently winding our way down the Loboc River, taking in amazing views and soaking up the sunshine.
Most SUP tours include the gear, basic training on how to master SUP-ing and a guide that will take you on a tranquil tour down the river. There are tonnes of chuckles as you watch your friends attempt to get to grips with the paddles, but once you've found your feet – and your balance – you're ready for a wonderfully relaxing experience.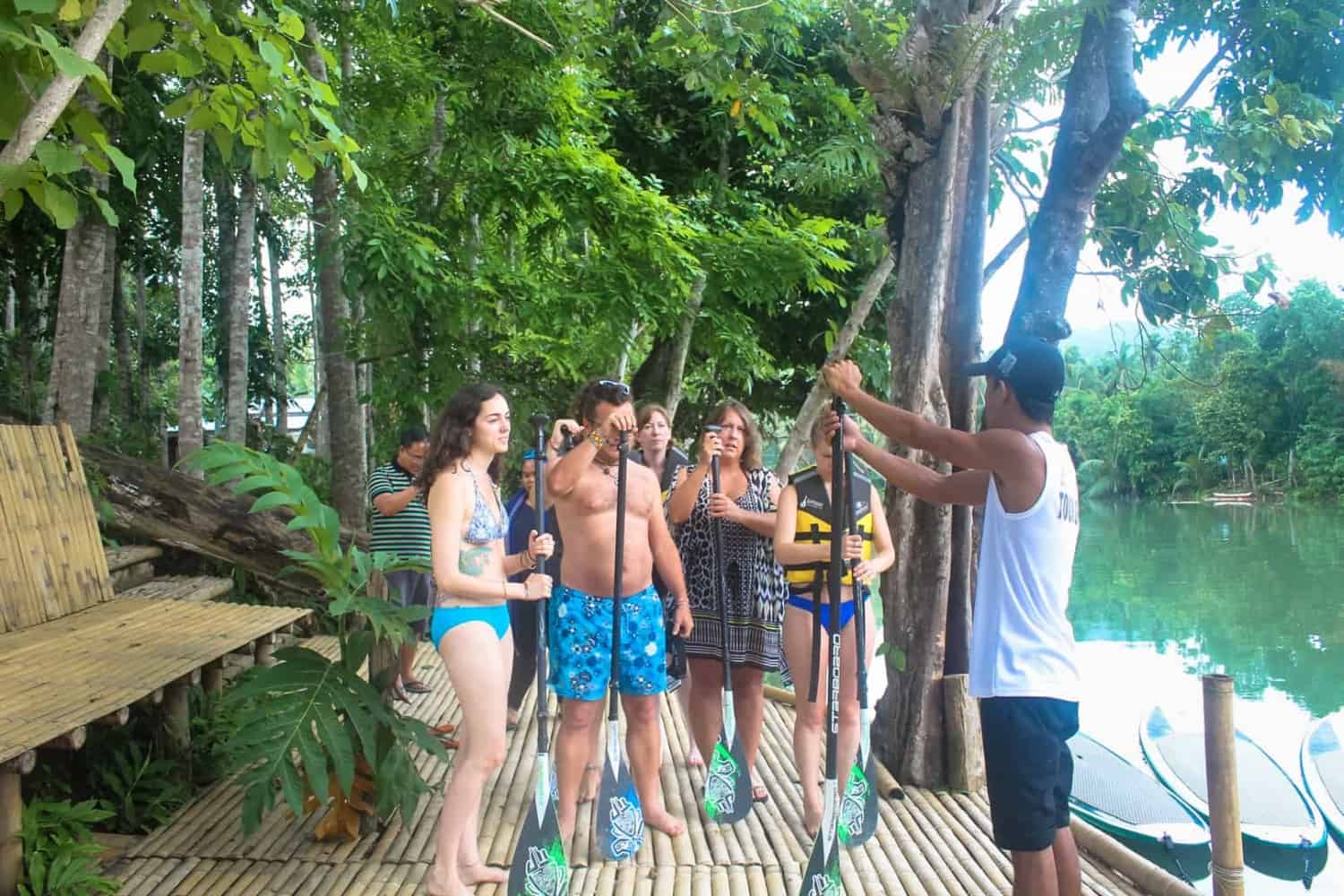 If you arrange your tour for the weekend you'll also have the pleasure of watching the local children enjoying their time off school, splashing around by the bank or leaping off rope swings into the river. They love to say hi, so give them a wave as you pass by, or if you're brave enough to give it a go, they'll happily have you join them on the rope swing!
3 – See a Tarsier in its natural habitat
The Philippine Tarsier is one of the world's smallest primates – it can comfortably fit in a grown man's hand. These gorgeous nocturnal bug-eyed creatures have become at risk due to population growth and due to their nervous nature they are not suited to captivity.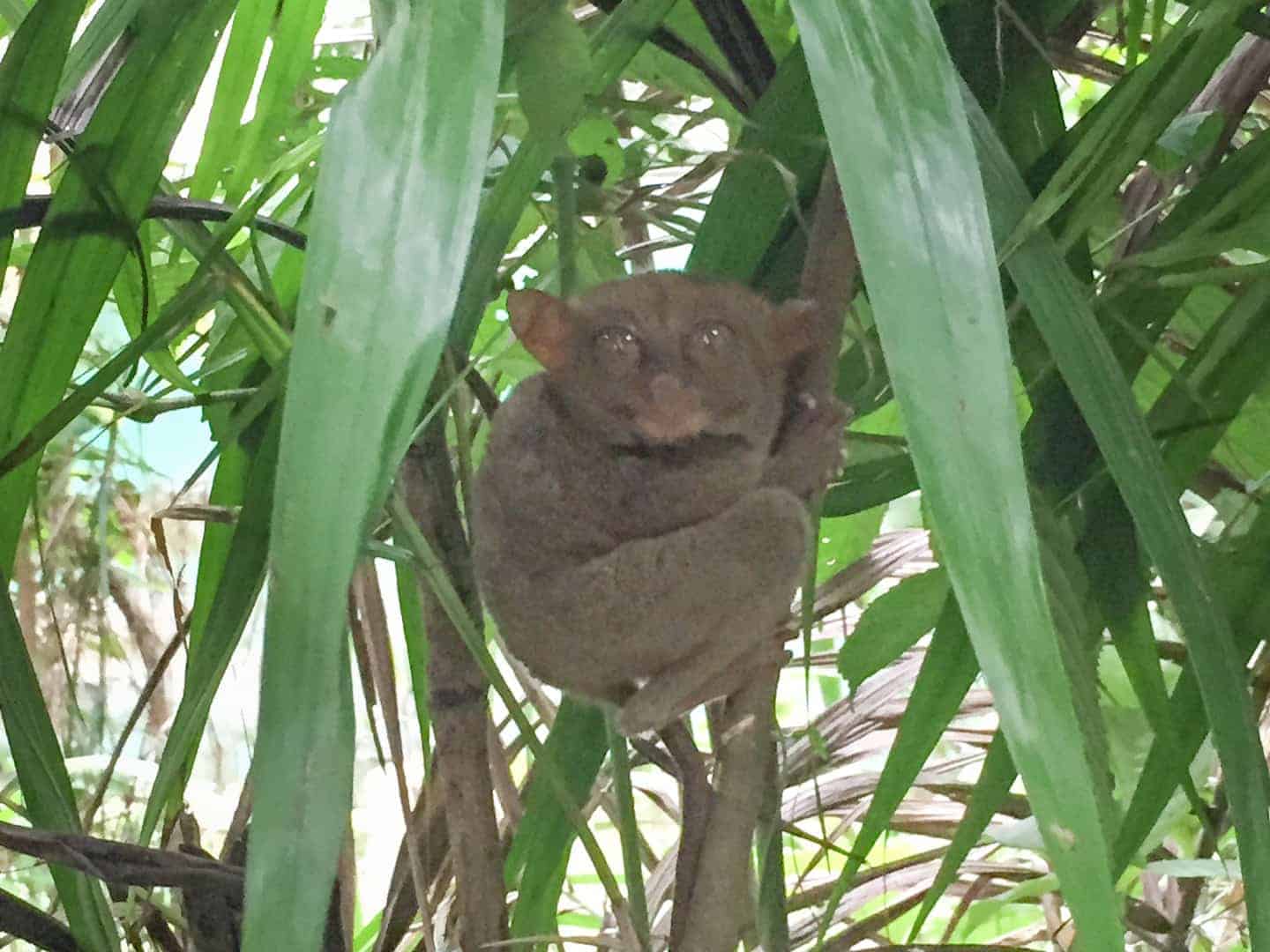 However, one local, known as the Tarsier Man, has worked hard to develop a research centre and sanctuary where visitors can, in controlled situations, see tarsiers in their natural forest habitat. Carlito Pizarrashas created a large semi-wild enclosure where small groups can be guided around and are able to spot the tarsiers, which have grown in number since he began his crusade. A trip to his sanctuary is a wonderful way to see these rare, solitude-loving little guys.
4- Eat kamayan style on a riverboat tour
Kamayan is a Filipino custom of eating with your hands – if you want to enjoy food the way the locals do then chuck away the cutlery and dive in fingers first!
If you want to do this in style, what better way than taking a lunchtime tour down the Loboc River. One of the most surreal lunch experiences in my life, our trip included everything from singers and a dancing chef through to a group rendition of the YMCA and a man dressed up as a giant tarsier!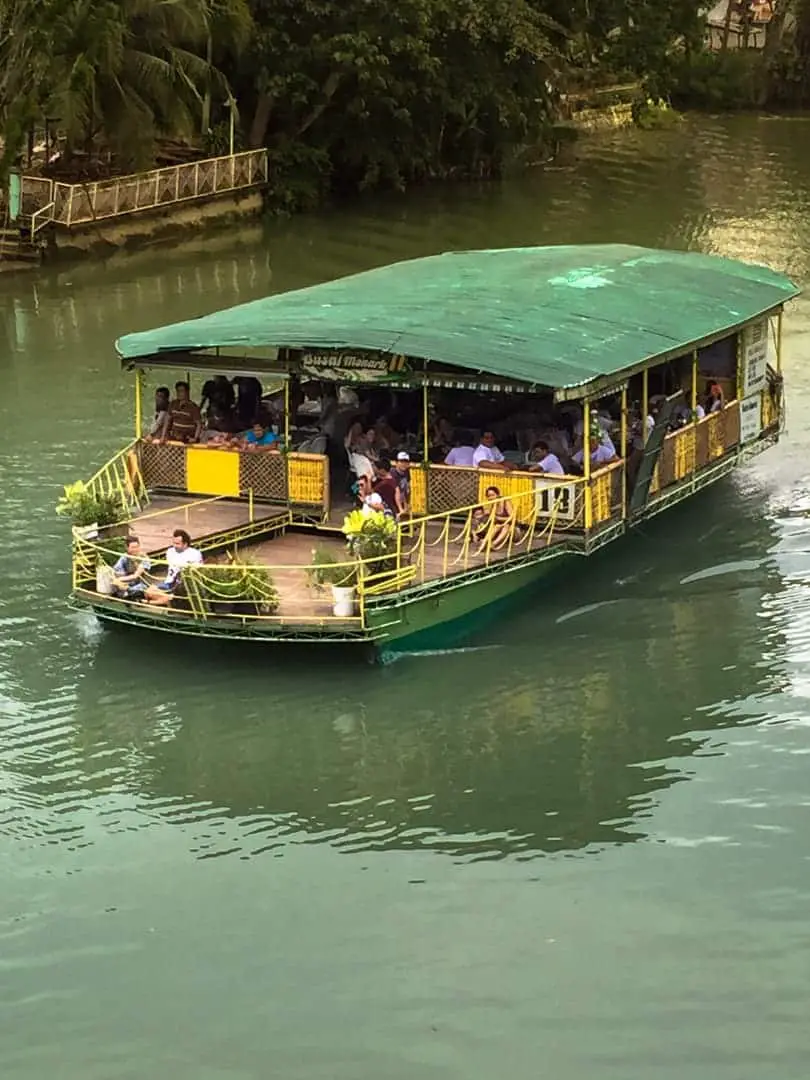 A real highlight is when the boat stops off and you're greeted by a local group of performers ranging from 6 to 60 who put on a wonderful song and dance display. We were warmly welcomed to join them, so some of us grabbed an instrument and joined in, while others were invited to try out a traditional Filipino dance called tinikling. This involves jumping over moving bamboo sticks, reminding me of playing double Dutch in the school playground. The whole affair was quite emotional as we felt so welcomed and it became one of my most memorable moments on the trip.
In-between this amazing experience – and all the crazy that had us in fits of laughter on-board the boat – came a slap up kamayan feast of rice, fresh vegetables, seafood and meat. This is brought out on a board covered in banana leaf and the custom is then to create a little mound of the food you'd like, pick it up with your right hand and pop it straight in your mouth. The meal both looks and tastes amazing, and with so much wonderful fresh produce you'll never eat badly in Bohol!
5- Watch the fireflies light up the night sky
Return to Lomboc River once the sun has set and you can take part in a totally different experience.
A firefly cruise in Bohol begins with a ritual involving walking through incense smoke. This appeases and protects you from spirits so you can then board the boat and start your journey. Travelling along at night the guides use only a flashlight to see their way, meaning you focus on the tranquillity of the evening, the silence broken only by the noise from the boat and the wildlife around you.
Although the weather affects your chances of seeing fireflies, even on our damp evening we came across small groups of them lighting up the trees along the bank. Tough to photograph, I put the camera down and decided to simply savour the moment with my own eyes, watching their blinking lights bring the tree to life and even got to see a few of them venture out onto the river to check us out on the boat. A really magic and memorable experience, this topped off a truly amazing day in Bohol.
Its More Fun In The Philippines
A big thank you to Philippines Tourism for their support. For more information on flights to the Philippines visit philippineairlines.com. You can also follow Philippines Tourism on Twitter, Facebook and Instagram.
Image credits: Chris Stevens from Backpacker Banter and Amy Scott