When it comes to natural beauty, a tranquil atmosphere, rich culture, and friendly locals, New Zealand can offer these qualities in abundance. Wouldn't you agree?
This two-island nation boasts long, dreamy coastlines and a subtle climate with wonderfully maintained national parks that contain every type of landscape as well as hundreds if not thousands of unique species of flora and fauna.
If you're convinced to travel to this magnificent natural wonder then check out this list of family travel in New Zealand. There's something for everybody!
So lets get started!!
Moeraki Boulders
Moeraki boulders are the perfect example of Mother Nature's awe-inspiring abilities. They are large, spherical boulders lying all across the stretch of Koekohe beach on the cost of Otago between the areas of Moeraki and Hampden. According to scientists, they were formed millions of years ago when muddy sediments were clustered together and were shaped like a spherical boulder due to constant wave action, landslides, and erosion. Pique your kids interest the wonders of nature when you visit the boulders. It's a great place to stop for a picnic when driving down the North Otago coast!
Swim with the dolphins
Dolphins are known as some of the most affectionate and intelligent creatures in the animal kingdom—so why not take the opportunity to spend some time with them? In New Zealand, you'll get this rare opportunity to swim close to these amazing creatures for an experience that your children are sure to remember. The best places to swim with dolphins are in Kaikoura, which you can do all year round, Marlborough Sounds, where you can see up to five species of dolphins, and Akaroa, where you'll encounter these creatures in crystal blue water and might catch a glimpse of some penguins and seals as well!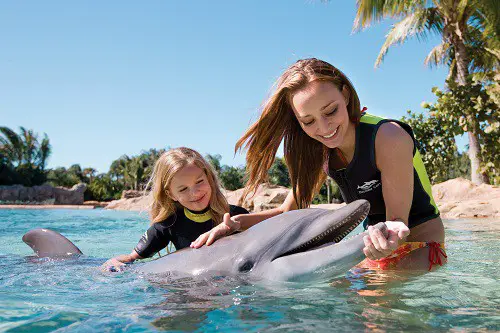 Whale watching
The waters around New Zealand hold one of the most populous whale migration routes in the world's oceans, which means it's a perfect place for some whale watching! As the good news is that wherever you go, you'll be able to see different species of whales, from sperm whales to orcas to the majestic singing humpbacks and even the giant blue whales! Visit Kaikoura for a unique helicopter whale watching tour, or Whakatane to see a plethora of different species at once. You might even be able to catch some sights from Auckland's Hauraki Gulf.
Check out this awesome video to see exactly what whale watching is like in Auckland. Thanks to Mari Johnson.
Visit the Waitomo Glowworm Caves
These amazing caves located on New Zealand's North Island will give your family a once-in-a-lifetime opportunity. No really—this species of luminescent glowworm can only be found in New Zealand! The caves offer boat tours through the caves, where you'll see waterfalls, flying foxes, and of course the gorgeous glowing creatures. If you want a little more adventure, sign up for some black water rafting through the caves. Book your tour right here.
Walk on a glacier
New Zealand is well-known for its landscapes, mountains, fjords, and glaciers—so why not check them out up close? Franz Josef Glacier is arguably one of New Zealand's most breathtaking sights, and there are plenty of ways to explore it. Try your hand (and feet!) at ice hiking, where you'll strap on some crampons and spike your way through the glacier bed. You can also take a helicopter flight to the top, where you'll climb a bit and then end the adventure in the glacier hot pools. Keep in mind that these activities are more strenuous and probably for older children. However, there are plenty of easy-paced walks on and around the glacier if your family still wants to check out this magnificent work of Mother Nature.
While the list is endless, we hope you enjoyed reading about these amazing family activities that you can enjoy while you're in New Zealand for family holidays. Till then, keep exploring!