From the most exquisite vine in the world to the ones available in your nearest convenience store, they all have to undergo an important first step: the harvest. Grapes have been traditionally handpicked from their vineyards to be processed into the celebratory beverage we know today as wine. It's a wonderful experience to take part in the harvest of grapes but it's even better in Tuscany being one the prominent wine producers in Italy.
If you are a wine enthusiast, then Tuscany (or just about anywhere in Italy) is the place for you. Nothing unites them more than their love for good wine. If you are indeed a wine enthusiast, then it is imperative that you not only go to Tuscany to try their wine but you have to go and experience the process itself. Nothing will give you a bigger sense of pride than being able to partake in the process of making fine Tuscan wine.
If this is something that interests you, then you have to plan your trip accordingly. Of course, if you want to harvest grapes then you have to go there during the harvest season. This is usually during September and October. The harvest time is crucial to the process because the product wine is at its best when the grapes are picked at their peak. You can inquire local vineyards ahead of time when they are available for harvest, and whether or not they are open to tourists.
Once you have found a local vineyard, you can experience grape harvesting; then you must reserve a place to stay in ahead of time. You can also go and try a more commercial vineyard but there's nothing purer than experiencing the harvest with the locals whose lives are built around this historical tradition.
The History
This would surely be an experience of a lifetime as you participate in the festivity that is grape harvesting in Tuscany. This event is not only localized to certain parts but is being celebrated everywhere along the countryside. After the grapes are picked, they are carried off with the utmost love and care as to not damage their skins. Then you would get to see the iconic scene of beautiful local girls trampling on the grapes to crush them, and extract the magical juices within the fruits.
However, this has become more of a festivity than the actual process because nowadays, the grapes are placed in a tank where the grapes are to be extracted. The day of merriment and happiness doesn't end there but in big communal feast.
The Tour
A 6-hour tour is available not only for couples, but up to groups of 8. The limited number per group is designed to ensure that everyone would be able to enjoy themselves without thinning the hour too much. The tour starts off with the pickup at platform number 16 in the central station of Florence at 8:00 AM but the actual tour starts at 10:00 AM until 4:00 PM.
The tour will include a bilingual guide to assist and educate the group throughout the course of the event. Not only that, it is also jampacked with cultural activities for the group. An authentic 3-course Tuscan meal will be provided for lunch. For the wine connoisseurs out there, wine tasting is also part of the tour.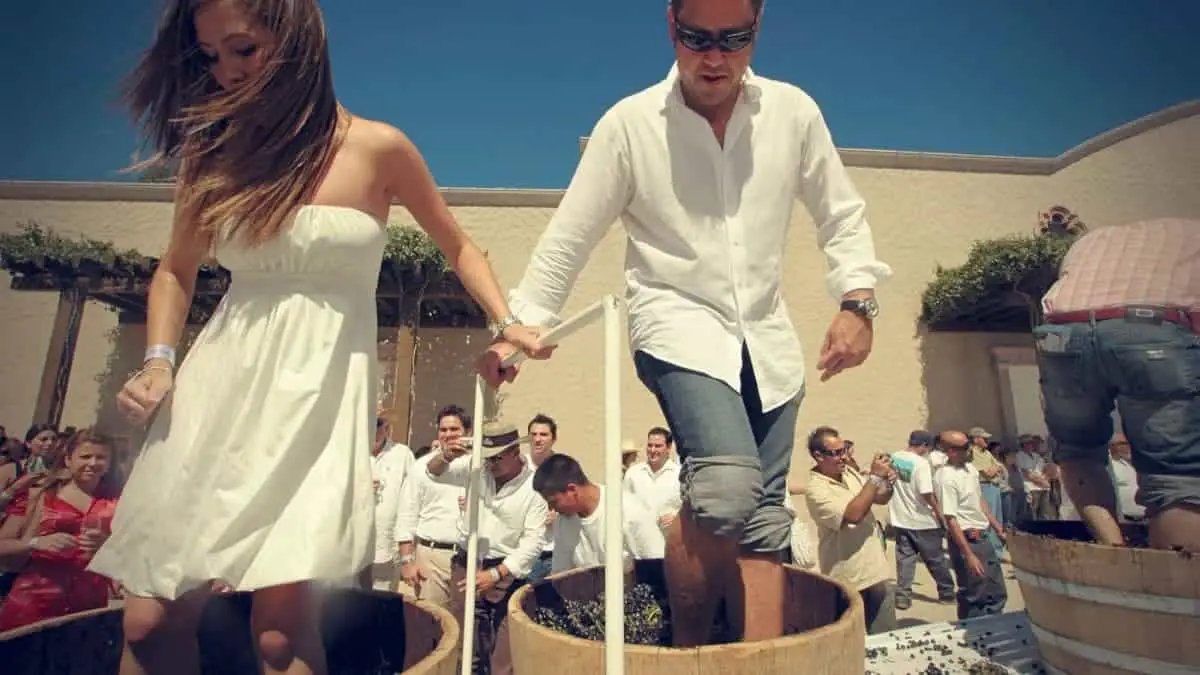 If you have booked the tour during the harvest season (September to October), then experiencing the harvest will also be included. You will also be invited to the old tradition of stomping in grapes. A lecture about the modern winemaking process will supplement your traditional winemaking experience.
Terms and Conditions
If for some reason that you cannot go through with the tour and have to cancel, please be reminded that there is a cancellation fee. However, that fee will be waived if you cancel at least 7 days in advance. The cancellation fee is halved if you cancel 3-6 days in advance, and it is to be paid in full if you cancel within 2 days.
Note that prices for the tour will always be subject to change due to certain circumstances such as significant currency inflations. The tour also does not provide any insurance to the participants, so you are implored to get travel insurance for yourselves prior to the trip. The tours include long walks for sightseeing, and it is preferable that the participants are physically capable of handling this kind of stress.
This specific tour is perfect for those who are just in love with wine, and the winemaking world. Nothing beats traditional Tuscan wine. Please remember to book your stay during the harvest season to be able to participate in this once in a lifetime experience.