Depending on where you live in the world you may or may not have heard of e-cigarettes. Touted as the future of smoking, these smoke free and largely chemical free devices offer people a healthier option than puffing away on cancerous cigarettes.
Their launch has been somewhat controversial though, due to the fact they circumvent smoking laws in many countries and have brought the act of smoking back indoors when countries were actively banning the habit entirely.
So are they cigarettes or not? Where can you smoke them? Where can you buy them and the tobacco refills they require? Can you travel with them legally? I decided to do some in-depth research to find out the facts about e-cigarettes and travel.
E-cigarette facts and figures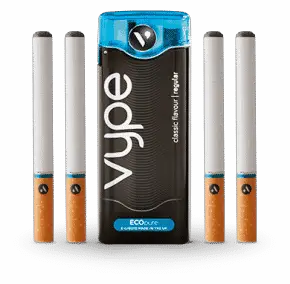 Firstly a few facts to find out just how popular e-cigarettes are these days. If you didn't already know, an e-cigarette is a device that simulates smoking through cartridges containing nicotine and flavourings in liquid form. The device looks exactly like a cigarette and with each suck it vaporises the liquid and heats it as you inhale.
A pretty simple concept and one that has become big business since they first appeared in 2003. They often come with a blue LED at the tip such as the e-cigarettes from Vype and can be reused with refill cartridges.
The sales statistics for the last few years are impressive to say the least. US figures show a 4,900% sales increase between 2008 and 2013 and the industry is now considered to be worth over $1 billion. In the UK their popularity is growing at a slower rate but the consumer analyst Mintel estimated the UK e-cigarette industry at £193 million ($324 million). Their popularity in the UK jumped from 50,000 sold in 2008 to 3.5 million in 2012, a jump of 6900%. A survey conducted in 2013 showed a greater proportion of smokers agreed that e-cigarettes were the best way to cut down rather than quitting smoking. Whether this is true however remains to be seen as there is currently no regulatory body for e-cigarettes, nationally or internationally.
Loved in some countries, banned in others
If you're an e-cigarette user, a smoker looking to cut down or you want a better solution to your smoking addiction then its worth noting that the sale and even use of these devices are banned in some countries. In others its unclear exactly what laws govern them, while in others they are readily available. I've put together a list of countries that currently allow the sale and use of them, although the status in some countries is unknown.
Costa Rica
Czech Republic
Estonia
European Union (EU)
Israel
Italy
Republic of Korea
Latvia
Malta
Netherlands
Poland
Russia
Tajikistan
Ukraine
United Kingdom
The European Union is included in this list as its international laws supersede local laws making the sale and use of e-cigarettes allowed in most EU countries. Below is a list of countries that have a total ban on e-cigarette sales including refill sales. Some of these have been known to confiscate e-cigarettes at airport customs.
Columbia
Indonesia
Jordan
Mexico
Oman
Panama
Taiwan
Turkey
United Arab Emirates
Uruguay
Venezuela
There are many other countries that now operate a confusing "two tier" system relating to "nicotine and non-nicotine products". The e-cigarette device itself without the refills are allowed, as they are not a nicotine product. Refills that don't contain any nicotine are also allowed. Refills that contain nicotine or e-cigarettes sold with refills are banned. This strange setup is designed to allow the manufacture of the product but ban the sale of any useful e-cigarette. The items are however allowed into these countries but don't expect to be able to purchase refills.
Finland
Hong Kong
Hungary
Norway
Sweden
Switzerland
There is a 4th group of countries where there are no specific laws relating to e-cigarettes. This is partly due to them being a relative new product on the market and partly because existing laws don't fully cover their sale or use.
The law in Mauritius is particularly interesting stating "No person shall sell, offer to sell or distribute sweets, snacks, toys or any other object in the form of, or which are likely to create an association with, cigarettes or cigars." Something that is hard to police when you can argue the components that make up the e-cigarette are used in other every day products like humidifiers.
Airlines
Because of the murky nature of the laws around e-cigarettes airlines have been unsure what to do about them for some time. The act of exhaling after an e-cigarette is known as "vaping" when a small amount of liquid vapour is expelled. As you're not technically smoking the ban airlines have in place does not automatically apply. This doesn't mean you can start vaping whenever you please though. There's no definitive list of who has banned their use during flights but I was able to contact a number of airlines to ask them for confirmation. Here's a list of airlines that could confirm they are banned. If you do decide to travel with them rest assured you're not breaking any law, although the airline staff may ask to look after them for you or deny you access to the plane.
Air China
Air Canada
All Nippon Airways
American
American West Airlines
British Airways
China Southern
Continental
Delta
EasyJet
Emirates
Iberia
Japan
KLM
Korean Air
Lufthansa
Malaysia Airlines
Northwest
Quantas
SAS
Saudi Airlines
Southwest
Thai airlines
United
US Airways
Virgin Atlantic
Reasons for bans range from airline to airline. Some had specific rules in place regarding e-cigarettes, allowing you to carry them on board but not be used. Others had a list of "permissible electronic devices" which does not include e-cigarettes, meaning you're not allowed to even carry them on board. Some airlines banned them on public nuisance grounds while others claimed health reasons, usually citing government directives. The one strange airline to stand out from the crowd is Ryanair who said "We do not permit the use of electronic cigarettes on board any of its flights, however smokeless cigarettes can be purchased and used on board." These are not e-cigarettes, just simply low nicotine cigarette substitutes that do not need to be lit. This is more likely to be a marketing ploy and a chance to sell overpriced alternatives rather than any health or safety reasons.
Conclusion
E-cigarettes have created an unusual situation where modern laws banning smoking do not apply. There's currently no decent government studies to suggest that they are any better or worse for you. These two factors coupled together have created an unusual stalemate where their sale and use is entirely permissible in some countries and banned outright in others. Although it's clear that e-cigarettes will cause you less harm than traditional cigarettes and cause less bother to non-smokers.
If you are an e-cigarette user and plan to travel with them its important you know the law in the country you're travelling to. It's also important you check with your airline to see whether you are allowed to take them on board their aircraft and whether you can use them too. Until there is a regulatory body for e-cigarettes, their use abroad remains your responsibility. It's best to check before you leave so you're not caught out.