If you're looking for something a little different, where the ancient and exotic meets the ultra modern, then we think a 10 day dubai cruise around the Arabian Gulf might be just the thing for you.
With a hallmark for high quality, the United Arab Emirates boasts some amazing destinations that are fast becoming tourist hotspots rather than just business centres. There's a lot to see and do in the region and plenty of Dubai Cruises to get you started too.
I've picked one of my favourite cruises to give you a taste of whats possible.
Fly to Dubai
Firstly lets start with you leaving your country of origin. Dubai is a super hub for aviation these days and is officially the worlds busiest international airport. This means plenty of competition and great deals for you on long haul flights to the UAE. Flight time from London is around 7 hours and you'll find plenty of flights to Dubai every day. The airport is only 3 miles from the city centre too so jump in a hotel shuttle bus or taxi and you'll soon be at your hotel.
Watch this video to see just what landing at Dubai is like and the arrivals area of Terminal 3.
Start in Dubai
The self proclaimed 'Pearl of the Arabian Gulf' Dubai boasts a fantastic mixture of traditional Islamic architecture and some of the most impressive modern buildings in the world.
Dubai's climate is hot all year round with temperatures really hotting up in the summer months, November – February is probably the best time to visit with temperatures a bit more bearable.
There's plenty of festivals here both by locals on traditional, often religious dates, with lots of other western influences thanks to a big expat community. Highlights of Dubai include a trip to the Burj Khalifa, a 829 metre tall skyscraper with 154 floors and a great observation deck on the 124th floor.
I can also recommend a visit to the very impressive Atlantis Aquarium which is great for a family day out. For the more adventurous you really can't go wrong with a 4 wheel drive excursion across the sand dunes of the nearby desert. Its an experience unlike any other.
Watch this video for a taste of the 4WD desert experience
Once you've had your fun in Dubai its time to board your cruise ship at the Cruise Terminal in Port Rashid. Settle in to your room and enjoy the views as you depart this sparkling city where the desert meets the coast.
Manama, Bahrain
Bahrain is one of the smallest countries in Asia but has no shortage of wealth and culture. Manama is the capital city and a trip to the National Museum is a must t get a real sense of what Bahrain is about. The mosques are well worth seeing too with beautiful Islamic architecture and traditional art.
The Al Fateh Mosque being arguably the biggest and the best.
For the best in Islamic art head to the Beit Al Quran. All buildings in Bahrain are striking, whether they're ultra modern or ultra traditional.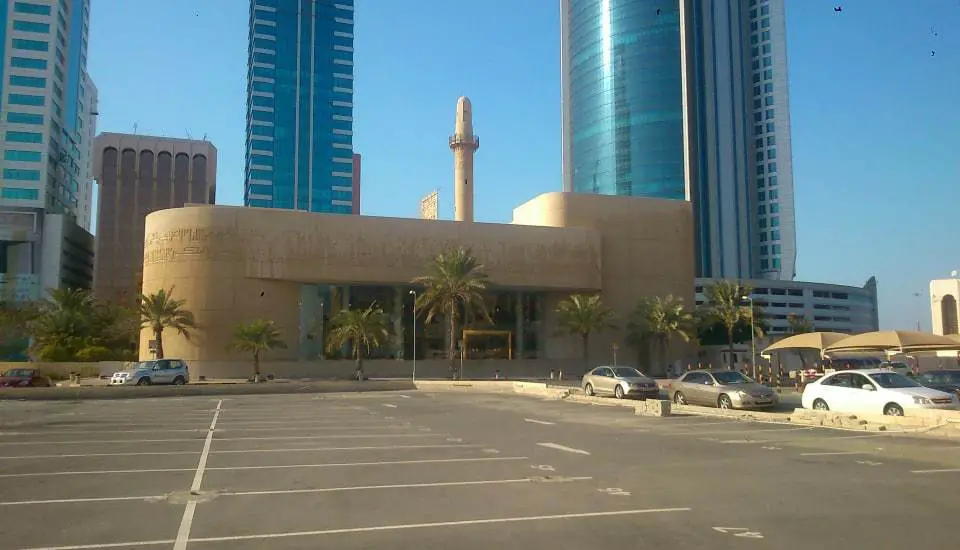 If your cruise has a culture tour be sure to join it, Manama has an interesting history and its own culture that an expert guide will be able show you during your short excursion in Bahrain.
Abu Dhabi
From the small to the big! Abu Dhabi is the 2nd largest city in the Emirates. Its seemingly endless array of ultra modern buildings, malls, skyscrapers and business centres would at first lead you to believe thats all there is here, but delve a little deeper and you'll find plenty of heritage here too.
I'd recommend a city tour to make the most of your time there which will highlight some lesser known areas worth exploring.
I highly recommend you visit Al Ain which is around 90 minutes from the city centre. Al Ain is a UNESCO World Heritage Site and one of the world's oldest permanently inhabited settlements.
Surrounded by beautiful fort buildings built in 1891, the city is a colourful and vibrant preservation of the past and a place you'll really understand what is beneath the glits and glamour of Abu Dhabi.
Check out this great video on Al Ain from FlyingToWorld.
Other fun excursions include speed boat rib rides or a slow and steady Dhow Cruise at sunset if time allows.
Muscat, Oman
The capital city of Oman has a ambience and quality quite unlike any other you'll find in the region. Maybe its the perfect Arabian recipe of stunning mountains as a backdrop, perfect beaches, a busy and colourful city surrounded by rolling desert dunes.
Muscat is also the place where global cultures mix and blend. With trade from Africa, Asia and its Arabic neighbours, while the city modernises its roots will always remain visible. A great place for a guided tour and a spot of shopping.
I love this video on attractions in Muscat and plenty of amazing dishes to try!
Khasab, Oman
On the Musandam peninsula Khasab is the place to go, nicknamed the "Noway of Arabia" as its landscape is strikingly different to other countries in the United Arab Emirates. Expect dramatic mountains along the coast line with rocky inlets dotted along the way. The feel is quite a contrast to the ultra modern cities you've experienced so far on this itinerary. A breath of fresh air and one to look out for on any Dubai cruise.
SIR BANI YAS ISLAND, UNITED ARAB EMIRATES
While mainland and peninsulas are the order of the day for much of the trip there are islands that you can visit too One of which is Sir Bani Yas Island. The entire island is actually the top of a huge dome of salt created millions of years ago. Sir Bani Yas was originally home to Arabia's largest wildlife reserve covering 87 km2 (34 sq mi). This is the one place to go for wildlife as decades of conservation work have greatly helped the thousands of large free-roaming animals and several million trees and plants that now grow here. You'll also find a bird sanctuary within the wildlife reserve so a great place for bird watchers too. Activities here include wildlife safaris, like the Desert safari experience in Dubai, kayaking along the coast, mountain bike tours, hiking and some great snorkelling options too.
Check out this video guide on Sir Bani Yas Island.
Back to Dubai
Time sure flies when you're having fun and its all too quick that you're returning to Dubai for your flight home. If you want to extend your stay in the region why not  check out one of the many amazing resorts in Dubai.
There's plenty of activities in the city and a never ended opportunity to shop as well! You may even catch a mermaid show or two.