By Arienne Parzei 
Generally speaking, South Korea is not an expensive country to visit. It falls right in the middle of the price spectrum when comparing it to Japan and China. Lodging, transportation, and food are the three main areas where our money is always being spent. After living in South Korea for 2 years, I've found some ways that have helped me stretch my wallet a little further, and in turn will help you get the most out of your won while traveling through the country.
Refill Your Water Bottles
This one makes the list for many other countries and South Korea is no exception. In fact, South Korea makes it extremely convenient to refill your water bottles. Koreans love their water dispensers. They are easily found at train stations, in food courts of malls, rest stops along the highway, and airports. The machines are free to use and dispense both cold and hot water (convenient if you like a cup of tea or a cheap meal of ramyeon). Not only is refilling your water bottle great for your wallet, but also for the environment too.
Stay in Love Motels
Dorm-style hostel rooms will be your cheapest option when you're staying in Seoul. But if you will be travelling around other parts of the country, staying at a love motel will actually work out cheaper based on a double occupancy. Love motels get their name because Koreans can rent these rooms by the hour and, ahem…display their love for one another. But for travelers these rooms can be a great deal. They'll usually come equipped with a queen-sized bed, a large TV, mini-fridge with refreshments free of charge, bathrooms that sometimes have jacuzzis, air conditioning, and even a computer with Internet capabilities. These rooms can cost you as low as $30 a night! Most of them are located around bus terminals and train stations, with a number of them clustered together. So feel free to shop around for the one you like. And don't be afraid to even ask to see the room before handing over your payment. I've never had a problem with asking to see a room and making a decision afterwards.
Get a T-Money Card
If you're going to be traveling in South Korea for a length of time (more than a week or two), I'd recommend picking up a T-Money Card. This is a rechargeable card that you can use to get on and off the subway in Seoul. It's beneficial for not only saving you money (100won off the base fare) but also for saving you time, as you'll have to buy a single journey ticket each and every time you want to take the subway. You can also use the card to pay for taxis, inner-city buses, payphones, and purchases at convenience stores. The card costs 3,000won (roughly $3) and can be purchased at any convenience store.
Eat at Small "Hole-in-the-Wall" Shops
It's been my experience that the best places to eat food in Korea are at small "hole-in-the-wall" shops, ones that look like little mom and pop restaurants. The food tastes better and is cheaper than the larger restaurant chains. They'll usually have a large selection of food; from rice, to noodles, and soup dishes. The only draw back with this option is that their menu will most likely only be written in Korean. In Seoul however, they may even have an English menu for you to choose from. Another option for cheaper food is to use cafeterias or food courts in malls. They'll always have a large display of fake food (my favourite for choosing!) of everything on the menu, along with the price listed beside each dish. You'll then order at a single counter, be given a ticket number, and wait for one of the food vendors to ring your number.
Pre-Drink at a Corner Store
If you're looking to have a big night out with your friends, your bill can become rather large if you spend the entire night drinking at a bar. Instead, get your night started at a Family Mart, GS25 or Buy the Way. These are all corner stores that you can easily find on almost any street corner, anywhere in Korea. To make things even easier, many of these shops will have small patio sets outside their doors so you can have a place to sit and enjoy your drinks. It's perfectly legal in Korea and you'll see many people doing this. If you want to drink like the locals, pick up a bottle of soju (330mL bottle of 20% alcohol for a whopping 1,500won!) and drink it straight or mix it with some juice. One bottle will definitely get your night started on a happy note.
Coffee on the Cheap(er)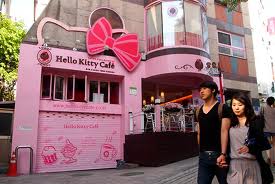 I'm the kind of gal who needs a cup of coffee in the morning. If I can't get one I'll usually get the caffeine withdrawal headache by early afternoon and then I'm not a happy camper. In Korea, drip coffee does not exist like we know it back in North America. The type of drip coffee that Korea offers is the fancy, one-cup drippers that'll run you $5-6 a cup! Instead, many Koreans opt for the instant, all-in-one packets of coffee, and use the water dispensers (as mentioned above) to get their hot water. If this isn't an option for you and you like your morning coffee in a café, you can still get your café lattes, cappuccinos, etc. But they will run you $3-5, depending on what you're ordering and where you're ordering it. If you like black coffee then an americano (espresso with hot water) will do the trick. And if you like some milk and sugar, just ask the person at the counter to add some milk (oo-you in Korean) to your americano and voilà, you just made a cheaper "drip coffee" than ordering one of the fancy espresso mixed drinks.
Arienne Parzei is a travel writer, videographer, and photographer from Toronto, Canada. Her insatiable curiosity for learning about different cultures first-hand has led her to some amazing destinations and experiences, including climbing Mt. Kilimanjaro, living in South Korea for two years, and backpacking for eight months through China, Southeast Asia, Australia and New Zealand. She shares her travel experiences on her website www.seeyousoon.ca and hopes to inspire you in the process.