If you've ever travelled through Europe you'll probably know what an expensive place it can be for tourists. As a citizen of the European Union I also am lucky enough to be able to live and work in any other country in the EU.
Having travelled extensively on the continent I've visited some fantastic places and met some great people, always comparing life back home with their local life. The subject of living expenses often comes up and its always an interesting comparing the differences.
We recently discovered this interactive map showing the cost of living in Europe and thought we'd delve a little deeper in to the data to find out just what living in Europe is like.
Copenhagen
The capital of Denmark is a fantastic place to visit whether you're a tourist or a local. We had the pleasure of visiting in 2010 and instantly fell in love with the place. As Northern European cities go Copenhagen is definitely not a cheap place but its also much more affordable compared to the cities of Norway and Finland.
The cost of food and drink is fairly comparable to the likes of London, England but the cost of renting accommodation in Copenhagen is actually one of the 5th most expensive places on the planet. On the flip side Copenhagen has a fantastic public transport system that is easily affordable and makes the entire city very accessible.
There's an interesting array of things to see and do in Copenhagen so the higher cost of living is rewarded with a wealth of culture and activities.
Budapest
While Budapest is one of the largest cities in Europe its also one of the most affordable too. Situated much further south it enjoys warm weather and is a popular place for tourists especially in the summer months.
With the Danube running through the heart of the city its a very picturesque place too. Renting an apartment here is much much cheaper than Copenhagen, costing just a quarter of the price for a similarly sized apartment in the city.
Having said that, utilities are quite similar to its Danish cousin and thanks to an increase in tourism over the past decade a lot of dining out and popular city activities like the famous baths are now much more expensive than they used to be.
You'll still find that the average cost of groceries is much cheaper than most European cities so the pennies you save on eating in you can then treat yourself with the occasional night out. Read our party guide to Budapest here.
London
Being British I have a fair amount of experience (and friends with experience) in the major metropolis of London, so its interesting to compare directly with its European neighbours.
Safe to say London has some of the highest accommodation costs in Europe, rent is expensive even out in the suburbs, in fact the catchment area for London is now considered to be some 70 miles away, driving prices up all across the South East of England. Expect to pay nearly double that of Copenhagen, around 8 times more expensive than Budapest.
With a fairly antiquated yet expansive transport network, getting around is fairly expensive too.
Around 4 times the cost of a ticket in Copenhagen. With a high population there's a lot of competition in the retail industry so the cost of groceries and clothing are actually lower than many European cities.
You'll also find technology is often cheaper in London too, with smartphones costing nearly €100 less than most European cities. Read some handy survival tips for London here.
Istanbul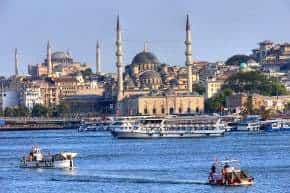 Situated in both Europe and Asia, the Turkish capital of Istanbul is teeming with culture and history down every street and alley. I had the pleasure of visiting in 2010 and love the mixture of European and Middle Eastern cultures.
Tourism is booming here and this is driving prices up across the city. While this may be the case its actually still one of the more affordable cities in Europe.
The cost of groceries is relatively low and while rental costs are creeping up they are still much more affordable than the likes of London. More expensive than Budapest in Hungary but utility bills are cheaper, offsetting the extra cost.
If you steer clear of the main tourist traps you'll actually find that eating out and local nightlife is very affordable too. With a culture rich in nightlife and entertainment you'll find a lot of the locals out on the streets in the evenings so prices remain competitive.
https://www.youtube.com/watch?v=PIVrxDPQATw
Athens
A city very close to my heart and one that has lead to some confusion over costs in recent years. A country struggling to keep its economy afloat, some believe this would have driven prices sky high.
Having visited numerous times in the past few years I can report that life is much as it always was in Athens. Locals can only afford so much for groceries, utilities and rent so a major fluctuation would have devastating consequences.
Because of this you'll actually discover that Athens is one of the most affordable cities in Europe and with its Southern location it enjoys mild winters and blisteringly hot summers. With a wonderful outdoor living culture you'll definitely enjoy.
Accommodation here rivals the cheap prices of Budapest although the landscape here means apartments are fairly cosy and on top of each other. Most come with a balcony and some have fantastic views too.
The outdoor culture here means locals eat out a lot and again, escaping the tourist traps will reward you with fantastic local food at decent prices.
With grocery costs exceedingly cheap, I recommend finding a local street market and getting your produce fresh from the grocer. Athens has a great subway system that's affordable and takes you to all the major sights and districts. Find out more about Athens here.