Our epic road trip on the east coast of Australia continues as we #GoByCamper all the way from Sydney to Cairns with a fantastic partner Britz Campervans. We're travelling in a 6 berth campervan that feels very at home on the long and winding roads of the Pacific Highway. After the beautiful views of Port Stephens and the amazing Koalas of Port Macquarie it was on to our next two destinations. Coffs Harbour and the famous Byron Bay. Two destinations we were very interested to visit for very different reasons.
Coffs Harbour
We've made it some 540km from Sydney to this bustling little coastal city in New South Wales. Home to 46,000 humans and a fair number of whales and dolphins too. But this town is probably most famous for something else (more on that later!) First we drove to the north of Coffs Harbour and parked our van at the wonderfully serene setting of the Emerald Beach BIG4 Holiday Park. Entering over a bridge and winding through the trees to our powered site, our intrepid toddler started exploring and soon made new friends with our neighbours, a friendly Australian couple and their two kids with an impressive caravan and clearly more adept at this type of travel than we are. The greatest thing about a Britz Campervan has to be the convenience of it all. Plug her in to the mains, top her up with water and she's ready for dinner, for bed, for breakfast and just about everything else too! No mess and no fuss! We even drew a crowd at mealtimes in the form of local wildlife. A curious Kookaburra who came and perched next to us while we had dinner outside our camper van, and a Water Dragon lizard with amazing scales popping over to grab a few of our daughter's leftovers too.
This holiday park is also just 30 seconds from some truly stunning coastline. The beach stretches on in to the distance for miles and is known locally as Rainbow beach thanks to the thousands of multi-coloured pebbles you'l find embedded in the sand. Our daughter delighted in picking them up and inspecting each one. Walks along a beach in any country are always therapeutic I find.
We headed on in to town to check out the Harbour and to find out a little more about this city. One interesting thing we discovered is that it was named by mistake! Its real name should be Korff's Harbour named by John Korff, a shipbuilder from England who took refuge during a storm and decided to call the area after himself (very modest). In 1861 the town's name was registered by surveyors but misspelled as Coff's Harbour and the name has stuck every since.
There's a pretty walk along the wall of the harbour where you can browse the many yachts and fishing boats waiting patiently for their owners. The man made wall does a fairly decent job of breaking the waves but occasionally the odd spray of sea-water can be seen flying over on to the path, so be warned you may get a surprise! There's some wonderful restaurants at the harbour too selling the freshest of fish among other things. We checked out a place called Attitude Burgers that did an unusual battered fish burger! Very tasty, very big and very Australian!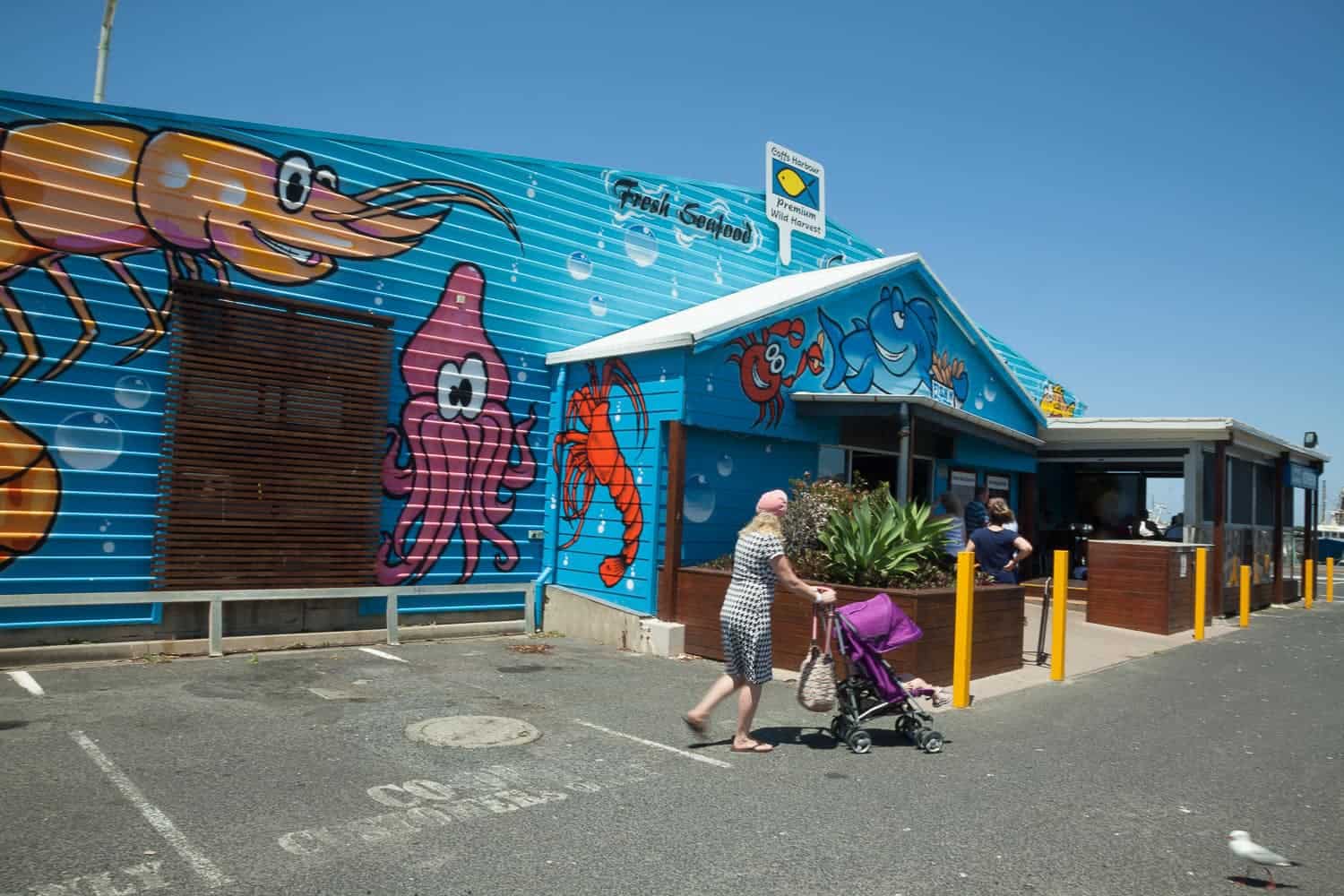 Of course the most famous landmark of all at Coff's Harbour isn't the harbour at all but a big thing! The first big thing in fact! If this makes no sense to you then don't worry, for Australia is the land of big things! In 1964 a local banana plantation owner decided to market his produce by erecting a giant concrete banana. The idea of building big things caught on and 50 years later Australia is now home to over 150 of these giants. Everything from sheep to wellington boots, Ants and even a big Ned Kelly. But this big banana is the first and now a children's fun park and activity centre as well. We couldn't resist in taking a visit and walking right through the big banana. We love big things and have seen a few on our sites, no doubt we'll see some more too!
Byron Bay
Next on our #GoByCamper tour of Australia was a place we've been excited about visiting for a long time. One of the surfing hotspots of the Australian coast and a town quite unlike any other in this vast antipodean country. While most towns and cities have progressed and modernised, there's a distinctly hippy feeling about Byron Bay. Its birth was a strange one, a rather disgusting industrial coastline with slaughter houses, rendering factories and whaling stations. Not the kind of place you'd put high on your bucket list. But with the advent of surfing in the 1960s and the decline of local industries, it was slowly transformed in to a peaceful seaside town until in 1973 a nearby festival called "Aquarius" put Byron Bay firmly on the map as a the centre of Australian hippy culture with a bohemian feel and youthful perspective that has endured every since.
You can't help but feel relaxed here. Life slows down, you walk a little easier, your productivity levels plummet, but the good times are all around you. From the beautiful sunsets that bring the crowds to the beach, to the endless surfers you'll see all along the shore. To the cafes that spill out on to the streets and the busy beach hotel bar with its live music and views of the Pacific Ocean. Its a town that sucks you in and is very hard to leave. Thankfully we scheduled in a couple of extra days here to get in to the Byron Bay vibe. I arrived full of energy and a busy mindset of cramming in as much as we possibly could, but that's not how Byron Bay works. There's plenty to do here but if you fill your days with sightseeing you'll miss the real treat of this wonderful town. To just relax and be content for a while.
The Lighthouse up at Cape Byron is well worth a visit. We decided to drive up with our toddler but there is a great walk you can do from town if you're feeling fit enough. The views from the lighthouse are of course, stunning, if a little windy! Cape Byron is actually the Eastern most point on the Australian mainland so if you like ticking those kinds of boxes I highly recommend a visit. You may even spot some local marine life if you're lucky enough. There's parking right at the top if you do drive up and costs $8, we even managed to fit our huge Britz Campervan up there so don't be put off by yours! We've had no problems parking our beast at places like this.
We had the pleasure of catching up with some good friends in Byron Bay too. Coming down from Gold Coast to spend an evening  with us. It was so good to see them after over 3 years apart, catching up on the gossip and checking out one of Byron's lesser known restaurants. Wonderful food, great company and the perfect setting after a fun day in a pretty little town. Its easy to find bliss here.
Byron Bay is definitely our kind of town. From the youthful energy all around, to the laid back vibe and cute bohemian shops you find on every street. We could have stayed here forever and I have no doubt we will return again some day, hopefully for longer, but this road trip waits for no man! We must head on to our next destination of Brisbane where we say goodbye to this camper van and to New South Wales as well, with a big hello to Queensland! A week's break seeing old fiends before we hop in another camper van and continue our amazing #GoByCamper journey!
Check out our progress video
While in Byron we made a quick video reflecting on our travels so far, the highlights and the surprises along the way. Check it out below.
Check out all our Australia #GoByCamper posts here
Introduction to the #GoByCamper road trip in Australia
Video message from Sydney
Port Stephens and Port Macquarie
#GoByCamper photoblog – Part 1
Visiting Rockhampton
Follow our adventures
Keep up-to-date with our travels in Australia with the hashtags #GoByCamper and #BritzCampervans. You can also follow our awesome sponsors at @BritzCampervans and find out more about their vans at britz.com.au. A big thank to BIG4 Holiday Parks for their hospitality too.
You can also check out our stream of awesome photos on Instagram and like our latest posts on Facebook too.