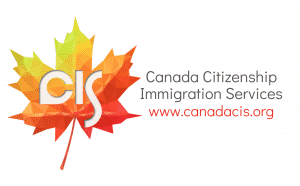 If you are a non-native and it has been a long dream of yours to live in Canada and not sure what to do, here is an immigration agency review to one of the prominent Canadian immigration bureaus—CanadaCIS—to help you out whether where to refer or what to look for regarding your aspired permanent settlement.
Moving to another country and being a naturalized citizen is not easy as it seems. While it may appear like a pipe dream, it's absolutely possible. However, there's a catch, almost always you need to undergo extended legal processes before you finally settle into one place, and on top of all, it costs an arm and a leg.
The whole procedure is complex, that's a given. Needless to say this is true to all legal processes you may encounter in the future, and with that said you need guidance and support from the right people. Throughout the time there are numerous available agencies for immigration to Canada, yet it's hard to find a trustworthy and dependable one.
That's the first step, you need to find an agency that for sure won't leave you hanging, which is an all-out daunting task to put yourself into. In the practical world, people resort to a lot of things including fraudulent behaviors in order to take advantage of you.
Whether you like it or not, you're vulnerable to such people. And there's a considerable number of them on the internet so better keep an eye out.
One of the crucial characteristics of a good agency is its accessibility, especially online. If you're having a difficult time accessing such a particular agency, it may be a good decision to step back and find another one.
On the countenance of its homepage, it is imbued with simple and friendly user-interface. It has laid out its pages properly at the top where you can instantly click and browse categories depending on what you're looking for such as FAQ, services, staff, immigration programs, express entry, family sponsorship, and other things.
The location of contact info (phone and email) can be found at either top or bottom which gives you so much ease if you ever need to inquire about something. You may as well request for consultation right away. The website gives you the ability to sign-up so that you'll be updated as soon as possible regarding your questions and woes.
If you're not sure what you're looking for, there's a search bar located at the top beside the language setting that can help you find useful tips and articles whether it's about finding a job in Canada, getting permanent residency, or tips on not being scammed, etc. For example, type "scam or legit" and it will lead you to an article on how to spot legitimate immigration agencies and avoid being scammed.

What is more is that it's available in two languages: English and Italian; which you can set at the topmost part close at hand with the search bar.
CanadaCIS.org is unlike any other sham websites on the internet that could be a phishing hub for hackers and the like. Overall, if not warm, it makes you feel comfortable, welcome, and confident. It is very straightforward with its vision and mission to help you out, too. Although that may be a good judgment, it doesn't stop right there.
Another thing to look for in a website for immigration services to verify its authenticity is its appurtenant lawyer. CanadaCIS has sufficiently made this clear as there's a whole another webpage for their lawyer with full disclosure of essential info with regards to contact details and immigration experience which you can browse just as easily. Not only that, besides their prominent collaborative attorney, they have also partnered with few other lawyers that are licensed Regulated Canadian Immigration Consultants (RCIC) and/or active members of the Law Society of Ontario. If you're planning on having immigration to Canada, you're maybe two steps into living your dream.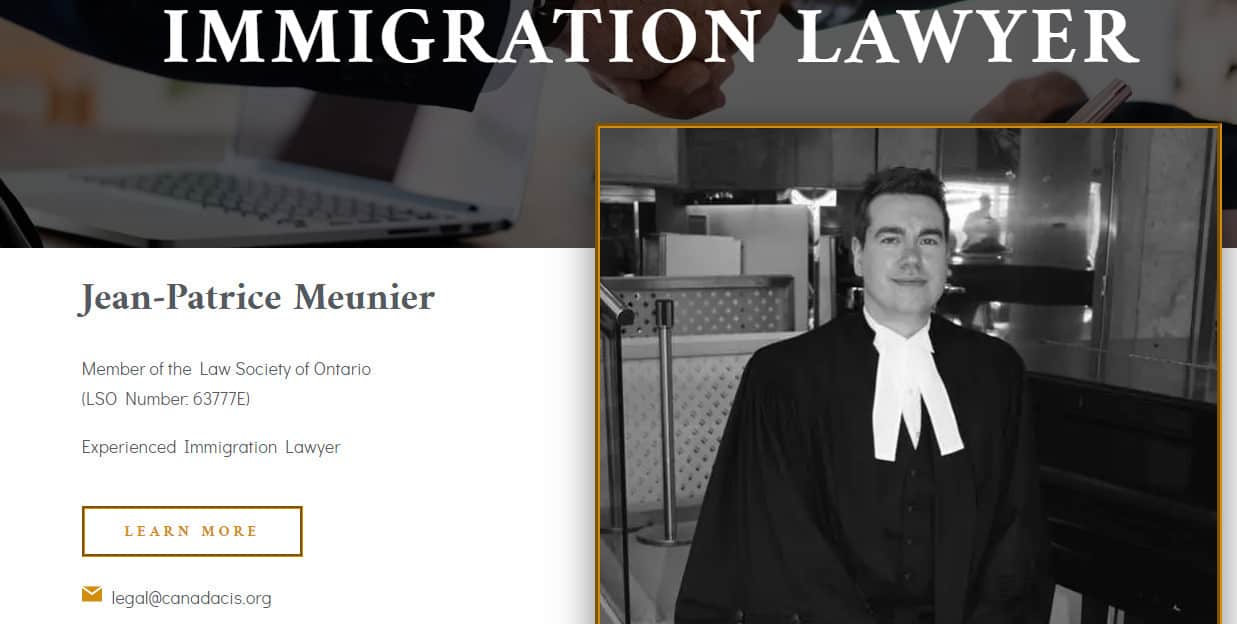 This immigration agency has helped people in the past of course, but were they any good? Maybe. Were all the state of affairs successful? Probably. Were the antecedent transactions fair and worthwhile? Perhaps. Another matter to account for is testimonials from previous clients. Not to mention, that's a universal tip not to get scammed, seek out other people's opinions of products you consider buying.
If you see an ample amount of negative reviews, that's a red flag. If you see otherwise, in all likelihood, that's a good sign. But mind you, this should not only be your basis for judgement owing to the reason that people may be dishonest with their reviews which leads to the overestimation of an otherwise rudimentary service. There's no such thing as a perfect assistance, one may encounter some lapses at some point.
If you head to 'About CIS' beside 'Home' at the topmost part of the site, you'll see actual standpoints from past customers of different backgrounds and other useful info.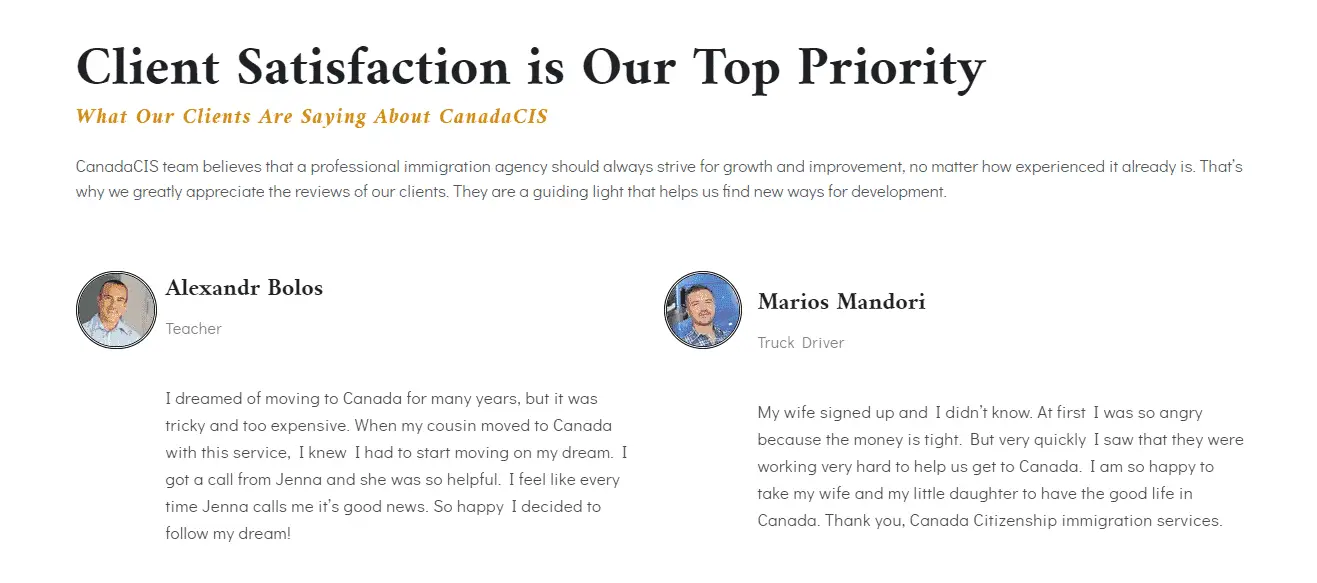 CanadaCIS is not only known for its top-notch services, they take good care of their clients as well. In order to have successful undertakings, interpersonal rapport and camaraderie must be established, which in this case, it's very evident in their clients' satisfied statements. All things considered, they help you in every step of the way.
While you may still be doubtful about certain things, well, as you should to make things as guaranteed as possible, there are many upsides about CanadaCIS nonetheless. At first sight, it'll give you an essence of a professional and reliable immigration agency, which is not easy to find among many companies in the Canadian immigration field. Others that purport to be true may look tacky and unpleasant at least in an aesthetical sense which exudes an air of inauthenticity. Looks may be deceiving, but in terms of websites, the way they look is indispensable as it shows quality.
Accompanying information therein is also very unequivocal and structured which have your work cut out for you made effortless. It has a number of legitimate lawyers in various areas of Canadian immigration law who you can cooperate with to have your immigration to Canada undergo legal means and finally fulfill your lifelong aspirations.
Past clients have also enjoyed their experience in partnership with CanadaCIS and soon enough yielded positive results in both parties which may not be far from your future experience if you rely on them. This agency not only provides an opportunity to accomplish your immigration goals, they also share copacetic advice to further inform you about the process and find solutions to your problems.
CanadaCIS may be your immigration partner or not. There may be some slip-ups in its service that you don't necessarily agree with, or perhaps you may find yourself depending on. Objectively speaking, it offers everyone substantial services and enough genuineness to try them out.