Have you considered renting a timeshare when going on holiday? It's an economical choice and, literally, a home away from home. You're probably more likely to extend my visit when I'm not confined to a hotel room. In a timeshare, people traveling together are more likely to go home still friends. With separate kitchen facilities, living room, and bedrooms, you won't be bumping into each other or annoying one another if some want to sleep and some want to watch television.
So if you're open to timeshare rentals and maybe even buying, where will you start looking? On the Internet, of course! Where else can we get so much information in such little time? Plus you get to browse at leisure by yourself—until you want help. I was recently invited to review the website BuyaTimeshare.com which is one of the first websites dedicated to buying, selling and renting timeshares. I expect that it will also be one of the most experienced. Lets find out.
First Impressions
They really do count. I feel that I'm in good hands as soon as I see BuyaTimeshare.com's home page. It's what every home page should be. It is crisp and clean, informative and very pleasing to the eye. In a matter of seconds, I can see everything I need. The first thing I saw was a delightful surprise: the phone number right at the top of the page. If that sounds like an odd thing to be delighted about, try finding a phone number on some websites for online companies—difficult to impossible. There is also a form to submit if you need additional information and a real-time Support Agent ready to "Chat Now." They make sure that visitors to the site can easily request, and receive, whatever help they may need.   
The buttons on the top menu bar are clearly marked and add up to an "Everything You Want to Know about Timeshares." The Help button explains the whole deal about timeshares. Certainly very welcome information for me and would be even more welcome for anyone who is considering converting that holiday into a "dry run" for buying a unit. Under "Timeshare Help" is "How Timeshare Calendars Work" with a clear, detailed explanation of the rather "mysterious" system of rental weeks that are designated 1 through 52 rather than, say, January 1 through December 31. 
On the top menu bar, there is a Timeshare Info button, and there you learn "timeshare speak," the esoteric jargon of the timeshare business. Also under that button is the Timeshare Calendar with the weeks translated into sequential numbers for 2017 through 2020. 

The Timeshare Directory button reveals the most commonly visited locations for easy access if that's where you want to go or you can go to locations by city, state or country if you're still deciding. 
I'm going to start with the other option, the Search field. Five of my cousins and I, from the UK, US and Argentina, are getting together for a mini-family reunion. We're thinking of meeting in the Bahamas, so I'll see what's available. 
Renting a timeshare in the Bahamas
When I enter "Bahamas" into the Search field, I get 20  properties and a brief, but helpful, overview of the Bahamas, including restaurants and, interestingly, how to find children friendly resorts. As I was browsing around the website I saw overviews for other locations that included the most convenient and/or least expensive route to get there. I'd say that's an "above and beyond" feature.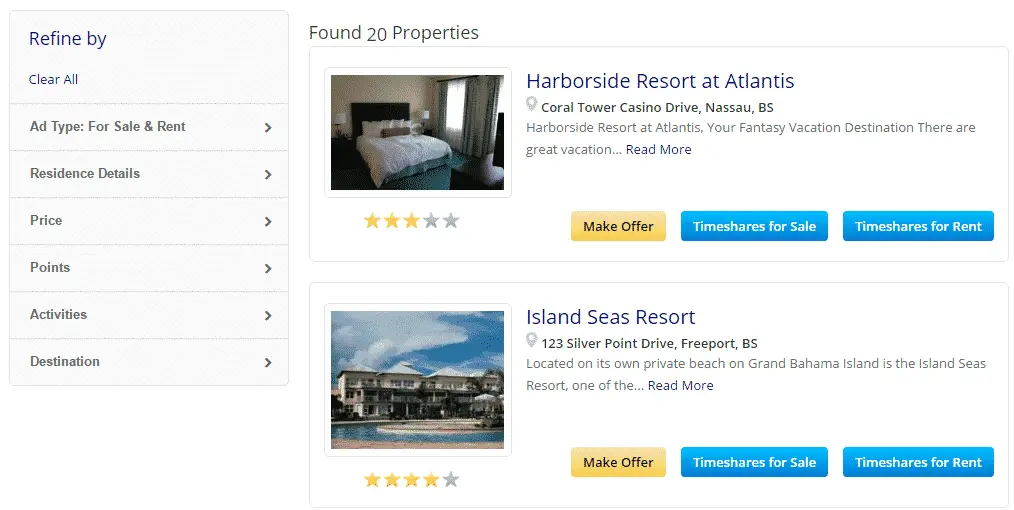 I refined the search for timeshares that are available to rent and ones with three bedrooms. I'm then down to two properties. There is a "Timeshares to Rent" button for each property, and then I see that, within those two properties, there are multiple units for rent. 
Most units have 10 photographs of the exterior, interior and the unit itself. Oddly, a few do not include photos of the unit. I'm going to have to pass on any of those. I always want to see what our accommodations will actually be like. But that's a problem with the owner not the website. A Google map at the bottom of the page pinpoints exactly where the property is, which is also something definitely required for any confident order.
One problem with this section is that after I looked at the units at one property, I could not get back to the page that showed the two properties that fit my specifications. I ended up back on the page with 20 properties and had to refine the search again. Not a big deal, perhaps, but an unnecessary step, and I'm sure easily remedied.
Also for each property there is a "Make an Offer" button which is great if you want to negotiate the rental price (and you should want to do that!). What I wanted was a way to contact the owner and ask some questions. Maybe, for those units without the photos I need, the owner could provide some? I didn't see a form for that and yet from everything I understood, I am able to contact the owner. Clicking on "Make an Offer" showed me an enquiry form. Not the easiest thing to find but got there in the end.
Last minute deals
Clicking on the "Rental Timeshare" button on the top menu I was able to find some great last minute deals. One nice thing I noticed is that some of the "last minutes" are more than six weeks away, which is a really generous amount of time to get a deal! These rentals are handled by a BuyaTimeshare partner called "Gateway Timeshare Resales". The weeks are already confirmed as available but worth noting you will need to speak with a Gateway representative rather than a rep and the owner. 
Other countries
The majority of timeshares featured on BuyaTimeshare.com are in the United States (48 out of the 50 states), the islands of the Caribbean and Mexico. However, the properties are spread around the world, including Australia, New Zealand, Thailand, Spain and the UK. There are fewer options in those places, but it's still worth checking them out. You could find a great deal! 
Conclusion
I enjoyed this website. It provides so much information, probably because it's been around long enough to have a good grasp of what people want to know, especially the "timeshare speak," additional information about the locations and "inside info" on ways to get to the location. There are a few unusual user interactions but nothing drastic that will have you running and screaming from the site. I'll be going back to this website, and I'm sure the cousins will also want to see it! I suspect you will find it extremely helpful in finding your holiday rental, whether you want an expansive penthouse or a cozy nest. Check out BuyaTimeshare.com for yourself.