We've recently been covering Croatia on our site with our perfect Croatian itinerary, spanning much of the beautiful coastline and islands, the perfect place for the freshest seafood and beautiful views of the Adriatic.
Here's one of our favourite dishes thats really easy to cook and is an instant reminder of your Croatian travels. Check out my Brodet Recipe.
Brodet / Brudet
This dish actually goes by a number of names but its distinctive flavour and rich colourful looks will instantly take you back to your holiday in Croatia, if you've yet to go then this is definitely a taste of what's to come! Brooded is a kind of fish stew that is vague similar to other European fish dishes but what sets the Croatian version apart is its simplicity and bold tangy flavour. Its exactly the kind of food I love to cook, you don't need to be exact with the recipe, you can easily adjust it to suit your palette and its very hands on. I find hands on dishes are much more fun and therapeutic to cook, there's no time to sit down and wait for it to cook, just lots of preparation and stirring. I've seen various versions of Brodet on the internet with all sorts of seafood including Eel and Trout but in all likelihood you wont have those ingredients easily accessible to you so my version is a English kitchen friendly one!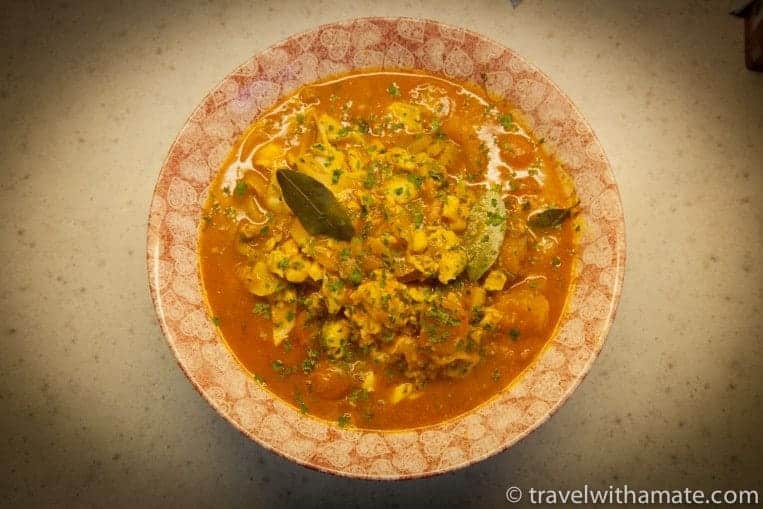 What you'll need
The following should serve 4 people adequately. You can always add a side dish of Polenta to bulk up the portions.
3 White cod fillets, cut in to small pieces
Olive Oil
6 cloves garlic
1 lemon or lime
Chopped parsley
1 onion
2 tomatoes
Tomato paste
1/2 cup of white wine
Bay leaves
400ml fish stock
salt and pepper to taste
Shelled shrimp
Mussels, cleaned
6 cherry tomatoes
You'll noticed I've not included many measurements here and that's because Brodet is all about personal preference and taste. These are the ingredients you'll need but exactly how much you want to include is entirely up to you. You can also buy mixed seafood from your local supermarket which is much easier than shelling shrimp and mussels.
Preparing and cooking Brodet
A lot of recipes say to marinate your fish first in olive oil and garlic but personally I don't think there's much need. Brodet has a lot of great bold flavours going on so I'd be impressed if anyone could tell if the fish had or had not been marinated.
Dice 6 garlic cloves finely and place the cod fillets in a tray. Add a few dashes of olive oil and the garlic, gently massaging it in to the fish. Sprinkle on some finely chopped parsley and make sure both sides of the cod are evenly coated. This will help to lock in some of the lovely garlic later on. Squirt some fresh lemon or lime juice on to add a bit of zing. Personally I prefer lime juice as it has a more subtle citrus flavour. Put the fish to one side for a while as we get cooking the rest of the dish!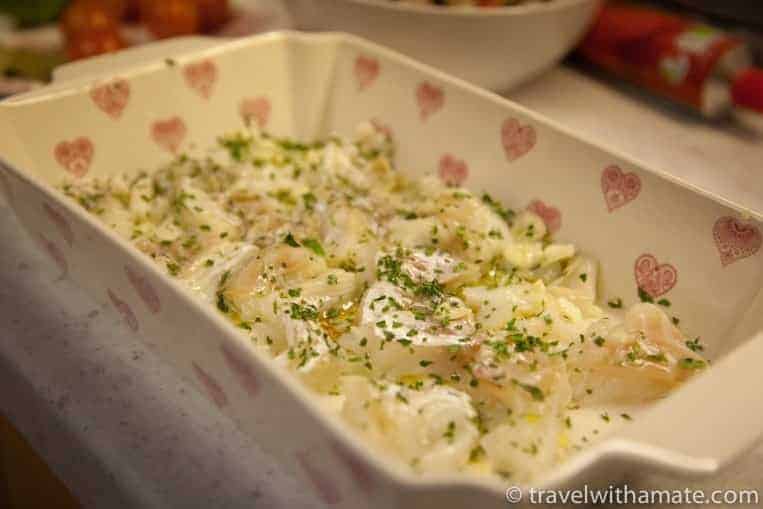 Heat some olive oil in a large pan or wok, slice the onion and sauté for about 5 minutes until its golden and soft. chop the 2 tomatoes in to thick chunks and throw them in. Once they're soft and cooked add a few large splashes of white wine and simmer. Add the tomato paste until its a fiery red mixture and throw in a couple of Bay leaves too. Add the fish stock now and once its simmering again you can taste to see whether it needs any seasoning. A little extra parsley, salt and pepper are best. Keep it simple and remember the seafood, garlic and onions are the strong flavours here. Once you're happy go ahead and add your fish to the broth. Cook for a couple of minutes before adding any other seafood you have prepared. Shrimps and mussels work well with all the flavours in a Brodet but you can experiment with all sorts like a truly authentic Eel Brodet if you're lucky enough to have a fishmongers nearby!
At this point you can watch it simmer and cook all your seafood perfectly. I recommend not stirring the dish as your seafood is likely to break up easily if stirred too much. Instead you can give the pan a little shake to help even out the contents. At the last minute slice up and throw in your cherry tomatoes for an extra tomato kick! Don't let them cook too long though. After about 6 – 8 minutes your meal is ready and no doubt has filled your kitchen with the distinctive aroma of the Croatian coast!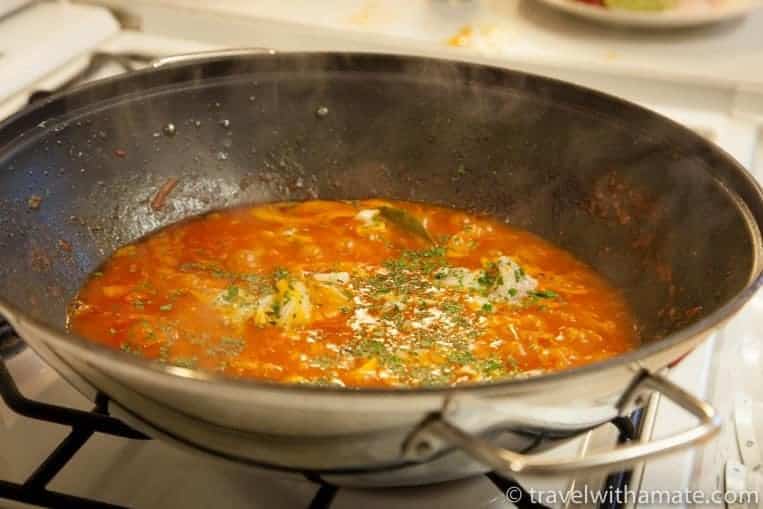 It really is that simple and looks amazing. I'd recommend putting it in to a large bowl and serving it at the dining table. It's such a simple meal but there's plenty of ways you can personalise it and make it your own. I really enjoyed cooking Brodet and there's nothing quite like the smell and taste of a meal to take you right back to that amazing Croatian holiday!
Give it a try and let me know how you get on. Tweet us @travelwithamate and if you have any amazing travel recipes to share include the hashtag #worldonaplate.