While it's the flagship carrier of Great Britain I'll admit it's not an airline I've flown with for many years so I was keen to see how they've changed over the years and how they fare compared to other flights out of London.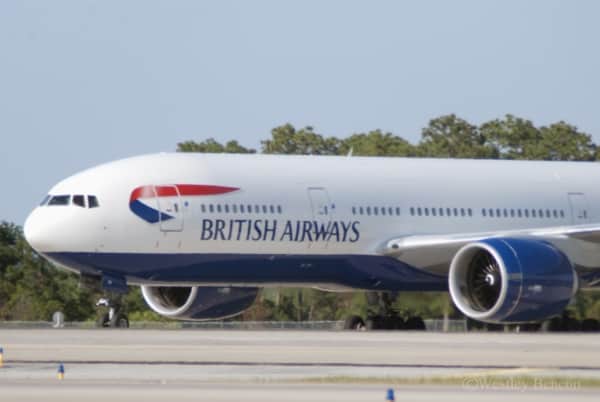 Flight number: BA2157
Origin: London Gatwick
Destination: Antigua
Distance: 6564 km / 4079 miles
Duration: 8 hours 10 minutes
Leaves on time:  83%
Average Delay: 37 minutes
Flight management
While these flights were sponsored by Elite island Resorts and British Airways, we had full control of the ticket management via the BA website.
The site has a lot of information on their services although can be a little confusing at times. Managing our flights was relatively easy and we could add more personal information to the booking to allow us easier check-in. We could reserve seats before check in but for a few of £27 per person.
This is the first time I've seen an airline charge for seat selection on a long haul flight as it's usually included in the flight cost.
We opted to wait until online check-in 24 hours before we flew where we could then reserve our preferred seats at no extra cost.
Check in
Thanks to the British airways app on the iPhone our check in was quick and painless. You check on the app, select your seats and are given a virtual ticket with a bar code on your screen.
At Gatwick airport we walked up to an available check in machine where it scanned the bar code and printed both our boarding passes and labels for our bags.
A quick walk over to a bag drop and we were all done in record time with no queues.
Boarding our Boeing 777-200
Boarding was fairly quick with an usual order to get passengers on. Presumably as the entrance being used was further back, allowing passengers at the front and back to board first with us in the middle boarding last.
Our chosen seats were a middle row of 3 which I've not seen before. Usually you see a 3-4-3 configuration.
Sitting in the middle row meant there was no need for either of us to have to move out-of-the-way for other passengers to get in and out.
Something I do a lot as I like to exercise my long legs.
Comfort
The seats are in British Airways trademark blue and with surprisingly more leg room than I expected for standard economy seating.
Being 6'4″ tall and mostly legs I often find my knees jammed up against the seat in front but thankfully this wasn't such an issue for a change.
I did have to spend some of the flight with my knee jutting in to the isle which is usually fine except for getting bashed by food trollies or the occasional passenger not looking down.
The padding on the seats had seen better days while mine was not as cushioning as it once was, Deborah's back cushions had little to protect from the passenger behind putting objects in their seat pouch that jutted in to her back at times. An extra pillow soon sorted this out.
The head rests on either side are adjustable and really helped when trying to sleep for a while. We both managed I have a decent nap to offset the effects of jet lag.
One of the headrests was broken on my seat but thankfully this just meant it stayed down, closer to where id want it anyway.
The flight
With a flight time of around 8 hours we were due to set off at 10:20. Unfortunately some data about balance load weights was delayed from Heathrow and our captain did a good job of keeping us informed. We finally took off around 10:50 but arrived on time thanks to favourable winds.
The weather at Gatwick was wet and windy but thankfully low-lying so we soon left it behind with only a little extra turbulence on take off.
With storms over the UK and much of the eastern Atlantic we actually had a fairly smooth ride considering. The seat belt signs only coming on once during our time which is fairly low for an average North Atlantic flight.
In flight entertainment
This is a service that can really define a flight as good or bad. The range of movies was excellent with more big blockbusters than you usually see on long haul flights. While the size of the collection wasn't as big as other carriers we had no problem finding movies we'd wanted to see for ages.
With touch screen control its easy to navigate and pause the movies but with one drawback. The technology for touch control involved a clearly visible grid of lines on the screen that were often quite annoying during watching.
The screen quality wasn't great but after a while you get used to the reduced quality. I think this is an area that will come under increasing scrutiny in the future as we compare these screens to those of our tablet computers like the iPad and Android devices.
Other than movies, tv and audio there's little else on the in flight entertainment. Having experiences games on carriers back in 2008 some of which you can play against other passengers, I would have expected a little more from British airways on 2013 but I'm guessing this particular 777-200 is due overhaul.
Amenities and service
The staff were friendly on entrance and exit of the flight of that I expected anyway. During the flight there all performed their tasks well although I'd say other airlines offer more of a smile and attentive service than this flight.
While I can't complain about the service we received I did not that there we're less drinks offered and snack foods too.
Other airlines like to give surprise treats as an easy way to keep their customers happy, something that didn't happen on this flight. We were welcome to ask for a drink or extra snack from the galley at the back of the plane so kept hydrated this way.
The toilets on this 777-200 were fairly small but well equipped. One thing I did notice is that they weren't cleaned regularly so by the end of the flight had towels and paper on the floors and toilet rolls that had come unraveled.
Not a major issue but something that should have been checked once an hour to keep things tidy.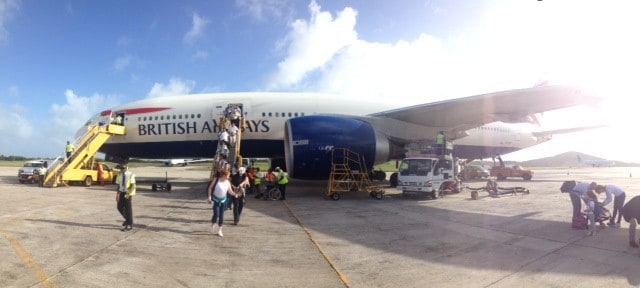 Conclusion
An airlines ability to make a long haul flight seem like a simple journey is always something important to me and British Airways flight BA5156 did a good job of that. Suitably entertained and fed just about enough.
While there were a few extras I would have liked to see I was happy with what was on offer. The journey from Gatwick to Antigua was comfortable, smooth and above all easy.
Flights from London to Antigua
I've searched the internet for the latest flight deals from London to Antigua and back. Here's what I found.
| | | | | |
| --- | --- | --- | --- | --- |
| Departure date | Return date | Stops | Airlines | Find Ticket |
| 20/11/2019 | 28/11/2019 | Direct | | |
| 20/11/2019 | 28/11/2019 | 1 stop | | |
| 20/11/2019 | 28/11/2019 | 2 stops | | |
My experience
3.7
Good, could be better.