Bokor Hill station tour in Kampot, Cambodia
Posted in: Inspiration> Tour reviews
If you head to Kampot in Cambodia one tour you'll be sure to see at every hotel and tour operator is a trip up to the Bokor Hill Station. Once a high class French casino and hotels, Bokor Hill Station had everything the French colonialist needed to get away from the heat.
The hill is around 1050 metres high and the "Bokor Palace" was a gorgeous hotel built in 1925, along with a church, post office, cematary and everything the French needed for their summer retreat.
In the 1940s the French abandoned the site and Bokor Palace closed for good. Apart from an attempt to renovate the area in the 60s it has continued to crumble and was even the scene of a month long battle during the last days of the Khmer Rouge in 1979. Kampot was also the scene of heavy bombing during the days of the Khmer Rouge and only recently has tourism returned to this part of Cambodia.
Taking a tour to the Hill Station
So naturally one tour that sounds exciting, intriguing and historical would be a tour of the Bokor Hill Station and a chance to see these war torn, dilapidated buildings that were once a luxury Palace in the mountains. It was high on our list when arriving at Kampot and after an early start we were on our way to the tour operators to catch another mini-van to the Bokor national park.
In Cambodia, when it comes to transport, they often say "there's always room for one more". Unfortunately our mini-bus was full so when 2 more tourists turned up and the driver smiled and gestured for them to climb aboard, they weren't too pleased. Understandably so as this tour costs US$22. The least you'd expect is your own seat. A tuk tuk was arranged for them after 5 minutes of arguing their case and we drove out of town and to the Bokor national park.
In Cambodia you often see lorry with 15 or so khmer men stood or sat on an open flat bed. Often smiling and waving to you as you drive past. They seem to enjoy the journey. Tourists on the other hand would much rather be in a mini-van where it's a little safer. So when we were told to dis-embark our comfortable mini-van and told we had "one choice" which was a rather crappy looking blue lorry, with an assortment of wooden planks and plastic tubs to sit on. 17 tourists on the back of a lorry, up a mountain. Didn't sound like fun to any of the 17! We argued for a while but got the usual "I'm just the driver" response. So reluctantly we climbed aboard, while the driver was fairly conscious of his precious cargo it didn't help us passengers who were holding on for dear life.
Also worth remembering this is rainy season in Cambodia and while it doesn't rain all that much, the higher you go, the much higher your chances of encountering precipitation! Squashed on the back of a lorry, holding on for dear life, while getting wet, not sure that's worth paying $22 for!
Trekking up Bokor Hill
We were all thankful when the lorry stopped and our trekking started. We would trek for around 45 – 60 minutes before the we met the lorry once more for our next accent. The trekking was great fun, good exercise and as we always say it "beats working in an office". The rain fell while we walked but for the most part the canopy of the trees protected us and apart from the occasional leech attack (we both got leeched!) it was an enjoyable and strenuous trekking experience.
Back on the death lorry
Getting back on the lorry after a fun walk didn't seem such a big deal. This was a short lived feeling as no sooner had we driven off, the clouds rolled, along with more rain, the visibility dropped dramatically and only our drivers knowledge of the twisting roads kept us on the right path. There's a 1000 foot vertical drop in some places. We finally reached our destination where 2 buildings greeted us. One new, modern looking building and another mould covered, time battered shell of a former french building. Both were fairly masked from view by the cold fog all around us. Can you guess which building we were gestured towards? No not the nice new shiny building!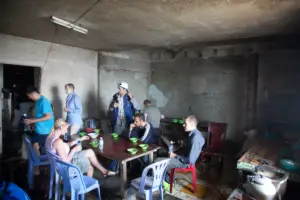 So lunch involved 16 slightly dazed tourists sitting on plastic chairs that I think had something growing on them, in a mould smelling 90 year old derelict building, with howling cold winds and fog blasting in through the window (by window I mean hole in the wall). After lunch we braved the weather, walking along the road looking for the Palace. Laughing at the absurdity of the entire day so far.
The guide found the Palace driveway in the thick fog, we walked past a sign saying "Danger! Keep out!" and found that the once spooky and derelict building is now being renovated by the Chinese company that own Bokor National Park. Scaffolding covers the building and piles of original flooring and walls are around what is now a building site. A spooky old building has a certain charm, a building site really isn't a tourist spot any more.
That pretty much sums up the tour. We were shown some equally foggy buildings or piles of rubble that were a building just a few months ago. Then we were shown our rickety old lorry ready for the 40 minute roller coaster ride back to the park entrance. There's a lot of construction on the hill now, mostly the new road and landslide protection. It will no doubt be a very nice park with an expensive casino retreat at the top but for now it's just a building site tourists can visit.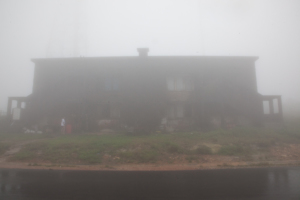 I'm sure Bokor Hill Station was once a very interesting place to explore. I'm even pretty sure that on a clear day (most likely in the dry season) you'll get fairly good views from top. I'm also very very sure that $22 for a nail biting ride on a lorry is not what most tourists would call an enjoyable, value-for-money experience. While the camaraderie of being put in an absurd situation was something to smile and laugh about, on the whole we were glad to be back in Kampot, safe and sound. Not something I'd want to repeat!
The tour did include a boat ride up the estuary too but we opted to duck out of that! Reports from other people on our tour said the boat was fun but they had to wait some 2 hours before they could start their cruise and had to buy their own food and drinks before they got on the tiny boat. We were back and showered before they had even set off and we saw the boat pass us as we sipped an ice cold beer at Olly's Place Bungalows.
Give it a miss
All in all I wouldn't recommend a tour of Bokor Mountain any more. Aside from the crazy death-trap lorry journeys and the weather, there really isn't that much to see up there any more. Certainly not worth the journey as well and not worth $22.