Its not easy keeping your hair in check while you travel, am I right?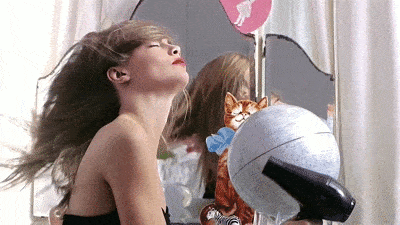 You have your own routine when it comes to taming your hair and travel often messes up that routine (and your hair-do!)
Its not always practical to carry around your beloved hair-dryer that you use back home, and its confusing as hell to pick the right travel hair dryer for your crazy curls or untameable locks!
So I've put together what I think are the best travel hair dryers of 2020.
My best travel hair dryers
These are the latest and greatest travel blow dryers that are portable and travel friendly in one way or another. I will keep this list updated as I conduct more travel hair dryer reviews.
I've included travel blow dryers of different features, sizes and budgets so you have a good range to pick from.
Powerful – Remington PRO Ultra lightweight
First I have to mention my favourite at the moment. This beast packs an impressive 2300 watt motor which means its hot and powerful! It gets up to temperature instantly and has a number of speed and heat settings. If you're like me you're constantly playing around with the controls for different parts of your hair and different levels of moisture.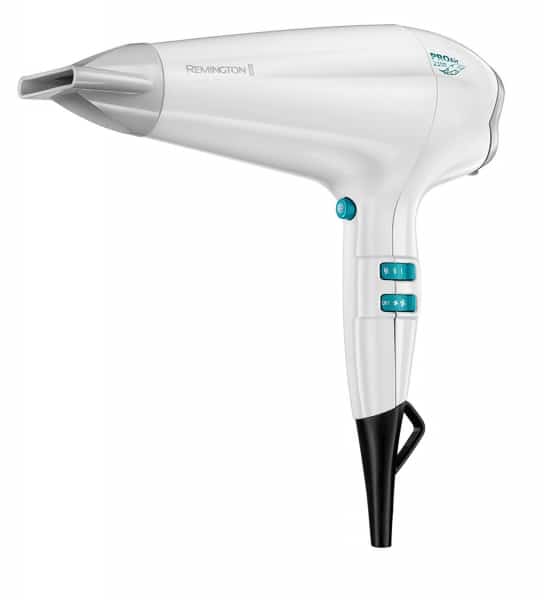 One of the greatest things about this is it weighs so little! Seriously its so light it that it adds hardly any weight to your luggage whether you're packing a full suitcase or just a carry on. While the handle doesn't fold like some of the best travel hair dryers its weight and power make up for it massively.
Its also very quiet thanks to its high quality fan which means it wont wake up the entire building like some cheap blow dryers do. In fact its so quiet its up to 50 quieter than standard Remington models. Full product details are here.
Its often hard to reach sockets when you're travelling, sometimes the electrical outlet isn't anywhere near a mirror or bathroom, but this hair dryer has an extra long cable which I found so useful!
I especially liked the "cool shot" feature which essentially means you can cut off the heat instantly by holding down a button on the handle.
This gives a quick sharp blast of cold air to your hair which helps set it in place. Let go of the button and you're instantly back to hot air. I've never owned a blow dryer that could do this before and was sceptical it would make a difference but I have to say it really does seem to work.
Lastly one very cool feature that makes it extra useful for travel is the Ionic conditioner which essentially ionises the air as its blasted out, this helps dry your hair quicker, perfect for speeding up your preparation for the day or a big night out in a new city!
Lightweight yet salon quality
Quiet yet powerful
Great features and controls
Check here for the latest price
---
Best controls – Beurer Style Pro HC25UK a
This one features in my best travel hair dryer list for a number of reasons. I'm fussy when it comes to features and either love a dryer or don't get on with it almost instantly. I'm happy to say this little beauty was a dream to try out on one of our recent trips.
Its lightweight without feeling to flimsy, weighing more than the Remington but definitely less than a standard hair dryer I use at home.
The folding handle means you can fit this blow dryer in to an even smaller space. Its a shame it doesn't come with a little bag to keep it and the cable neatly together but its easy to wrap the cable around the device to keep it all snug and tidy in your suitcase.
Read the full product details here.
It has a 1600 watt output which while lower than the Remington is still a respectable amount for a travel hair dryer.
One of the neatest features is you can use it in countries that are 110V rather than 240V.
So this is places like North America, Taiwan, Panama, Honduras and Barbados. All you need to do is adjust the voltage control on the bottom of the device with something like a knife or screwdriver, or in my case I used the handle of my nail clippers.
There's 2 heat levels and 2 fan speeds so a bit less control than the Remington but enough to get the job done. There's also a cold setting of course but this is a normal on / off switch rather than "cold shot". So not quite so easy to control but what you lose in controls you gain in portability. I found the controls to be quite fiddly when compared to more expensive hair dryers, so you get what you pay for!
Still this is a great little blow dryer, perfect for travel, powerful enough to get the job done and reduces the need for a power converter which is super handy. You will still need a plug adapter though as it usually comes with a UK plug.
Super portable with a folding handle
Works with both 110v and 240v
Lightweight
Great durable build quality
Check for the latest prices here
---
Best results – Dyson Supersonic™ Fuchsia Hair Dryer
Could this be the best hair dryer in the world? Well its certainly touted as one and the price would suggest so. Still I was very excited to be able to review this as Dyson is a name you come to expect with high quality products.
This hair dry looks nothing like any of the others and there's good reason for that. The Supersonic uses Dyson's own "digital motor" technology which means the motor is actually in the handle. The rest of the dryer is shaped to suck in air and blast it out towards you with precision. Because the motor is out of the way there's no need for a suction filter to stop wayward hairs getting sucked in an creating that awful burning smell you sometimes get with blow dryers.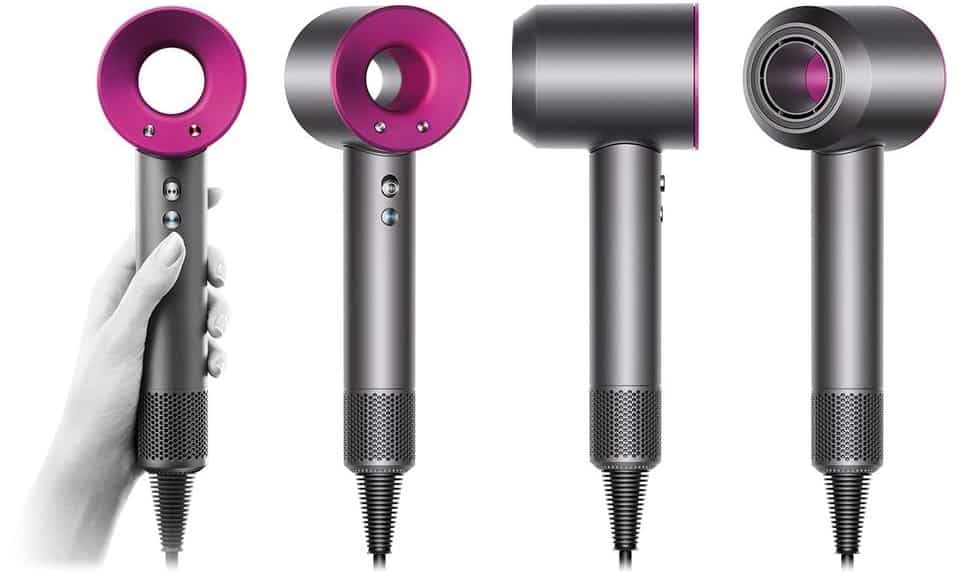 It certainly looks futuristic and I love the pink accents too.
It is by no means the lightest of the hair dryers I'm reviewing. a full 0.7kg in weight which is fairly bulky but its compact size means it'll take up less space in your suitcase. The added weight is all thanks to the advanced technology built inside. Even though it weighed more it actually felt lighter.
I know that sounds odd but its all to do with the shape. Standard dryers feel front heavy so you tend to lean them back in your hand to compensate. With the Dyson hair dryer its perfectly balanced so you'll find you hold it slightly differently.
And wow it really does kick out some air with that tech too. A very different motor whine compared to a normal hair dryer, its one of the quietest hair dryers I tested but that little fan is spinning some 110,000 times a minute!
Read all the product features and prices here.
Because of its shape and the way you hold it I found the controls were a little bit more fiddly than they maybe could have been. Controls are usually where you'd place your thumb but with this hair dyer the buttons are a lot smaller so you find yourself hunting around for them.  I'm sure I would get used to it in time.
This was the only travel hair dryers I reviewed that came with its own travel carry case and I loved that!
Its great to keep the nozzles and device all in one handy carry case so I'm not hunting around for them in my bag. It also helped to keep the cord nice and neat.
The attachments were some of the best I've ever tried too. I even let my girlfriends have a go with a few that suited their hair types. The diffuser was fantastic for my curls and considering the power output of this thing it did one of the best jobs, almost salon quality I'd say. The "Smoothing nozzle" was great for my friend's long straight hair while the "Styling concentrator" did just that, focussing the blast of hot air at just the right section of hair.
There's 3 speed settings and 4 heat settings with precise temperatures at each. a huge 100C at the top level which I never dared go near with my hair, 80C which is "regular" while the lower levels are for gentle drying and what they call "constant cold" which is really 28C.
Its the first dryer I've used where I was told to ignore the wattage which is 1600W. The heat and air throughput was fair better than blow dryers that use another 600 watts or more.
It has the Ionic conditioner built in of course and feels very solid, rugged and portable. Definitely the best hair dryer I've tried in a long time but with a price tag to match.
Very quiet and VERY powerful
Futuristic design and amazing build quality
Great range of controls
Comes with a travel bag!
Balances very well in your hand
Expensive but worth every penny!
For the latest price check here
---
Yours Professional Hair Dryer 2300W LED Temperature Display
Here's a brand I hadn't heard of before but was offered a review of and was pleasantly surprised!
Firstly you can't fail to notice the temperature digital LED display on the side of the hair dryer. For the OCD in me this was great to see. Depending on the thickness and wetness of your hair you should adjust the temperature to avoid over-drying.
There's 3 heat settings on this dryer and 2 fan speeds. I found myself using only the lower 2 heat settings the most and adjusting fan speed up and down depending on where I was drying and how wet my hair was. Occasionally I'd check to see what the temperature was too, OK I got a little obsessed with that! Its like living in the future!!!
See the full product description here.
While this doesn't have a foldable handle it is very lightweight and small compared to salon quality hair dryers, yet it still packs an awesome punch with a 2300 watt motor which means quicker drying times. Essential when you're travelling!
One of the greatest features was its super long cable at a whopping 3 metres!
This was brilliant for using almost anywhere in my hotel room even if the socket was miles away from the mirror (why do hotels do that!?!). There's also a handy loop at the base of the handle which I used a few times during my travels.
While its not a brand I've used before I'll certainly be considering in the future.
Powerful yet small
Futuristic temperature display
Great controls
Very long power cable which is perfect for travel!
Check the latest price here
---
BaByliss Travel 2000W Hair Dryer
I've long been a fan of BaByliss products, having owned one of their larger hair dryers for years. They are known for producing good quality reliable hair dryers so I was keen to see what their travel baby could do.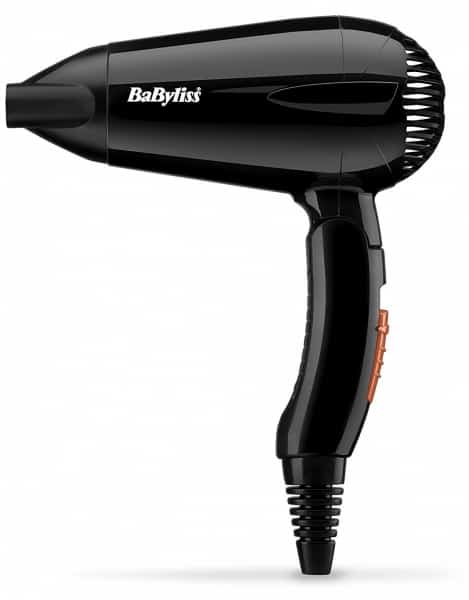 Firstly a mention about power, I really wasn't expecting such awesome power from such a small and compact hair dryer. Its build for portability but sure does pack some heat! A whopping 2100 watts which is a lot for a device of this size.
It also has an iconic conditioner which is a must really. It dries my hair in no time and helps to tame my wayward curls, no mean feat I can tell you. It also has a temperature control sensor keeping it at a steady 70C on full power. More than enough to get the job done quickly.
This baby BaByliss hair dryer has 3 heat controls and 2 speed controls, I actually rarely used the top 2 heat controls as the lowest setting was enough for me. I found the controls a little fiddly at times which may be why I didn't use them all that much. But its so powerful that my hair was dry in no time and it really wasn't an issue.
You can see more produce details here.
The "Curl enhancing large diffuser" was quite impressive. I usually don't get on with diffusers as they have a habit of falling off the hair dryer. This is often because the plastic contracts with the heat loses grip on the diffuser. Not so with this little hair dryer.
This is probably the first travel hair dryer I've used that never let me down with the diffuser.
With its folding handle and super light weight body (Just 0.4kg) it felt so small and easy to carry. While the cable isn't particularly long (1.9m) it did the job and for its size delivered a lot more than I expected.
BaByliss sure do know how to make a good hair dryer!
Super powerful for its size
Very travel friendly, lightweight and portable
A diffuser that actually stays on
Great build quality you'd expect from Babyliss
Check the latest prices here
---
Budget hair dryer – Red Hot Benross Compact 1200W
Maybe it was the "cool red" colour that made me try this one. Maybe it was the budget price (Around £10 in the UK). Either way I was keen to see what all the fuss was about with the Benross travel dryer.
This is definitely in the "budget" category as you wont find all the bells and whistles of the hair dryers I've mentioned above. Still if you're looking for something super simple and small then this is worth checking out.
Its one of the lightest hair dryers I've tested weighing little over 0.4kg which is partly thanks to its small size and partly the shorter power cable at 1.75 metres. Either way its very compact and light which is great for any trip overseas. It definitely wont be using up much of your baggage allowance.
Its so small at just 12cm by 16cm by 18cm, perfect if you've just got a carry-on case or small backpack.
With 1200 watts of power its considerably less than some hair dryers but still gets the job done. I find with under-powered hair dryers I have to move them around more aggressively. Less power doesn't mean less heat, it usually means less wind so keeping it still for longer could over-dry your hair.
You can view the product in more detail here.
There's 2 speed settings on this and no heat settings. So this is really is your basic model, but it functioned just fine and once you get used to its heat and air flow it does a decent enough job.
One great feature is its dual-voltage, just grab a penny and switch it from 240v to 110v. This really is a great little trick to have as it means it'll work perfectly in whatever country you visit.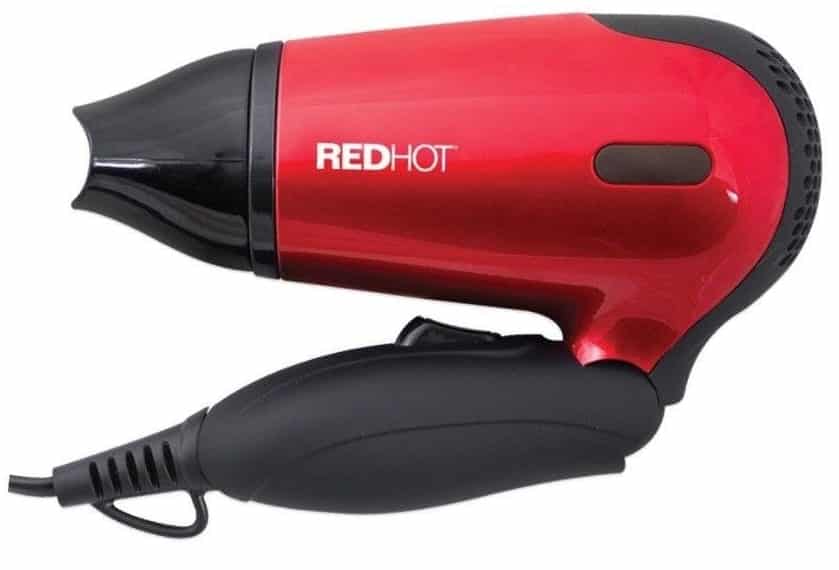 One interesting quirk is that it has a built in over-heat safety system which you're likely to encounter sooner or later. Because its less powerful it takes longer to dry your hair. This means after around 2 minutes the hair dryer will become quite hot and eventually shut down to avoid overheating. Its actually a good thing as it'll last longer, you just need to wait a few seconds before you can turn it back on and continue.
The lightest and smallest
very cheap price with basic functions
Dual voltage for use in any country
Check out the latest prices here
---
More of the best travel blow dryers added soon
I'll be reviewing more over the next few months and will add the best of them to this list. If you recommend any particular model do share it with me in the comments below.
What to read now?
Why not check out my Travel beauty essentials list or my useful packing tips for beach holidays.