Vacations are all about relaxing and enjoying time away from work. But with the emergence of the digital age and Facebook, a vacation isn't a vacation unless you bring pictures back to share with everyone. Gone are the days when photo ops on vacations were simply meant for family albums and reunions.
A few things are needed to make sure your holiday photos are the envy of your friends. The first, a good camera – I recommend digital (who doesn't), but a DSLR will go a long way if you're looking to impress with your amateur photo-taking skills. The second, and most important, is location. What's an amazing camera without a beautiful sight?
I thought I'd start with one of favorite vacation spots, Oahu in Hawaii. Whether you're interested in nature or just taking five under the Hawaiian sun, here are my top 7 greatest picture-perfect places where you can capture photographs to be the envy of all your friends.
Waimanalo Beach
Located near the eastern end of the island, Waimanalo Beach has little commercial development along the highway. For that reason, there are not a lot of Oahu hotels close by, which also means that the scenery is secluded and away from tourists. It's long sandy beach, pretty boats and trees offer a beautiful scene for a great photo opportunity!
Take route 72 south from Honolulu and follow the coast round until you reach the beach!
Manoa Falls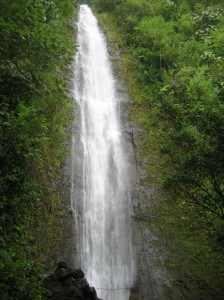 Hiking to Manoa Falls will take you through a tropical forest that is sure to have many great photo opportunities.
Between the diverse wild life, greenery, and the 100-foot waterfall on this 1.6mile hike, you'll definitely catch at least one worth snapshot to bring back to friends.
The trail starts at the end of Manoa Road just outside Waikiki and is a fairly easy hike. Make sure you have decent footwear and a good bag to carry your camera!
Turtle Beach
If you're interested in capturing a few pictures of the gorgeous wildlife on the island, might I suggest a trip to Turtle Beach on the North Shore between Haleiwa and Waimea Bay off of Highway 83. Also known as Laniakea, it's a truly amazing experience where you can witness the Hawaiian Green Turtles crawling up the beach from the Pacific Ocean and laying eggs in the sand before returning to the water.
The best times to see the Turtles on the beach is early morning or late evening. You'll be sure to capture some truly amazing photos here. You can even find a nice spot to have a picnic under the sun or at sunset!
Chinaman's Hat
Of all the cool little eccentricities of the island, I think my favorite might be the island of Moloki'I, off Highway 83! So aptly named, the island resembles a Chinaman's hat. If you don't believe, have look for yourself! Mokoli'i actually means "little lizard" in Hawaiian and at low tide it's sometimes possible to walk right over.
The water is so clear you're sure to get a beautiful photo of this pretty little island. Chinaman's Hat is part of the 157-acre Kualoa Regional Park, on Highway 83 (Kahekii) at the northern end of Kaneohe Bay.
Laie Point
For what looks like an endless expanse of Ocean waters, check out Laie Point. Famous for a natural sea arch that was created by a tsunami in 1946, you'll definitely have a chance to catch true ocean beauty here.
If not, you can just bask in the fresh ocean breeze and relish in the handful of sandstone islands visible just a few hundred feet off shore! Laie Point is located just a couple turns off the Kamehameha Highway (83).
Nuuanu Pali Lookout
1,000 feet above Oahu's coastline is Nuuanu Pali Lookout. Here, you'll find great panoramic vistas of the Koolau Cliffs and the Windward Coastline. Many have even liked this to a "heavenly lookout".
From the lookout you can see also see Kaneohe Bay and Chinaman's Hat. To get to it take the Pali Highway 61, via Nu'uanu Pali Drive. The lookout is open from 9am – 4pm.
Diamond Head
Now what kind of travel tip about Oahu wouldn't include Diamond Head. Probably the most famous of all Oahu monuments, this 760-foot tall extinct volcano stands out and beckons to hundreds of thousands of travelers each year. But even so, it still hasn't lost its appeal or magic.
Grab your camera, a pair of comfortable hiking shoes, some water and sun protection and you're ready to go!