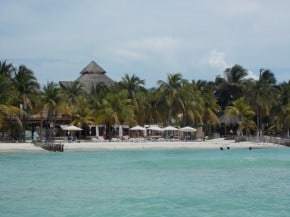 Pretty bold statement I know, being there are some pretty nice plots of soft, loamy sand on that piece of Yucatan real estate.
But, soft, loamy sand doesn't always make for the best beach experience. Growing up in Southern California (Huntington Beach, etc.), I've been to plenty. Sand is sand.
It's how being there makes you feel and what memories you make.
Having said that, my pick for top beach is, "Playa Norte".
While you're standing on the balcony of your hotel room, or sitting on the beach in front of your hotel in Cancun, you look across the Mar Caribe and see this little stretch of earth in the horizon. You ask around and learn it's a small island called, Isla Mujeres.
A few more questions and you decide it's worth spending at least a day on an island. I mean, imagine how impressive it will sound back home when you say, "Yep. I spent a day on a small, tropical island in the Caribbean Sea, took these pictures and drank Pina Colada's and Mojitos and got this tan."
So, what actually makes Playa Norte so awesome? you ask. Two words.
The Vibe
You can't get it in Cancun. Too crowded. Too many tourists. Too many pressure points to spend money.
Only on Isla. How it makes you feel can't be accurately communicated. "You just gotta go." will be your answer.
You hail a cab and ask him to get you to "Puerto Juarez". You get out, pay him, then walk 50 feet and look to your right. Go inside. Several young ladies in bright white uniforms and pressed navy blue pants greet you. Ask for a "Viaje Redondo". (R/T ticket to Isla) It will cost you 280 pesos…less than $25 U.S.
You walk outside and smell the sea. Now, if you like, you can walk into the convenience store across the hall and grab a few coldies for the 20 minute trip across the bay. You crack open your beverage and walk down a set of concrete stairs to the waiting area. Depending on whether a ferry just departed or is on its way back, there may be a few people or many, all waiting like you. It only really gets crowded early and late, and weekends, but there's always space. If you can, get up top. In the afternoon there's usually a guitarist playing for tips. Some are better than others; on occasion I've been tempted to give him $20 U.S. to STOP playing. IF he's good however, I'll tip him 20 pesos.
Once you dock, exit the terminal, turn left at the sidewalk bypassing all the "salesmen" and immediately you'll be in line for a red Nissan taxi.
"Playa Norte? Buhos. Vente pesos?" you confidently ask. The answer is usually "Si". And you're off. If you communicated correctly, you'll be dropped off in the soft sand at "Buhos". AKA, "The Swing Bar". It's called the swing bar because, well , it has suspended wooden plank swings for seats at the bar.
You pay him and walk into the deepening sand. There's lots going on. From vendors selling everything from assorted nuts, pink and blue cotton candy, woven bracelets, necklaces and anklets, to sarapes and blankets to approved volunteers with badges seeking donations for local drug and alcohol programs. Nightclub promoters, snorkel/whale shark tours also get in on the action as well. A simple "No gracias" will have them moving on.
You look left, you look right.
Playa Norte is a "tops optional" beach
This sexy stretch of beach is only the scratched surface. Behind you is an island with its' own heartbeat. Its' own magic. If you can only spend one day there, do it with the intent of seeing the sunset. Once you do, you'll be figuring out a way to go a little deeper and turn a day into a week. And my friends, that week, will never be long enough. If not, taxi's run all night long and the ferry leaves every half hour until midnight.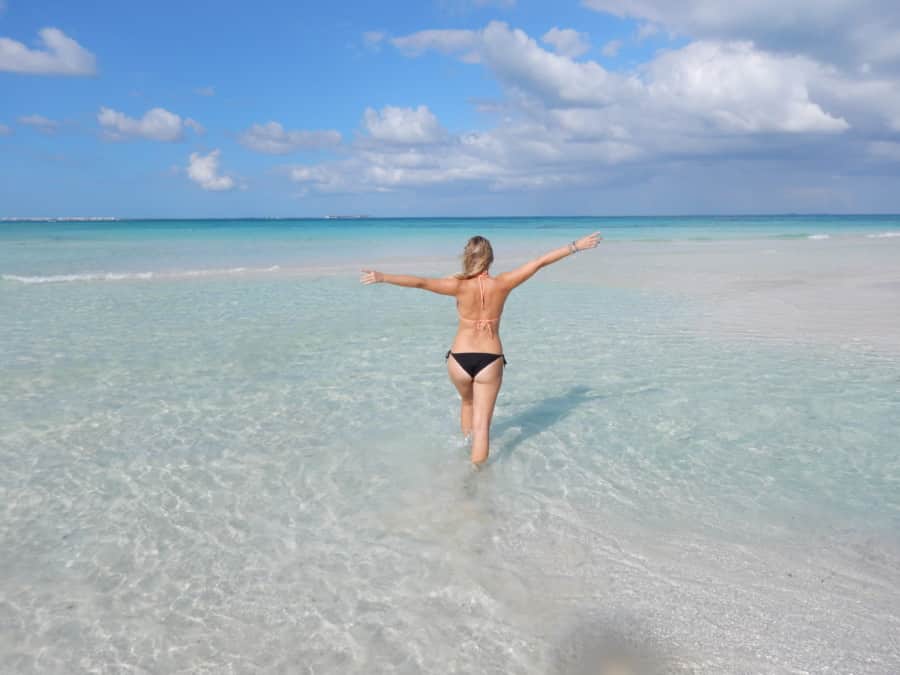 I could go on and on about my "why", but in my honest opinion the pictures speak for themselves.