The Best 5 Bali Tourist Attractions
Posted in: Indonesia
Though less than 100 miles across, Bali offers a wide variety of things to see and do. It is quite quickly becoming one of the world's most popular island holiday destinations, with cheap accommodation and discounted Bali flights becoming a regular occurrence. If you're looking for some of the best attractions to see on your visit, here are five you shouldn't miss:
Water Palace of Tirta Gangga
Glimpse the sumptuous splendor of old Bali in this alluring maze of pools, fountains, and water gardens built by the late King of Karangsem in 1946. Though much of the complex was destroyed by an eruption of Mount Agung in 1963, it has been meticulously restored right down it its eleven-tiered fountain. Intricately carved stone lions, giant carp, and wild boars adorn the pools, which have stepping stones for visitors to walk across. For a small additional fee, visitors can also bathe in the waters. Though Bali is an oasis in itself, this oasis-within-an-oasis is not to be missed.
Besakih Temple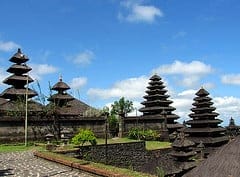 It's hard to stand out when temples outnumber houses but majestic Besakih, Bali's largest and holiest temple, does just that. Also known as the "Mother Temple," Besakih is located 1,000 meters up the south-western slope of Mount Agung, so high it often seems to float in the clouds. Its many tiered, pagoda-like structures offer sweeping views of verdant hills, terraced rice paddies, mountains and streams, perfectly expressing Balinese Hindu belief that man is equally connected to the spiritual world, the world of nature, and the society of man.
Elephant Safari Park of Desa Taro
Set within a large parkland area, this advanced facility is regarded as one of the world's best elephant preserves, dedicated not only to providing tourists with a once-in-a-lifetime chance to interact with these large and intelligent mammals but to protecting the endangered Indonesian elephant by donating a portion of the park's proceeds for habitat preservation. The park's own elephants are rescue animals whose original home in Central and Southern Sumatra has been lost to deforestation. Visitors can watch elephants bathing, touch and hand feed elephants and, for an additional fee, go elephant trail riding through the cool green depths of the Taro jungle.
Mengiat Beach and Geger Beach
Two of the island's most beautiful beaches lie adjacent to each other on the eastern side of Bali's southernmost tip. Mengiat and Geger Beaches both feature clean white sand, blue waters, and a lower vendor-to-tourist ratio than elsewhere in the area. Best of all, they're open to the public so you can use them without staying at an expensive beach-front hotel. Nearby cafes rent beach chairs for a reasonable fee and make for a lively social scene. For sun worshipers, Geger Beach is one of the few places on the island where topless sun-bathing is allowed.
West Bali National Park
Bali's only large natural protected area includes rainforest, lowlands forests, acacia scrub, savanna, volcanoes and an island. With 160 bird species, it's a favorite destination for birdwatchers the world over. Picturesque trails and wild deer and cattle make it a popular trekking spot, though visitors will need to hire a guide to lead the way. The nearby uninhabited island of Menjangan is popular with divers and the calm, clear waters offer some of Bali's best snorkeling. Although there is a luxury resort inside the park, the rest of the area is rustic and hikers must bring their own food and water on the trail.
Best time to visit Bali
The best time to visit Bali is during the dry season of April through October, when decreased rainfall makes the warm weather pleasant rather than unbearably humid.