As a rule of thumb, the best places to go skiing tend to be in the northern hemisphere. The weather's colder, the air tends to be a little crisper and there are several iconic mountain ranges such as the Alps and Pyrenees. Some of the less obvious ranges like the Highlands in Scotland also enjoy popularity with hardened skiers, but there is one part of Europe whose reputation is growing.
Beyond the Arctic Circle
It's believed that the further north you head, the more likely that the mountains will remain snow-capped before and after winter has passed. This is what has helped to make Lapland, the northernmost part of Scandinavia, so attractive for tourists looking to hit the slopes. If you've never been, but fancy something a little different from the Alps, what does it have to offer visitors?
One of the best things about holidaying in Lapland is the fact that, even during December when visitors pour in from all over the world, it's so peaceful. Being off the beaten track to some degree, it offers anyone staying there a chance to be at peace and cast aside all thoughts of their problems at home by taking in the serene atmosphere.
Pyha perfection
One of the jewels in the Lapland crown of skiing is the highly-rated resort of Pyha in Finland. Covered in snow from early December until April, there's plenty of time to put on your skis here, plus it has won awards for being the best resort of its kind in the whole of Finland, as Inghams' Senior Product Manager Ian Brittain explains when talking about Pyha's emergence:
"To celebrate the introduction of the award winning resort of Pyhä (voted Finnish ski resort of the year 2011) to our 2013/14 programme, we've decided to launch a Facebook Ski Photo competition to offer a lucky winner and their guest the opportunity to experience the qualities of Lapland for themselves!
"There's also more second prizes up for grabs, so submit your skiing photos to win some great ski gear! For more information please visit us on Facebook", he added.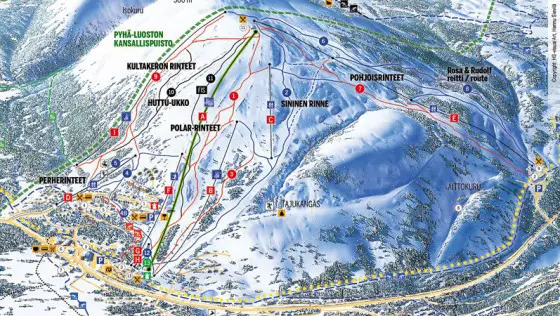 Santa stays here!
Aside from being one of the coldest parts of the world, Lapland is also known for being the home of Santa Claus. During late November and December, thousands of people head to northern Scandinavia and visit his grotto, meet the reindeer and take in all that the winter wonderland has to offer.
Lapland is also a great place to see the famed Northern Lights. As the skies tend to be a little clearer in this part of the world, seeing the Aurora Borealis with your own eyes is something that must be experienced at some point in your life.