I studied in Italy last summer. The teaching assistant was a student who had gone on the trip in 2010. Before we left for our two days in Venice, she expressed how much she hated the city and how she already couldn't wait to be back in our Florence apartment. I was shocked and confused by this. How could anyone hate a town built on water, with water taxis? I grew up in Florida but moved to Tennessee 10 years ago. I was craving the salty ocean water and sandy beaches, so naturally I let her negative comments slide. My experience was full of beauty and love.
We left for Venice on May 26. Apparently this is during the crazy tourist rush. Unfortunately since this was a study abroad trip, I wasn't able to pick out the prime time to visit Venice. However, we found some awesome ways to beat the crowds. I honestly never felt like there was a ton of people there.
Accommodations
Instead of staying in Venice – try to find a hotel on the islands around the city. The water taxis make it easy to get from Venice to the islands. We spent around 20 Euros on a 3-day ticket. Growing up around the water made the taxis a very fun experience for me. However, when you're on the docks waiting for them to arrive – the water thrashes around pretty hard and you're constantly moving. If you tend to get seasick or think you may, you should bring some medicine to help with that. You definitely don't want your trip to be ruined because of the transportation.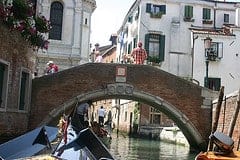 We stayed on and island called Lido in the Hotel La Pergola di Venezia. The owners were probably some of the nicest people we met on the trip. They have hilarious photos of wax statue celebrities around their lobby and up the stairs. Also, in the breakfast room, they have a shirt worn by Johnny Depp hanging on a mannequin.
The cost of a room will run you from around 30 to 60 Euros depending if you're staying in a single or double. Along with a gorgeous room (which were all extremely clean and well-kept) you have free breakfast, a five minute walk to the beach, a beautiful garden, access to rent bikes and best of all, a vending machine that serves beer and wine.
Eating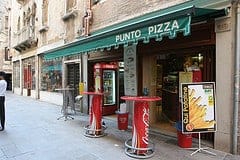 The only time we ate on Venice was before we boarded the train to go back "home" to Florence. We ate at a cafeteria-style restaurant. The food was very affordable, yet very delicious. And to my delight – they had lemon Pepsi. The wait lines weren't long at all. They had a few different "stations" where you can get your food and check out which helped cut down on congestion.
The first night in Lido a couple of us stayed in and bought a couple slices of pizza from a vendor close to the beach. It was around two Euros for a huge slice. We went back at least twice to get more.
On the second night, we went to Trattoria Africa di Diana Daniela. I had the fried fish and it was simply that. The waitress came out with a basket of fried calamari, octopus, anchovies and shrimp. I've never been a fan of anchovies until this night. Every bit of it was absolutely delightful. The fish wasn't overly fried and the batter was the perfect consistency. The meal cost around 10 euros and I was definitely stuffed afterwards.
Tourist Traps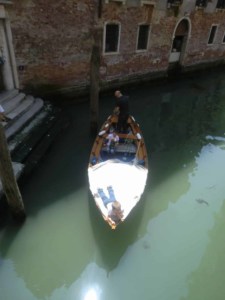 Our group wanted more of a vacation than heavy study time at this point in our trip. We were studying art and the churches all started to look the same after awhile. But one can't go to Venice and miss a trip to St Mark's Basilica or Piazza San Marco. Our professor was able to reserve our tickets online and we literally walked right to the front of the line. Before going in you have to check in your bags, if you have any. Also make sure you are not wearing shorts or a tank top. You will be asked to cover up (remember, it's a church you're going into). The views from on top of the church are gorgeous and you shouldn't miss it. Just remember you can always reserve tickets online either when you get to Venice, or from home before you even leave for your trip.
The Guggenheim
The only other place we went to was The Guggenheim. This is another can't miss for art lovers. If you've become numb to the Italian Renaissance artworks, The Guggenheim is a great break from it all. We also ordered our tickets online and practically walked right in. The museum only allows a certain amount of people in at once – this definitely helps keep the crowds down. Even with that policy in place, I started feeling claustrophobic when I got inside. If this happens, you can sit on the balcony facing the water and take a breather. I actually spent most of my time outside. While you're there, don't forget to put your wish on Yoko Ono's wishing tree.
When walking to The Guggenheim, we went over The Ponte dell'Accademia (or The Accademia Bridge). This is one of the four bridges in Venice that crosses the Grand Canal. It is named for the Accademia Museum that it's next to.
Get lost!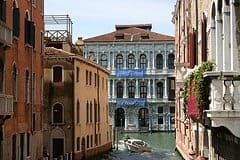 Get lost in the smaller alleys away from the crowds. You'll be amazed what you find and your camera will thank you. I was able to buy some beautiful glass jewelry, masks and sunglasses for cheap. Shopping in the smaller alleys will take you away from the crowds and make your experience so much better.
Even if you're visiting in the summer you can visit the sites early in the morning, or later at night. Save the afternoons for the beach!