We were pleasantly surprised by Phnom Penh, it's vibrant and rich mix of culture and western comfort was refreshing. Nothing could prepare us for how surprised we'd be by Battambang.
5 hours north of Phnom Penh, we hopped on a bus full of locals and set off. Stopping along the way at random shacks to buy food and use what can loosely be described as a toilet. Once you'd navigated your way around the cow obviously.
Battambang is Cambodia's second largest city, situated around the Sangker River. With it's well tended gardens along the banks and it's large array of hotels you'd be forgiven for thinking it may be much like Phnom Penh. Pretty much every road in this city is a crumbling mess. Cars, bikes and tuk tuks bounce their way over the rubble along dark streets as there are no street lights.
On the surface it appears Battambang has little to offer. The occasional temple which of course is immaculately kept and a bustling market just 30 seconds  from the Royal Hotel where we stayed. Spacious rooms in what was probably a very posh hotel back in it's hay day, now the most popular place to stay for tourists. There are very few tourists in this part of Cambodia though so it's a refreshing experience not to be hounded by street sellers every 5 steps and to see a lot less westerners.
We'd been advised to get ourselves a tuk tuk for the day but on venturing out for our first full day in Battambang we got chatting to two moto drivers who ensured us the best way to see the surrounding areas were on the  back of their bike. I wasn't so sure about this, especially with a bag full of delicate camera equipment. Never the less it didn't take much convincing and it was without doubt one of the best moves we've made since our travels began.
We headed straight out into the jungle and villages outside of B
attambang. Out here you see no tourists, only families working together to produce food and earn a living. Our two moto guides spoke very good english and helped us venture into people's houses, introducing us to their way of life. Visting a family that made rice paper,  another that made rice noodles which seemed to involve every member of the family no matter what age.
The people are so unreservedly friendly in Cambodia. People smile when you smile at them. Every child we zipped past on our bikes waved and shouted "Hello!!". We visited an old house in a village built by a wealthy family around 100 years ago. It's ornate wooden beams and balcony made perfectly preserved and still lived in as you would expect. Khmer people leave nothing to waste.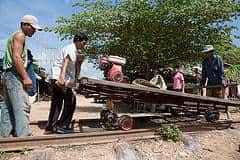 We took a ride on the famous Bamboo Train. When the french built a railway line to Battambang the locals found they could make use of it themselves by creating a set of light weight axels that could easily attach and detach from a small flat base made of bamboo. The single train railway fell in to disrepair when Cambodia claimed independence back in 1953, the Khmer Rouge making it all but useless during their time in power. These days very few freight trains run along the track and no passenger trains so the Bamboo train owners have the run of a few miles helping them ferry passengers and all manner of cargo from pigs to broken motorbikes and the occasional chicken. It's one hell of a bumpy ride and pretty expensive for a tourist to have a go, none-the-less it's a fun experience which you'd be silly not to do if you're in the area.
We got our guides to take us to a local village cafe that had bamboo stilt huts on the side of the river and hammocks for all. Just talking to local people about their customs, traditions and political views was so rewarding. A true highlight of an travel adventure. We had so much fun we arranged to meet our guides the next morning for another day of exploring!
Our next day  lead us out in to the villages. Less of a tour this time and more just finding interesting sights along the way. One of which is the abandoned Pepsi factory on the outskirts of Battambang in one of the villages. Closed in 1975 when the Khmer Rouge seized  control of Cambodia, Pepsi Co. pretty much shut the doors and left the country. Leaving behind crates of unfilled bottles and of course all the equipment to make Pepsi drinks. The Khmer rouge removed most of the equipment inside and smashed much of the original factory. The buildings are now in the hands of the government who use it to store a
couple of vehicles. One man tends to the gardens outside the building, who very kindly let us inside the factory to have a nose around. It's a spooky sight seeing all those glass bottles stacked up with their 1970's Pepsi logo on them. A surreal reminder of days gone past and how quickly things can change and effect lives and businesses.
One of the best parts to moto travel is the fantastic views you get. A real panorama of rice fields, clear blue skies, kids playing in villages, families working. We sped on to Sam Puoy down the infamous Highway 10.
Cambodia is well known for it's insanely bad roads but much has been done to improved them over the past few years. It seems the only road left to do now is Highway 10 and boy does it need fixing! It's almost impossible for vehicles to drive along, so many dips that no matter what sort of vehicle you're on it bounces around on the edge of control the whole time. We saw an articulated lorry on 2 wheels at one point and on more than one occasion i flew up in the air about 3 inches before landing with a jolt on the bike!
It was well worth it though as after lunch and a short trek to the top of Sam Puoy mountain we were greeted by amazing views of the countryside. I think you'll agree it's pretty spectacular. It was a hot day but the temples at the top of the mountain we well worth seeing.
On our way back to battambang we came across some children playing in a local stream. The water was hidelously brown and murky but it didn't stop them running and diving in to the water. It was a very special moment, laughing and joking with the kids,
showing them photos and getting away from any tourists. We were in the middle of real Cambodia and it felt great!
I would highly recommend a guided tour by moto if you visit Battambang. Our guides who like to call themselves "Bernie" and "Jerry" are always around the Royal Hotel lobby each morning. They gave us 2 days of real Cambodia, something I'm very grateful for and was worth every penny.