Starting a new year with a bang is what we love to do and we've got a very special event this January. It's a great month to go travelling, especially to warmer climates if, like us, you're located fairly north in the northern hemisphere! There's a whole world out there aching to be explored so it's the perfect time to dust off the flip-flops and get out there.
In January 2013 we're taking part in an awesome new project called the "Barbados Blogathon", a chance to explore this tiny island in the Caribbean. It may be just 34km by 23 km wide but its warm climate, rich colonial history and laid back culture give Barbados a big appeal. So here's how the Barbados Blogathon works.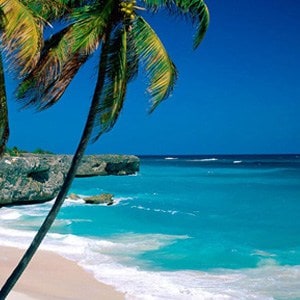 We've got a very fun packed itinerary and we will of course be tweeting and blogging as we go. We'll be swimming with turtles, trying some water activities on the beach, exploring the island by foot and road as well as learning a few local Bajan dishes and sampling the nightlife on the island. We'll also hopefully have time to relax and soak the Barbados vibe. The pace of life moves a little slower in Barbados and that's something us stressed-out Brits could definitely learn from.
Meet the bloggers
In order to get a taste of everything Barbados has to offer, 4 sets of bloggers will be heading to Barbados in January 2013. We'll each be meeting up the day before we leave to  pass on the Blogathon baton and any advice for the next blogger.
Matt & Deborah Preston
Husband, wife and founders of this online magazine Travel with a mate and the pioneering new brand Places To Go. We're living the location independent lifestyle, recently spending 12 months in south East Asia and also completing a 97 day road trip around the United Kingdom. Barbados has always been high on our mutual bucket list and we're keen to see what the island nation has to offer couples for a romantic holiday in the Caribbean.
Abigail King
insidethetravellab.com and @abigailking
Once a doctor in emergency medicine, she changed career completely and is now a successful travel writer for the likes of National Geographic and Lonely Planet. She's also a photographer and a busy travel blogger too, having won numerous awards for her work. She's the first blogger to meet us in Barbados and we'll hand over our Barbados Blogathon Baton! We asked Abigail for her thoughts on the Barbados Blogathon.
"I'm looking forward to slowing down a little in the name of cultural research! As well as checking out the local food and spa treatments, I'm also keen to investigate the country's approach to turtle conservation. Barbados is home to a number of endangered species and I hope to find at least one while I'm there…"
Jayne Gorman
40before30.com and @jayneytravels
Abi will be handing the baton to a self-confessed travel junkie and a very busy travel blogger. Jayne set herself the challenge of visiting at 40 countries before she turned 30. She's currently on 35 with just 2 years to go and her blog chronicles these travels as well as being a great source of inspiration. I asked her about the Barbados Blogathon, here's what she said.
"Aside from looking forward to the beach, pool and spa time, I am most looking forward to exploring Barbados Rihanna style. From the food to bars and shopping, I'm keen to find out what the celebs love about Barbados, especially the haunts of the island's famous resident!"
Niamh Shields
eatlikeagirl.com and @eatlikeagirl
One of the best parts of travelling is often the food and one of the best food and travel bloggers is Niamh Shields. Irish-born, now living in London, she not only travels, eats and blogs but also runs meetups, cookery classes and she even ran a market stall selling th best food she blogged about. The local cuisine in Barbados will be a great new addition to her travel food and she'll be learning to cook Bajan food while she's there.
The sponsors
A project like this wouldn't be possible without the guys that can make it all happen. We'll be flying out with Virgin Atlantic thanks to Tropical Sky, the experts in luxury holidays and resorts. We'll be staying at "The Club Barbados Resort and Spa " on the West coast of Barbados which is an all-inclusive adults-only resort and has some great features we're keen to try, all thanks to Elite Island Resorts.  We'll also be exploring the island and dining out thanks to Barbados Tourism. While we only have 7 days each we'll all be making the most of our time to bring you the local stories. We all know what the brochures say but we'll be looking for the real experience.
You can follow all of our progress in the Barbados Blogathon at @Eliteisland and @Tropicalsky as well as the twitter accounts for each of the bloggers. You can also follow the whole Barbados Blogathon via our very special twitter hashtag #bdosblogathon. We'll each be tweeting every day with photos and video so keep an eye on the official feed for that. You can also follow us on Facebook at facebook.com/travelwithamate for more photos, videos and more!
For the latest tweets check out the feed below and be sure to tweet us with any questions or feedback you have.
Tweets about "#bdosblogathon"