It's strange, living in Britain. For a country that has such a love affair with Indian food, we are quite a suspicious bunch when it comes to actually eating it in India. The phrase Delhi belly is synonymous with traveller's diarrhoea, and the unpleasant consequences of spice-laden curries are often the butt of jokes in our comedy films; even the fairly innocuous ode to India The Best Exotic Marigold Hotel squatted to this level.
If you're an intelligent traveller, you can avoid tummy upsets as well as cultural stereotypes while on the road; yes, even if you've booked flights to India. Basic hygiene is important no matter where you are in the world, but one thing to bear in mind is that India is a tropical country and the warm weather can cause bacteria to grow quickly.
If you have a strong stomach you might want to run down to the nearest street vendor right away: and I don't blame you. Indian cuisine is an overwhelming assortment of aromatic smells, tastes, and textures. Gastroenteritis be damned. But for the first few weeks it's wise to sit street food out, at least until your digestive system acclimatises to the, shall we say, "different" hygiene practices.
Don't drink the tap water
Tap water in India is not safe to drink: obviously that means sticking to bottled water, or boiling tap water if you're really desperate, but you need to be vigilant when it comes to putting anything in your mouth. Those ice cubes in your mango lassi? Those could have you sitting on the toilet in excruciating agony for the rest of the week (well maybe not that extreme, but you never know). That fresh salad? What has it been washed in? See you in the bathroom.
If you can't peel it or cook it, then don't eat it. It's as simple as that, really. Your raw food diet may be all the rage back home in New York or London, but in India it's likely to see you losing a lot of weight for a different reason.
Street Vendors
Despite these warnings, don't be put off sampling a taste of India. When you visit a street vendor, follow the crowds. Standing in a queue sucks, but if the vendor is busy then they're likely to have a good reputation amongst locals. Food is less likely to be lying around gathering bacteria if it's selling quickly. Just keep an eye out to make sure the food is being cooked through properly, and avoid reheated rice.
Eat vegetarian food
Dedicated meat eaters may groan, but by far the safest cuisine to eat in India is vegetarian. I know, I know, it's boring. Wait, actually, no, I don't know. India is a haven for vegetarian food and you may surprise yourself: after sampling spicy rich muttar paneer, indulgent aloo paratha, and lip smacking bhindi ki subji you'll be signing up for PETA in no time. One vegetarian street side snack you must try is the Kolkatan favourite phuchka: bursting with potatoes, coriander and green chilli with a hint of tamarind it's bound to have you going back for more.
Indoor Restaurants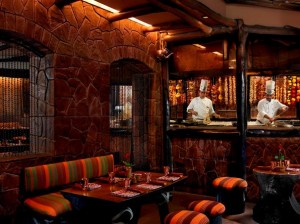 If you have a weak stomach, or are simply a bit apprehensive about venturing out and speaking to street vendors, never fear. There are some great indoor restaurants across India and if you're staying in a hotel they're likely to point you in the right direction. In fact, some of the hotels are home to amazing restaurants: the Bukhara in New Delhi has played host to fine celebrity guests such as President Clinton and Iron Chef judge Simon Majumdar: and it's located in a Sheraton Hotel. Be prepared to get messy as you tuck into traditional chicken tandoori, and relax in the knowledge that your flight home will be a comfortable one.