Amazing hotels in Bali you will love
Posted in: Uncategorized
No matter if you love traveling with bag packs, or stay at a luxurious hotel – the amazing island of Bali can offer every type of traveler whatever he or she needs! And we are not exaggerating! Bali is really an incredible place to stay at, no matter your budget or lifestyle because here you can experience absolutely everything that your heart wants!
To prove that to you, today the team behind Travel Ticker and I are going to present you five most amazing hotels in Bali you won't want to check out! All these hotels are not only an incredible place to spend your night at, but also will gift you one of a kind experience as well! So, without any further ado – here they are!
Mara River Safari Lodge
The word "safari" in this hotel's name can help you get the idea what you can expect if you decide to visit this hotel. And if you understand this word as a place where you can absorb the wild animals from Africa – you understood it right! And yes – you can do that all in this fantastic hotel in Bali as you were in Africa as well!
You can check out zebras and elephants walking around while you are swimming in a huge pool. Or you can dine in a beautiful restaurant and see how real living lions live through the glass wall! In this amazing hotel, you can feel like being in Africa for sure, and this is definitely one of the best places to stay at no matter if you wish to have your holiday with children, or just want to spend a romantic getaway with your significant other.
Villa Pererepan (or Villa Awang Awang)
This hotel is a dream come true for all travelers who seek romance. Really – what could be more romantic than the illuminated fireflies dancing around in the jungle while you are totally alone together with your loved one?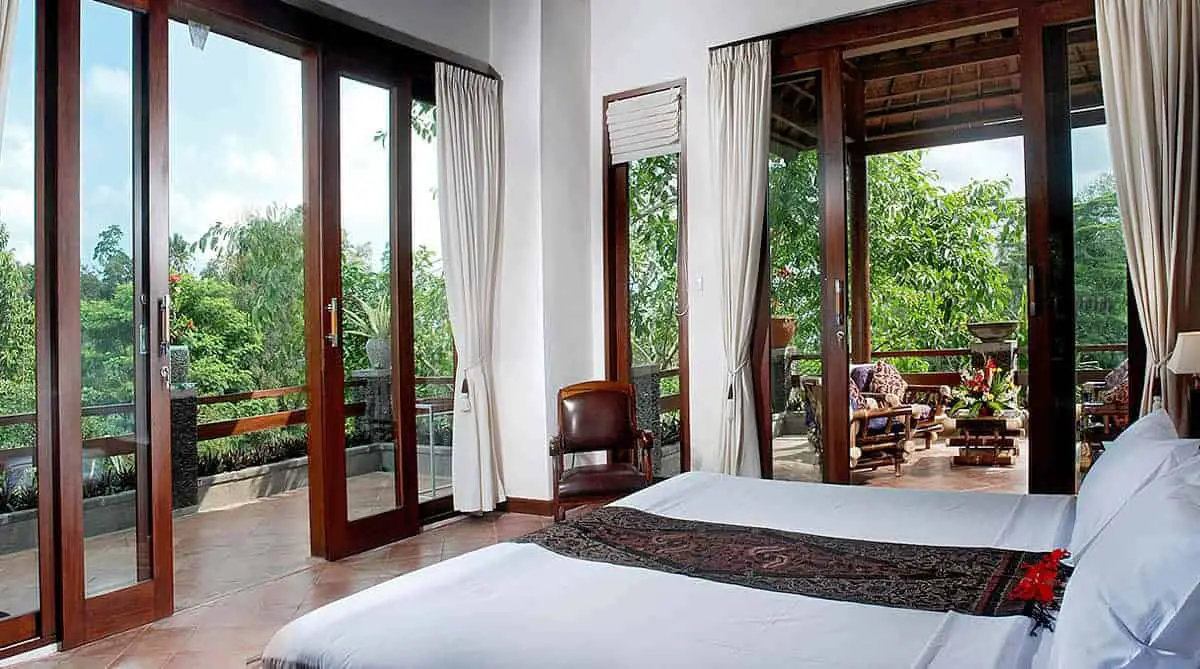 Villa Pererepan is located Petani river valley, surrounded by gardens and jungle, and is just ideal for those who dream about the magnificent natural surroundings and peacefulness all day long. Of course, it should be remembered that this hotel is in the jungle so mosquitoes and a variety of bugs here might be a bit of a problem, but I believe that amazing view and extraordinary feeling that you and your beloved one are the only people in the world will deal with all mosquitoes pretty quickly.
Villa Bambu Idah
If you ever wondered what it is like to live like a local Balinese person, but not totally want to sacrifice the modern world perks, then Villa Bambu Idah is the one! Wooden houses, which you can reach with wooden ladders, a natural swimming pool, and a rope over it, which you can use to make Tarzan's leap – everything can be used to describe what it is like to stay at Bambu Idah.
Moreover, in the evenings, you can enjoy a wonderful cocktail while admiring the magnificent mountains and immense rice fields views making you feel very relaxed and in love with Bali.
Desa Atas Awan Hotel
For travelers who love nature more than anything, Desa Atas Awan hotel can also be worth considering as a perfect place to stay while being in Bali. Large land seeking windows that overlook the fabulous human untouched panoramas and the ability to admire the spectacular valleys and mountain scenery will take your breath away for sure. Moreover, if you are an eco-friendly traveler, this hotel is also worth visiting!
Every single thing you will find in this hotel is made from reusable materials, so it is not only breathtaking to stay here but also it helps the environment as well!
The Dragoon 130 Yacht
And finally, for a really one of a kind experience in Bali, you can also book your stay at… yacht! Created from extremely high-quality materials, this hotel afloat in the middle of the sea. But that doesn't mean that it should be somehow worse, than an ordinary hotel on hand. In fact, here every traveler will find everything he needs for a luxurious vacation: from a fantastic sound system, high-quality ebony skin and eco-friendly interior details everyone will find luxurious and one of a kind.
The yacht has six apartments, which can accommodate more than 12 people, so it can be quite a perfect place to have your private family holiday for sure. Although, staying here, as you might get the idea, can be quite pricey. But only one night in this beautiful yacht will be the experience as is!