Manila is stuck in a constant state of anarchic chaos and endemic poverty, set to a soundtrack of car horns and catcalls. Within ten minutes of arriving I'd been offered tickets to a cockfight, sex and fake Raybans. My answers were no, no and yes. After an hour, I'd been asked for a photo, money and directions to the hospital. Yes, no and no sorry. After two nights we caught an internal flight to Boracay in search of sun and somewhere with coconuts.
Whilst travelling, news tends to reach hostels a little later than most places. It was facebook statuses and 'I will always love you' tributes that alerted me to Whitney Houston's tragic demise. I think the amount of time which passes between a celebrity dying and jokes emerging is a good reflection of their notoriety. When Heath Ledger died, it was a week before weak double entendres regarding his roles as The Joker and a gay cowboy surfaced. It was two days after Steve Jobs passed away before someone told me he wouldn't be going to heaven, because he can't get past Gates. However, I received the text 'Say what you want about him but at least he had the decency to drive slowly past schools' before I'd even heard Michael Jackson was no longer moonwalking the earth.
Playing gigs
We've played a few gigs here at a variety of clubs, beach bars and hostels with set-ups ranging from semi professional to embarrassing. To date, our best performance was at the onomatopoeic Boom Boom Bar. It began with Steve and me playing a couple of acoustic songs and ended with a ten minute medley of 'Stuck in the middle with you' and 'Superstition' as we were joined on stage by a Swedish blues harmonica player and two rogue Philippinos playing bass and cahon. Conversely, at the last place we played, our 'soundman' spent more time delivering vodka redbulls to a group of rowdy Russians than checking our output levels. And I'm pretty sure it was him who tried to sell me half an hour on a jetski yesterday. We've received an interesting array of methods of payment including San Miguel, lobster and free accommodation. Most things but money, really.
Beach Football matches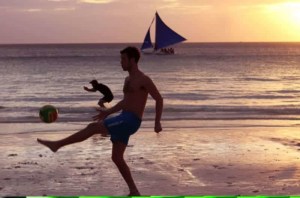 After a couple of successful beach football matches I was invited to make my debut appearance for Boracay Island F.C against a team of Korean expats from the neighbouring island. The set up was as shambolic as an army of archbishops trying to navigate a nightclub. On the journey there, our boat had to turn around twice. Once because we forgot our goalkeeper. And a second time when our captain dropped the only football overboard. At the stadium, stones served as touchlines and the referee acted like a paralytic policeman, sprawled on his back by the side of the pitch, blowing his whistle whenever he awoke from slumber. On the pitch, communication occurred through comparisons, points and whistles. Communication which involved me anyway, everyone else spoke in Tagalog, the Philippino national language, of which I'm a worse speaker than Fabio Capello is of English. When I scored my teammates shouted 'You Rooney!' and offered high-fives. When I missed they cackled 'You Torres!' I think we won but I couldn't double check with the ref because he was whistling his kebab away from a stray dog.
Making new words as we travel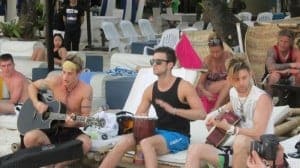 We've also found ourselves inventing words, two of which I intend to write to the Oxford English Dictionary upon my return to demand their inclusion in the next edition. We were in a club watching a ten piece band entertaining tourists and locals alike. Two hundred people were dancing to a mixture of disco, funk and blues when the band whipped out an eighties power ballad. Within thirty seconds the dancefloor had emptied, as everyone picked this exact moment to go for a drink, chat or the toilet. This is a floorkiller. That's one of Steve's. The following day, I was walking to the smoothie shop for a mango lassie when a ladyboy walked past me. (S)he had made minimal effort and, alongside the protruding adam's apple, was wearing leg hair and a smattering of stubble. This is a lazyboy. That's one of mine.
These additions to my personal dictionary may have been subconsciously influenced by being exposed to another new word slash concept. The whorist. This is a blend, like brunch or guitarthritis, of the words whore and tourist. It's a phenomenon you encounter in most parts of South-East Asia but it seems more prominent here than Thailand or Cambodia, probably due to the cocktail (no pun intended) of poverty and pretty girls. The enchantment seems to centre around the fact that a fifty year old also-ran can come out here and, with just a few thousand pounds, achieve demi-god status by becoming the gateway to the West for girls who've grown up dreaming of a life in a romanticised, Hollywood version of our world. At first glance, something seems intrinsically wrong when a western man starts courting someone his daughter's age by bridging the cultural chasm between them with money. But, if he's able to offer her a better quality of life, and they're both happy, then who am I to judge?
An unexpected change of career
However, these frequent sightings have led to an unexpected career change for both Steve and me. We were strolling down the main plaza, minding our own business, when we saw a forty-something American ex-army squaddie standing next to a Philippino girl. He was holding his wallet in one hand and shamelessly counting out thousand peso notes in the other. After handing her a bulging bunch of currency, they started holding hands and walked off together. This can be pinpointed as the moment when we became Private Investigators. Self-employed. We were intrigued so we began our first stake-out and followed them. The wide-jawed squaddie was now walking with such a purpose we were almost jogging to keep up. His new friend stopped at three separate shops and persuaded the frustrated Yank to part with some more cash for a little black dress. It seems prostitution is like travelling with Ryan Air; there's a shedload of hidden charges. It appears that before they went back to his, the dress acted as some sort of entrance fee (pun intended). By the third stop, it was hard to decipher whether the scowling sex tourist was angry at waiting or suspected we were following him. P.I Rule Number Two: Don't get caught. So we disappeared down a dark alley and reemerged a minute later. But as we looked around, they'd gone. We rushed up to the main road, split up and checked left and right. P.I Rule Number Three: Cover all angles. Still, they were nowhere to be seen. We retraced our steps, and through a rudimentary process of elimination, decided they must have turned down a side road into a hotel complex. We walked down the short dust road and arrived at the entrance of two hotels. The Sunshine Inn and The Red Coconut. Admittedly, the names of these hotels encompassed the two things we were searching for in Boracay, we just didn't expect to encounter them in such an unsavoury context. I think we lost our first case, but during our post operation de-brief chat, we realised we weren't really sure what would have classed as a success. P.I Rule Number One: Know what you're looking for.
Getting Boracay-ed
To conclude, Boracay more than merits the accolade of second best beach in the world which Trip Advisor has bestowed upon it. Bright white sand, transparent azul water and blood red sunsets render this South-East Asian jewel a clichéd travel agency's wonderland. The total tranquility and perma-paradise that my new favourite island emanates daily is evident in the problems we've encountered; two days ago, I was playing pool on the beach and was furious to discover that, at certain angles, the sunlight prohibited me from accurately telling the spots and stripes apart. Furthermore, last weekend, Steve ordered a mango and pineapple shake and, to this day, is still pretty sure they forgot to put the pineapple in. I don't know who Trip Advisor awarded the prestigious best beach title to, but I can't see how their problems can beat Boracay's.