With over 17,000 different islands, ranging from little islets dotted with palms to the colossal valleys of Sumatra, Indonesia offers one of the greatest concentrations of untouched natural beauty that can be found anywhere in the world. With all the fascinating wildlife, breath-taking photo opportunities, and some of the most popular scuba diving spots anywhere on earth, you might feel pretty overwhelmed when you're planning a trip to Indonesia. To make things easier for you, here's a list of the most incredible natural wonders you can see in the country…
Komodo National Park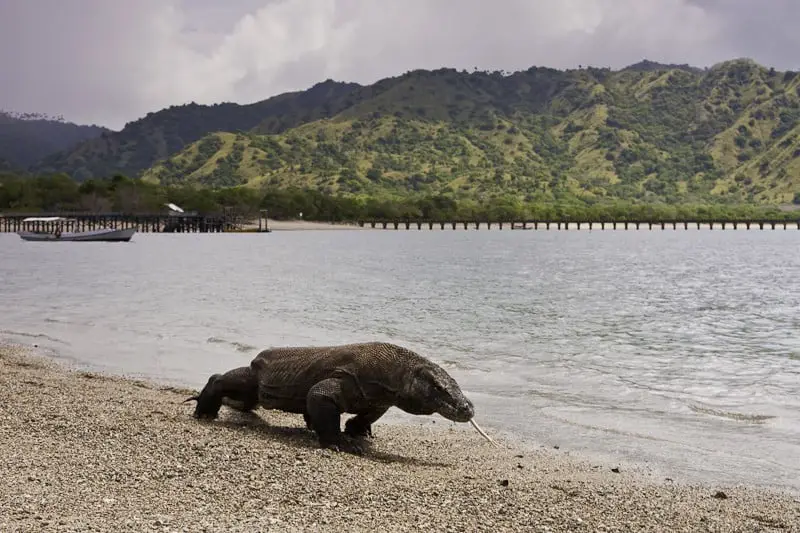 This barren, rocky island stands out from some of the more fertile areas of Indonesia, and its most famous species is also very unique. Komodo dragons are the world's largest species of lizard, with some adults growing up to three metres long. These fascinating creatures can often be seen walking along the beach when you visit the island's central camp of Loh Liang. The staff at the national park run guided walks lasting around half an hour, which takes you past a dry riverbed at the nearby Banu Nggulung. Here, you can see monitor lizards in their natural habitat; another massive reptile. Regular two-day boat trips to Komodo depart from Labuanbajo, a settlement on the nearby island of Flores.
Tanjung Putting National Park
This is another great place if you want to see a lot of wildlife on your trip to Indonesia. Tanjung Putting is a massive national park stretching over 4150 square kilometres of central Kalimantan, which is the Indonesian-owned southern part of Borneo. Aging, but surprisingly comfortable riverboats, will take you up the Sungai Sekoneyer river, with plenty of stops where you can see orangutans being fed on a three-day journey towards Camp Leakey. This is a wildlife rehab centre where orphaned or formerly captive orangutans are taken care of and trained to re-enter the wild. As you travel up the river, you'll also have a good chance of seeing vibrant birds like kingfishers and hornbills. Just remember to stock up on mosquito repellent and Malarone to keep the area's less appealing wildlife away! If it's in the budget, you can even rent out famous two-story teak houseboats privately. Note that these are known as Klotok in the local language.
Raja Ampat
If you're planning to bring your scuba gear on your trip to Indonesia, then Raja Ampat (just northwest of Papua Island) is an absolute must. Above the glinting blue ocean, you'll see scattered, rounded hills covered in luscious tropical forest, in between tiny islets and tucked-away coves. Beneath the waves, the natural beauty becomes even more stunning. Epaulette sharks (those are small!) and Manta rays will drift over a multi-coloured underwater landscape of coral, broken up by massive underwater ridges, walls and valleys. You're also likely to see shoals of parrotfish and barracuda patrolling their habitat. If you're not planning on scuba diving while you're out here, you can still have a great experience through kayaking, snorkelling and cruises on traditional schooners.
Lake Toba
At the northern end of Sumatra's range of volcanos, at a height of 1130 metres, Danu Toba is the home of a caldera of a local super-volcano; the largest volcanic lake on earth. The beautiful ocean-blue waters cover a massive 100km expanse, and frame the land wedge of Pulau Samosir, home to the fascinating Batak people. The sleepy, winding roads around the region are excellent for exploring the land by bicycle, which has made Lake Toba one of the most popular tourism spots in the whole of Indonesia.
Mt Bromo
Indonesia is studded with volcanoes, and seeing at least one makes the "to-do" list for many travellers who visit the country. If you see just one during your trip, make sure it's Mt Bromo. With its immense, almost surreal height, Mt Bromo is one of the truly epic natural spectacles you can see in Indonesia. A massive 10km-wide crater, formed by the turbulent volcanic history of the land, is overshadowed by the smouldering peak of the volcano itself. There are massive plains of hardened ash and volcanic sand, stretching from end to end of the crater, and the peaks of Kursi and Batok stand either side of Mt Bromo, making it seem even larger! If you can, try to see the crater during sunrise. 4×4 excursions leave from the settlement of Cemoro Lawang in the early hours of the morning in order to capture this sublime natural spectacle at just the right time.
Harau Valley
If your trips aren't complete without some interaction with the locals, be sure to make a stop in Harau Valley. This is surrounded by towering limestone cliffs, stretching up to 100 metres high, and enlivened by the waterfalls of Lemba Harau. If you're adventurous enough, you may want to join rock climbers who negotiate tenuous routes up through the cliffs. However, you'll probably be more at home taking the walking trails through the bright green rice paddies which fill the base of the valley. Taking this route will allow you to see how day to day life goes by in the area. If you want to stick around and learn a little more about the local people, there are many comfortable homestay programs in the area that are popular amongst western tourists.
Api Banda
People go to Mt Bromo to feel dwarfed, but visit Pulau Gunung Api Banda for the sheer beauty of the volcano. This volcano has a distinct conical shape, resembling Japan's iconic Mt Fujiyama, but is only around 650m high, and as many people will agree, the country's most picturesque volcano. The slope is steep and challenging, but most visitors manage to climb to the peak in around three hours. Once there, you'll have a spectacular view of the surrounding islands, and possibly a sunset unlike any other you've seen before in your life!
If you want to make sure you're soaking up all the natural beauty Indonesia has to offer, be sure to visit a few of these amazing sights.