I'm sure you would agree the Lake District is one of the most beautiful places to go in England.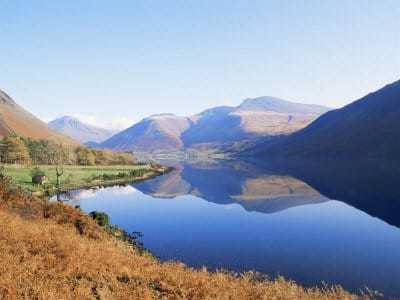 But what are the best hills in the Lake District for walking and trekking this year? I wanted to share with you some reasons why I think these are the 7 best places to trek in the Lake District.
Whether you're a beginner or a skilled expert, be sure to try one of these walks on your next Lake District trekking holiday.
Do let us know how you get on.
1. Cat Bells
With its peak measuring just 451 metres and its slopes far from difficult, Cat Bells is one of the Lake District's easiest hill walks. A two-hour journey from bottom to top, the trip up Cat Bells rewards visitors with a truly outstanding view.
Pack your camera and capture incredible photos of Derwentwater and Keswick – a charming town located just a few miles from the hill itself. Cat Bells itself is easy to spot from Friar's Crag – another popular walk located close to Keswick.
Watch this fantastic trekking guide to Cat Bells
2. Great Crag
At just 440 metres in height, this fell is great in name only. Great Crag might not be the Lake District's tallest hill, but its rugged terrain and rocky surface make it very different from other Lake District trails.
The walk up Great Crag starts from Rosthwaite, with visitors circling around the hill as they scale it. Make sure you pack your camera, as the summit view is incredible.
We love this first-person view of Great Crag. Well worth watching.
3. Binsey
Famous Lake District fellwalker Alfred Wainwright was always fond of this small yet beautiful hill on the northern border of the Lake District. Binsey measures only 242 metres taller than its surrounding farmland, but offers one of the best views in the entire Lake District.
On clear and sunny days, visitors can see all the way to the Isle of Man from the peak of this rather modest fell.
Check out some of the views along the way to Binsey in this video
4. Scafell Pike
England's tallest mountain is one of the Lake District's most rewarding fells. At 978 metres in height, scaling Scafell Pike is a serious effort – a trip that rewards visitors with one of the best views in Cumbria.
Scafell Pike's central location in the Lake District makes it an excellent lookout over the entire region. While the mountain's rather bare summit isn't a feast for the eyes, you'll enjoy some of the finest views in the Lake District on the way there.
Another awesome video from BMC worth checking out before you walk Scafell Pike.
5. Latrigg
Short and simple, the climb up Latrigg is one of the most popular in the Lake District for beginner walkers.
Conveniently located close to Keswick, this modest hill barely exceeds 360 metres in height, yet it offers an excellent view of nearby Skiddaw.
Be sure to watch this video before setting off to walk Latrigg
6. Walla Crag
Another Keswick walk, the climb up Walla Crag rewards visitors with an incredible view of Derwentwater. The crag itself is closer to cliff than hill, cutting off suddenly as it approaches the boundaries of the lake.
The trip up Walla Crag is far from difficult, taking about a half day for experienced fellwalkers. The summit is immensely popular with photographers due to its views of Derwentwater, Keswick, and Skiddaw.
Watch this video guide to walking Walla Crag
7. Skiddaw
Climbing over 930 metres above sea level, Skiddaw is one of the tallest peaks in the Lake District. The mountain is easy to spot from Keswick, where it forms one of the skyline's most easily recognisable silhouettes.
While Skiddaw's immense height might make it seem like a challenging trail, it's one of the Lake District's easiest fells to scale. Numerous routes up the mountain depart from Keswick, making it a remarkably easy hill walk to access.
And finally here's a great video guide to trekking up Skiddaw
What to read now
Read about the best emergency kit to have while trekking.
[tp_hotels_selections_discount_shortcodes city="8643″ title="Hotel discounts for the Lake District" paginate=false off_title=false type_selections="tophotels" number_results="10″ subid="" city_label="Windermere" type_selections_label="Top hotels" link_without_dates=true]