We've all been there — it's the morning of your flight and you find yourself hauling a suitcase that you already know is over the weight limit. You tried to keep your choice of clothes nice and simple, but you ended up packing everything anyway. Being indecisive can cost you at the check-in counter, where you will find yourself paying for every extra kilo. If only there was a way to successfully pick the perfect items for your trip away.
The good news is that you can easily achieve a more economical packing regime by mastering the art of building a capsule wardrobe. By putting in some time to carefully plan your clothing, you can bring along everything you need, and leave the kitchen sink at home. Read on to discover our five essential picks for luggage-friendly packing.
A relaxed midi dress
Bring along a relaxed midi dress, such as this Isabel De Pedro bird print number from Jules B, as it's something you can wear to and from the beach, at lunch, or even out for dinner in the evening. The dress has a tie-knot and open back, which makes it perfect for days when the sun is shining.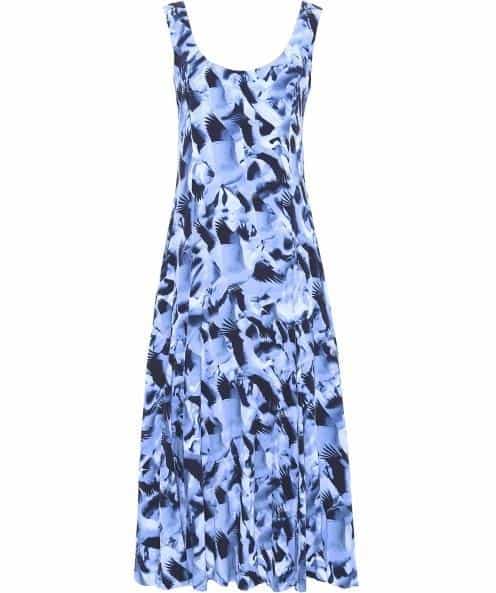 A beach-worthy tunic dress
With a tunic dress, you can wear it casually through the day, and you double it up as a beach cover-up when you want to relax. This stripe print tunic dress from Asda George has an attractive striped pattern, vintage style sleeves, and a self-tie belt for cinching it in at the waist. It's a stylish choice that won't break the bank.
A flattering swimsuit
A beach holiday wardrobe wouldn't be complete without at least one swimsuit for when you'relounging around on the shore or splashing through the waves. Plus, they don't take up an awful lot of space in your suitcase, so you might even be able to bring along a few choices. We like this Seafolly Optic Wave Deep Swimsuit from Surfdome, which is very flattering and has an attractive geometric pattern.
A pair of flexible flip-flops
Flip-flops really are the flexible footwear of the holiday season — they can be worn to the beach, round the pool, out for a casual lunch, or just around the apartment. As you will be wearing them quite often, comfort is key, and they don't come comfier than those from Havianas, the original Brazilian brand. These Slim Animals print flip-flops are durable as well as funky, fall apart on the second day of your holiday.
A pair of stylish sunglasses
Like swimwear and flip-flops, a pair of sunglasses is essential for a beach holiday, and the more stylish the better. These luxurious Italia Independent I-I MOD 0807 COMBO sunglasses are incredibly well made, with a frame of plastic and steel. They're also very on-trend, with a combination of angular and rounded lines creating a shape that stands out from the more generic crowd.
Pack the five essentials listed in this article and you will be well on your way to building a capsule wardrobe that won't leave you paying for any unexpected luggage weight. Bon voyage!