Seville is located in Andalucia -the southern area of Spain-, and it is probably the most underrated city of the country. Unfortunately, many visitors tend to focus on Madrid and Barcelona while leaving Seville behind. So if you plan to visit Spain some time soon, don't miss it because it's a gorgeous place with lots of attractions and cool things to do. There is an incredible number of monuments and sights that you can visit while you are here. You may have already read about some very well known ones: the Cathedral, the Giralda tower or the Alcazar, for instance. But what most people aren't aware of is that Seville is a very fun and cool city that can be discover differently. If you are an independent traveller you are generally looking to get to know places on your own, away from the tourist circuits.
I want to tell you about 5 great things to do in Seville, things that you won't find in a guidebook.
1. Enjoy the sweeping views from the Metropol Parasol lookout (Plaza de la Encarnación)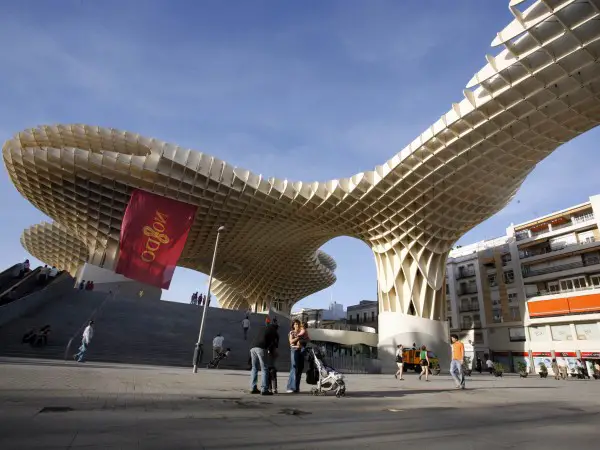 The major recently inaugurated one of the biggest works that has been done in Seville for years. It's called Metropol Parasol and it's a very modern structure located in the city centre. The access to the upper platform will cost you 2 €/person and you'll have the chance to enjoy some amazing views of Seville.
2. Visit the Parroquia de San Lorenzo (Plaza de San Lorenzo)
Built in the 14th century, the Parroquia de San Lorenzo is a very good example of the gothic-mudejar style. This style is the perfect blend of the North European gothic and the Arab-inspired mudejar one. The church obviously suffered as time went by but you can see many Arab details in the bell tower. The altarpiece was designed (1632) by Martinez Montañés, the most important Sevillian sculptor of that time. San Lorenzo is right at the center (you'll recognize him because his handing a gridirion, symbol of his martyr). I also love the painted façade and the square, one of my favorites in Seville. Additionally, if you go next door, to the Basilica de Nuestro Señor Jesús del Gran Poder, you can have a look at the most famous Christ in Seville. You can even go behind the altarpiece and touch his heel.
3. Eat a "piripi" at La Bodeguita de Antonio Romero (c/ Antonia Díaz, 19)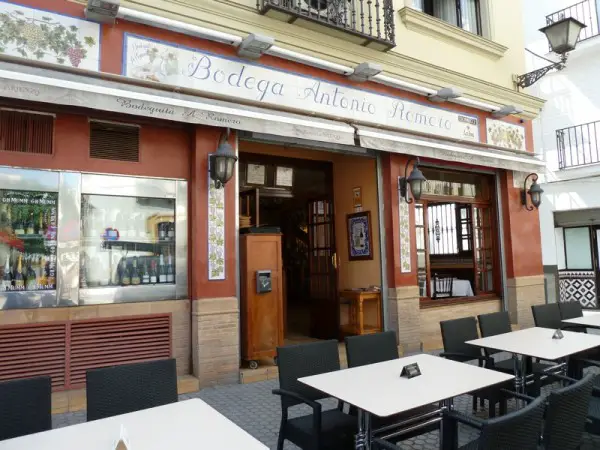 One of the main elements of Spanish gastronomy are tapas. A tapa is a "little dish" or a snack-size food that you can eat in most of the bars in Seville. After living here for a long time, my tapas bars list is extremely long but one of my favorite ones is La Bodeguita de Antonio Romero. This bar is famous for a tapa called "piripi" and it's the only place where you can have it. A "piripi" is a small sandwich of pork fillet, bacon, cheese, tomato slices and mayonnaise. It's delicious!
4. Have a drink at La Carbonería and listen to great live music (c/ Levíes, 18).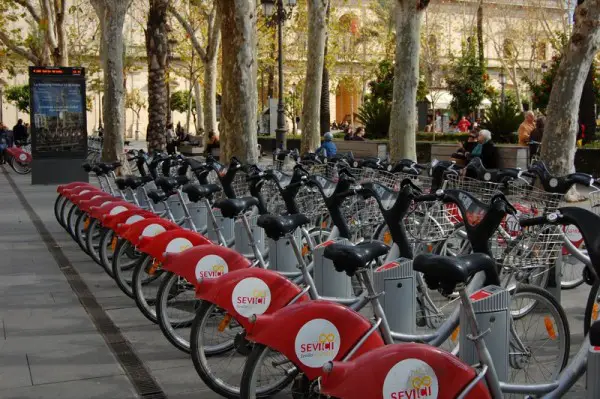 This place used to be a coal warehouse but today it's a very fun bar where you'll get a glimpse of the famous Spanish nightlife. It's a popular place so no matter the day of the week you go, there will always be a great atmosphere. Moreover, lots of local artists perform there and the live music is usually great.
5. Rent a bike and have a ride around the Parque de María Luisa.
The are several shops where you can rent a bike in Seville but in my opinion the easiest way is to use Sevici. Sevici is the bike rental service managed by the City Council and it works great. It's very easy to use and all you need is your credit card. Get to a Sevici station, go to the terminal and follow the instructions. You'll pick up your bike in a couple of minutes. Once you have your bike, head to the Parque de Maria Luisa. It's the biggest park of Seville and riding there is delightful. The park is full of great paths and corners but my favorite place is the Plaza de España. And if you prefer smaller places you can always ride to the Jardines de Murillo, a much smaller park but beautiful as well. I hope that these ideas encourage you to plan a trip to Seville and if you are already doing so, print this list and include it among your things to do. If you have been to Seville already, please let us know in the comments below what your highlights were!