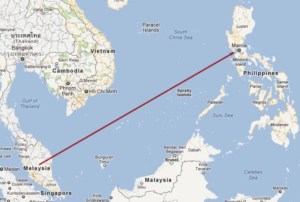 The Philippines is a place that's always been high on our list of places to go. It's outstanding natural beauty, friendly people and interesting history have always made us curious to explore. Like many our 3 week journey would start in the capital city of Manila.
As we were in Malaysia it made it easy for us to find cheap flights to the Philippines with our partner Air Asia. Flying from Kuala Lumpur's Low Cost Carrier Terminal (LCCT) the journey took just short of 4 hours. There are officially two Manila airports and Air
Asia Currently fly to the airport that is around 2 hours by bus or taxi from central Manila. The bus is around 700 pesos while a taxi can cost around 3000 pesos so try and share a cab if you want a quicker trip to the city.
There's no shortage of places to stay in Manila. It's city much like Bangkok, well prepared for tourists. We opted to stay at a very nice hostel called Where 2 Next in Malate district. Definitely an area popular with Japanese and Korean judging by the number of far eat restaurants and Soju in all the local shops. The hostel has great private rooms and clean dorms with a simple breakfast and good common area. It's also an easy walk from lots of tourist sights.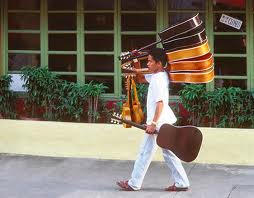 After a long day of travel we enjoyed the local Japanese cuisine which was very well priced. I'm always a sucker for Japanese food. Just down the road from our hostel is 3 small roadside makeshift bars that closely resemble sheds with plastic chairs outside. After a tip off from a backpacker at our Hostel we decide to check it out. The Philippines is famous for its San Miguel beer. Something I've enjoyed back in the UK many times but had no idea it was Filipino! At just 35 pesos for a 'SML' aka San Miguel Light (around 50 pence) we settled in for some people watching. Much like Bangkok the people watching included all sorts from 'ladies of the night' at least I think they were ladies, to street vendors selling everything from hot chestnuts to laser pens, fake watches and even guitars ( one man was carrying 13 guitars at once!). After a few too many SML we headed back to our hostel for a long sleep. Thankfully it was a quiet and comfortable hostel!
Rizal Park in Manila
A full day of sightseeing ahead would involve lots of walking. Mostly around our district as the roads can get very congested here. There's all sorts of fun Filipino transportation options from horse and cart to Jeepney and tricycle.
We walked to famous Rizal park. Definitely a popular spot for tourists and Filipinos. Especially dance groups who use the wide open spaces to proactive their routines. A wonderful sight to see as you stroll around. There's also a huge fountain display which is well worth checking out.
José Rizal Monument
The park also contains a very striking monument to the hero of the Philippine's path to independence. In 1896 José Rizal, a Filipino political activist, was executed for rebellion, sedition and conspiracy, sparking widespread revolution against the Spanish occupiers. On the site of his execution stands a collection of larger than life size statues depicting the moment he was executed by firing squad. Quite a sight and you can walk among the statues that tower over you like trees. Definitely worth seeing.
There's also a large map of all the islands of then philippines up past the freedom warrior statue that looms over the north side of the park. The map is a great idea as the models of islands are amongst a pond you can walk over. Sadly it's in need of repair now and with the signs showing names of major islands all removed its a fun but unhelpful map of the Philippines.
A modern city
Manila is a modern city like any other these days. You'll find an abundance of Starbucks coffee shops, 7Eleven and KFC. There's some impressively huge shopping malls too. Our stay in Manila was short but sweet. We had fun people watching and drinking the local beer. Wandering the streets and enjoying the parks. Our bus out of town would leave early as we head South to go snorkelling with whale sharks.
We liked Manila even for just our brief stay. In fact more than we thought we would. It's modern enough to be familiar, Asian enough to be crazy and Filipino enough to be exciting and different. You'll no doubt spend a day or two there on your Philippines holiday so I'm sure you'll enjoy it.