History, Food, People, Nature and Fun! These are great words to describe Seoul, the capital city of South Korea. Seoul may not on a list of the most beautiful cities or the most popular tourist spot in the world, but Seoul has everything travelers are hoping for. Beautiful in all 4 seasons, fun activities all around the city, rich cultures to learn, warm hearted people to meet and lots of exotic cuisines. Now, I introduce you 10 great things to do on a tight budget plan in Seoul.
Get historical
Seoul is a very historic city. Over 600 years, Seoul has been Korea's capital city. Seoul city has done a great job preserving Korea's history.
First, I recommend you visit Gyungbok-gung (Gyungbok Palace), Seoul's principal Palace. Built in 16th century during Josun Dynasty, but ruined by Japanese invasion and renewed in 19th century. Start with the National Palace Museum which has all history about Gyeongbok Palace. From the main gate you can see the architectural beauty of the Palace.
Moreover, various performances happen during the weekend, such as the ceremony of the opening and closing of the palace gate and also the changing of the guard. There's also traditional Korean musical instruments and the actual outfits they used to wear in the old days.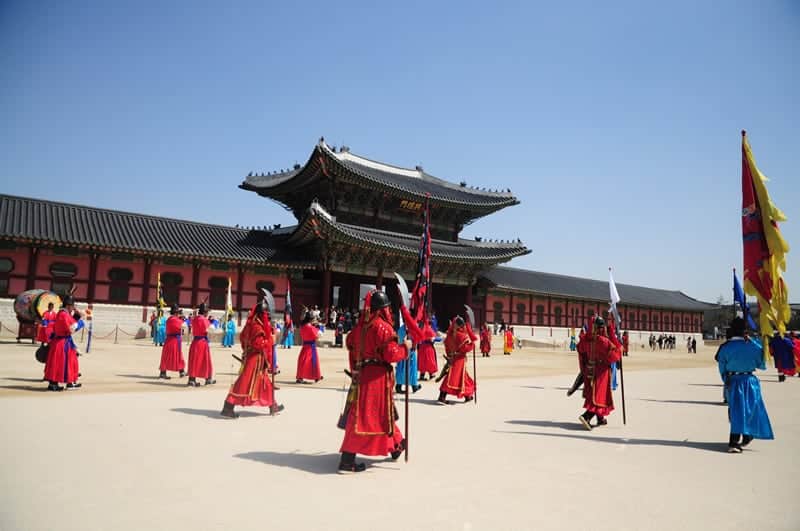 There's more than just Gyeongbok Palace in Seoul, there are many other Palaces around this area. Changdeok Palace, Deoksu Palace, Jongmyo, and Changgyeongung Palace. All these palaces have different history, and architecture to explore.
Just beside Gyeongbok Palace, the greatest museum in country, The National Folk Museum of Korea. The museum is free to enter and is the best way to learn about the people and culture of Korea. How people are living in Korea before and now. Farm life, food, Hanbok (Korean traditional clothes), and of course the royals. You can experience Hanbok by yourself too!
Don't forget to visit Insadong, a major historical tourist spot, just a block away from the museum. Make sure you try some Korean tea at Insadong.
Experience the history of Korea. The best way to start the journey!
Be cultural
See a Musical in Seoul. It is not Broadway but it has its own charm. Korean theater is getting more popular. Seoul is becoming the center of culture in Korea and the best thing about theater in Seoul is you can be really intimate with actors. Most theaters are small, just 100 seats or so, but it's not a downside. Audiences get to participate to make a different conclusion at one show (under 30,000 won/25 USD per a seat).
There are many movies too. Nowadays Korean directors have won many international film awards. Catch some great Korean films and many other foreign movies at cinemas (8000 won/6 USD per person).
Can't leave out live music when we mention Seoul's culture. There are many live music bars in many areas, Jazz, Blues and of course Rock. Sometimes bands are just playing in the park or streets. Feel some culture!
Flatter the taste buds
Korea is known for it's spicy food. But that's not all. You will be very surprised when you see the huge variety of cheap and delicious delicacies. Food is a big part of Korea's culture. There are many Korean restaurants too but the street foods are definitely worth to try it. Tteok bok I (rice cake with hot-sweek sauce), Umuk(Fish paste), Mandoo, Dak ggo chi(chicken on a stick) to name but a few. You can have a feast for just 2000 won/1.6 USD per person.
Be a nature lover
Yes. Seoul is a big built up city but they have made an effort to preserve and create nature friendly places. You will notice there's a big river in the middle of the city called Han River. Recently renewed, both sides of the river amazing parks. Large grass fields, a running track, bicycle friendly roads and trees everywhere. On a sunny day, sit besides the river and just enjoy the view.
Other big parks are in the city too. Haneul Park near World cup stadium, Youngsan Park, Citizen Park, and Namsan Park, etc. These are the main forest parks but they all have a different charms.
Recently Seoul redeveloped the  city centre, mixing the old with the new city. For example at Cheonggye cheon there used to be a stream but it has now been reclaimed. So Seoul decided to build a stream like it used to be but fancier. Now there's a waterfall, sitting areas and rocks. This is fast becoming a really nice spot to take a little break for citizens.
You'll find Seoul is a nature loving city. The parks are a nice break from a busy city.
Go hiking
If you look at a map of Korea, or Seoul, you will notice a lot of narrow contours. Yes Korea is a Mountainous country. Seoul is no exception. Hiking is very popular in Korea and you can guess why!
Around Seoul there are lots of beautiful mountains. Bukhansan (Mt.Bukhan) is located to the North.  A procession of large granite rocks create a superb view and introduce Bukhansan. Superb nature view in a big city is going to be a unique experience.
Most mountains are not difficult for beginners to climb maybe that is why hiking in Seoul is really popular. At the top of the mountain, view of the busiest city in the world surrounded by mountains, can you imagine a view like that?
View, view, view!
Seoul N Tower, located at the top of Namsan (Mountain Nam) is a romantic wide view of Seoul with clean air to breath. The way up the tower is amusing. Gorgeous looking trees and flowers are welcoming you. You can go under the tower or up to the viewer deck, either way you can get a beautiful view.
On the Han River, you can see the tall, thin and gold colored building. It's the tallest building in Seoul, 63 building. When I was a kid, my family went to Han River Park quite often and I would count floors every time I saw the building. Well, I would failed most of the times because I got bored! At the top of the 63 building there is a viewer deck (7000 won/5 USD). Check out the amazing view surrounded by a large river in the middle of the city.
Great Festivals
Festivals are a great way to have fun for free! Seoul has many festivals almost every month. Various themes, organizations and goals. There's the 'Hi Seoul' Festival, Seoul Jazz Festival, International Women's Film Festival, Seoul World DJ festival and many more. Seoul even celebrates St.Patrick's day!
Most festivals are free and sometimes they give out souvenirs. Check information before you visit Seoul, or just visit websites of information centres.
Take a ride
Seoul Metro is very clean, cheap and convenient. You can go out of Seoul by the Metro too. The metro system has so many lines so it can be really confusing to use. Directions can be tricky but once you figure out the system then the subway is the best way to get around Seoul. It's usually 1000 won per one way ticket but it changes according to distance.
There is also a cable car up to Namsan which has been there for over 40 years. A round ticket is 7500 won and one way ticket is 6000 won. You can climb, but the view in the cable car is phenomenal! I recommend going up by cable car and coming back down by walking. It's a great way to take beautiful pictures of Seoul.
Be a Bargain Shopper
Traditional markets are a big part of Korean life. In the traditional markets you can get a much cheaper price than in stores. Koreans always like bargain prices. Namdaemun Market, the biggest market in Seoul is where you can see customers haggling for the best price, I often ask them to  "Cut the price if I buy two things!" which I think is a pretty reasonable offer! The concept of  2 for 1 is born in traditional Korean markets I'd say.
Fashion central is also a cheap place to shop. Shinchon or Hongdae area, there are many unique vendor streets. Hand crafted work is available, beautiful clothes or accessories. These are often at great prices but you can still haggle for the a bargain.
Wherever you go, you can easily find traditional markets in town. Learn how to say "Please, can you give me a little cheaper?" in Korean. Believe me, it is useful!
10. Night out
If you've now done all of the above what else should you do? I recommend you visit these places again at night! For example, Cheonggye cheon is a beautiful stream that is nice to relax and walk around, right? It is still beautiful at night as well, but has different a vibe. Roads and waters shine by beautiful lights and make a wonderful night time view.
Namsan, the small mountain in the middle of the city, is known as the best spot for a night view of Seoul. The road to Namsan itself is nice too. Seoul N Tower on the top of  Namsan has many colors at night. You can also check out it away from the mountain because Seoul N Tower can be seen far, far away.
All the bridges over Han River are gleaming at night. Each bridge has different a theme. You often see many photographers taking photos of the beautiful bridges. Re-visit, or visit nice places at night and see different side of Seoul!
Overland tour to Seoul
If you're looking to visit Korea check out this itinerary for a tour from Beijing to Seoul over 14 days, from Intrepid Travel.