On the South coast of England, just a 1 hour train ride from London, is the famous city of Brighton & Hove. A true British seaside resort packed full of everything you'd expect, from fish and chips to doughnuts and piers. There's lots to see and do in this vibrant and cosmopolitan town. Here's our top 10 things to do in Brighton.
Dolphin Derby on the Pier
Brighton is probably most famous for it's Piers. While it does have 2 piers you can only go on 1 of them! The grade 1 listed West Pier closed in the 70s and never re-opened, slowly decaying until it mysteriously caught fire in 2003. The Palace pier is still standing strong, although now renamed to "Brighton Pier". It's packed full of arcade machines, penny drops, doughnut vendors and stomach churning fairground rides. But there's only really one reason to go on the Pier and that's the Dolphin Derby! A cross between skeeball and the grand national.15 people battle it out to get as many balls down holes as you can while your dolphin races across in front of you. It's uniquely Brighton and an institution to all those that live there. It's also massively addictive!
Pavilion museum
Prince Regent was, lets face it, mental. He came to Brighton 200 years ago in search of supposedly healthy sea air. He built a palace here that was originally a modest french farm house design but over the years morphed into the insanely beautiful asian party palace it is today. Far from get healthy he lived a life of indulgence and adorned his palace with all manner of asian artefacts and interior design. So much so a whole new design style was born. The "regency period" style has to be seen to be believed. Massive dragon chandeliers, gold leafed ceilings, massively inaccurate murals and a stunning dining room fit for a 32 course meal. No wonder he had gout! There is no palace quite like this one. Well worth checking out.
Stroll along Brighton beach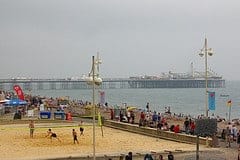 Brighton has one of the busiest and most accessible beach fronts on the South coast of England. You could walk from the Marina, 2 miles to the East all the way to Portslade a few miles to the West. But I'd suggest heading down to the Pier and strolling along westwards towards Hove. There's a huge array of art galleries, bars, night clubs, amusements, cafes, restaurants and beach side sports all along the beach so you'll be happily entertained along the way. Even in winter the sight of the waves crashing against the piers is a dramatic and entertaining sight.
Shopping in The lanes of Brighton
The narrow passageways and streets of the famous Lanes in Brighton is a quirky little quarter packed mostly with jewellery shops, restaurants and bars. You'll easily get lost in the streets but you're never far from a main road and there's so much to look at there you could easily lose an entire morning (or afternoon) just browsing and eating! The Lanes opens up to an area packed with coffee houses and independent shops with a wonderful Brighton atmosphere. Grab yourself a coffee (or pint) and people-watch for a while
Check out some comedy at Komedia
One thing Brighton has always done well is performance art. The Komedia is arguably the centre of the comedic arts in Brighton and plays host to my favourite, the Krater Club every weekend with Brighton's best loved comedian, Stephen Grant. It's a great way to start a night out (or end one depending on which performance you see) but it's always a great show. I've yet to see a bad comedian. There's also lots of other comedy events, performances and live bands playing in one of the rooms here. Komedia is situation in the North Laine area. Not to be confused with the Lanes! Laine means field in case you wondered. (I remember when this was all fields!)
See your favourite band at a gig in Brighton
Music and Brighton go together like a pebbly beach and ice cream. A good number of famous British bands are from Brighton and you'll find most pubs and concert venues in Brighton are packed most weekends with local bands. It's also the one city that is always on every famous band's tour dates. Chances are the days you come down, a famous band are playing at either the garish 70s looking Brighton Centre on the sea front or the beautiful Brighton Dome concert hall right next to the Brighton Pavilion.
Open top bus to Devil's Dyke
Brighton is surrounded by sea on one side and rolling hills on the other. None more rolling than "Devils Dyke". A double decker open topped bus leaves the station regularly taking you on a tour out of Brighton and up to the Dyke. While it can get a little windy up top the views of the coast are beautiful and once you're at Devil's Dyke there's a pub serving some decent food and cosy surroundings. Devil's Dyke is also the place to go Zorbing, if you're mad enough to try it (I have!).
Go out for dinner at Preston Street
There are hundreds of amazing restaurants in Brighton. Often tucked down little side streets and hidden in the Lanes. There's also a famous road packed with tasty places to eat, Preston Street. If you're on the sea front and you see "China Gardens" a huge chinese restaurant, then you've reached the bottom of Preston Street. Walk up it and breath in the gorgeous smells from all the cuisine on offer. Everything from chinese to marrocan, indian to mexican. While it's true this road has seen better days (with a number of establishments closing down) It's still the place to go if you can't decide what you want to eat. Just follow your nose.
Take the Brighton sewer tour
Most of Brighton as you see it today popped up during the Georgian and Victorian period. A time of immense industrial growth and engineering. All these grand hotels and 4 storey town houses need plumbing after all so a grand sewer was built, and grand it was! So much so, the local water company now offer tours of this engineering marvel. You enter from an unsuspecting door on the sea front and pop out of a drain cover in the middle of a park, much to the bemusement of those above. It's ornate brickwork and ingenious construction make the journey underground worthwhile. It's not as smelly as you'd think as 90% of sewerage is just water from baths, showers and washing. Just wear sensible shoes!
Paint the town rainbow coloured!
When Brighton was transformed from a sleepy fishing village in to the getaway destination of choice, it soon became known as the resort town everyone wanted to visit. It has never lost this image and if anything is even more popular now, with thousands of bars, pubs, restaurants and night clubs. Many day trippers jump on the train and come to Brighton to party. There's numerous "strips" filled with bars and clubs, even with it's own thriving gay district. You'll never be stuck for somewhere to eat, drink and dance the night away. Brighton will always be the place to come and party. There are festivals almost back to back all year round and of course there's Gay Pride in August.