One of Europe's most well known international waterways, the Danube River is a lifeline, a vital shipping route, and an international creative hotspot. This amazing river has been at the heart of European creative and political history for thousands of years.
Today, it's every bit as important as it historically was.
Read on to learn 10 interesting Danube River facts to enhance your travel experience!
1. The Danube River is longest non-Russian river in Europe
Europe's longest river is the Volga – an incredible 2,294-mile expanse of water that travels across Western Russia. The continent's second-longest river, however, is the Danube – a 1,777-mile river that travels from Germany to Ukraine.
2. It flows from Germany all the way to the Black Sea
Its incredible length and straightforward West-East direction give the Danube one of the most impressive journeys in history. This remarkable river starts in the Black Forest region of Germany and travels all the way to the Romanian Black Sea coast.
Check out this incredible view of the Iron Gates of the Danube River.
https://www.youtube.com/watch?v=VtxSxrBx70k
3. It's a 20th century graveyard for powerful warships
In 1944, sensing defeat was imminent, hundreds of German ships were scuttled in the Danube to avoid capture by the Soviet Union. Today, the warships can be seen from the banks of the Danube river during summer, as the river's water level falls.
4. The Danube River passes through or beside ten different countries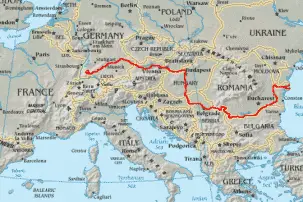 As it travels from the Black Forest to the Black Sea, the Danube passes through or beside ten different countries. It also passes through some of Central and Eastern Europe's most important cities, such as Vienna, Budapest, and Belgrade.
Check out this video for a quick teaser on why you should take a river cruise along the Danube.
5. It's lined by a series of popular bicycle trails
The Danube is an important local landmark, as well as a popular tourist site. As it travels through major cities, the Danube is lined by hundreds of bicycle trails and walking paths.
6. It's been a historical hotspot for artists
The Danube River is more than just a shipping lane – it's one of Europe's most important cultural landmarks. The river has featured in Greek legends, Romanian folk songs, and hundreds of modern novels.
7. It supplies drinking water to millions of people
Its immense volume of water makes the Danube one of Central Europe's most vital sources of fresh drinking water. The river supplies millions of people with drinking water, particularly residents of the German city Stuttgart.
8. It's one of Europe's most important shipping routes
Through the Bavarian canal system, the Danube River connects the Atlantic Ocean with the Black Sea. Because of this, it's one of Europe's most important shipping routes, capable of accommodating even the largest of shipping vessels.
9. It's home to hundreds of amazing flora and fauna species
The Danube is a hotspot for flora and fauna, boasting almost 200 species of fish in its waters. During the Middle Ages, the river was an important source of food due to its huge supply of sturgeon.
10. It's becoming a hotspot for scenic river cruises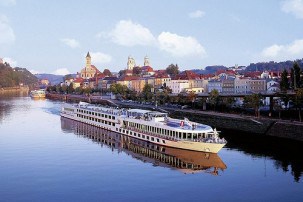 Once a primarily economic river, the Danube River is quickly becoming one of Central and Eastern Europe's most valuable tourist destinations. River cruises on the Danube, as well as tours around its many cities, are very popular with international visitors.
Need some advice on river cruises? Our friend Gary Bembridge is the man to watch on Youtube.