I've been an avid skiing fan for many years now and have known a number of people that spend their winters in the French Alps as a ski instructor. Its one of those jobs that always makes me jealous. As stereotypes go it's a pretty cool one. Live the chalet lifestyle, ski most days, keep fit, meet new people all the time, party in the resorts and enjoy the mountain views on a daily basis.
Of course the reality is it's a lot of preparation and hard work but by all accounts it's a very rewarding occupation and a great way to see more of the world. There's a number of aspects you need to think about if you're thinking this is something you'd like to do. So with the thanks of my friends and a researching a few sources I've put together my guide to skiing for a living.
Can you ski?!
Firstly and quite obviously you need to know how to ski. While some may learn pretty quickly its safe to say that you need to be at least intermediate if not advanced in your ski skills. Having skills in both skiing and snowboarding are not essential but its definitely worth giving both a go. First and foremost your ability to ski well and look after your students is what will get you jobs. If you haven't skied for a while then its best to hit the slopes as soon as you can. If you have dry or indoor ski slopes near you be sure to make the most of them. You need to ski confidently and know that you could help out others should they need assistance on the slopes. Not always the easiest thing to do.
Decide where you want to instruct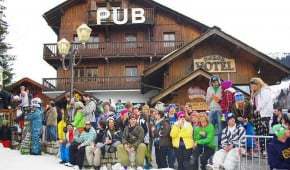 Again it sounds obvious but this can make a huge difference to everything from wages to accommodation, friends to food. If you're heading to somewhere that speaks a foreign language then you might want to learn some of the lingo! Research what else there is to do other than skiing, how easy to get there and what it will cost you. Culturally your experience can be very different between skiing in New Zealand, the USA and France, so do your homework and be prepared. Also worth thinking about what else  you want to achieve while you're away from home? How easy will it be to get a working visa? While all these things can be overcome they all play a big part in your overall experience and ultimately whether you enjoy being a ski instructor.
Pass your exams
What? Exams? I hear you say! In order to be a qualified ski instructor you need to pass exams that are either internationally recognised or are specific to the country you want to work in. Canada has the CASI and CSIA examples, New Zealand has NZSIA. America is PSIA and a number of european countries will only accept ISIA qualifications. These qualifications do involve some paperwork of course but don't worry, they also include a lot of hands on skiing to test your skills. If you apply your ski skills and your motivation to become and instructor you'll have no problem, the big question is where do you get the qualification?
Instructor courses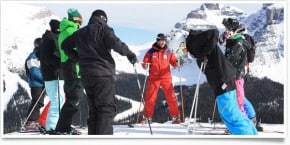 The best way to prepare, learn and pass the first stages of your exams are on  ski instructor courses. These are intensive courses right at the slopes where you'll spend time with other students and a fully qualified instructor. You'll tackle one of the 2 levels of exams. The first being an entry-level ski instructor qualification which would allow you to work at specific ski resorts that accept level one, while level 2 is an internationally recognised advanced ski instructor qualification. So depending on how serious you are about being an instructor, you can work towards becoming fully qualified over a couple of ski seasons.
Its worth noting these courses are pretty full on with 6 hours of skiing per day over 2 to 12 weeks, so make sure you're fit and ready for it. The great thing is you'll be out on the slopes and getting hands on experience so its the best way to learn. The fact you can have a qualification within 5 weeks is pretty awesome. There are even dedicated Snowboard instructor courses too. Check out Snowskool, one of the world's leading ski and snowboard instructor companies. If you're thinking of instructing in Canada, France, New Zealand or the USA then these guys are worth looking up.
If you're wondering what's included in the courses you'll be surprised to discover that an impressive amount is. Group flights, airport transfers, breakfasts and dinners, lift passes, tuition of course, even video analysis and personal feedback. All this plus the Level 1 exam fees too.
Budget wisely
So you've got fit, got your qualification, packed your bags, but what about your budget? In the excitement of a new adventure its easy to overlook the one thing that can make or break your entire experience. Especially if you're heading to a foreign country, the cost of living is something you need to research in detail. Work out what you can afford, where you'll live, what your commute might cost you. How much money you'll earn and what you'll be spending it on each week. An exciting new vocation can easily turn in to a nightmare if you can't afford your rent or can barely afford pasta for dinner each day!
As an example, adult ski instructors in Canada's Big White ski resort earn between $12 / hour to $22 an hour depending on your qualifications and availability. With rent in the area at around $400 a month for shared accommodation. So you need to factor in accommodation costs, eating 3 times a day, bills and of course the all important Apres Ski!
Bottom line is becoming a ski instructor is achievable, fun and a not just another job. It's a whole new way of life. I have friends who spend every winter in the French Alps as ski instructors and wouldn't want to spend their winter's doing anything else.