Amsterdam is a beautiful city of canals, cafes and tasty restaurants. It's historic centre is a feast for the senses
in more ways than most cities
. With cheap flights to Amsterdam daily, it's one of the most accessible urban landscapes you can visit with great trams, frequent buses and of course it's canals that loop around the centre of town. But when you're short on time and full of travel adventure there's only really one way to get around Amsterdam and that's by
bicycle
.
Bicycle hire in Amsterdam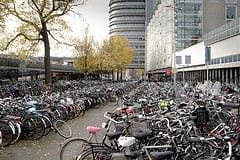 There will never be a shortage of bicycles in Amsterdam. As soon as you arrive, whether it be by bus, car or train in to Amsterdam Central, you'll see thousands upon thousands of them lining the pavements. How people ever find where they parked their bike is a mystery to onlookers who take photos of the sprawling mass of metal and wheels. One thing is for certain, you're never too far away for a bike hire shop in Amsterdam. They're very cheap, usually around 6 to 8 Euros and very easy to use. Before you know it you'll be joining the masses who take to the well laid out streets of Amsterdam. Nearly every road or path has a cycle path right next to it, often with traffic lights for cyclists. The pace is steady and the freedom it gives you compared to cars or canal boats is fantastic.
Amsterdam history museum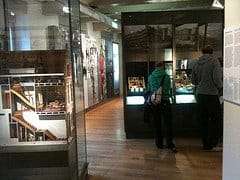 One problem with hiring a bike in Amsterdam is finding your way about. Reading a map while cycling is impossible so you'll soon find yourself stopping every few blocks to work out where you are. On the plus side many of your stops will be next to beautiful canals with cute bridges and gently rustling trees, plus of course the sight of hundreds of people on bikes! One great destination to head towards is the Amsterdam History Museum. If you want to learn the history of this amazing city it really is a must. Everything from it's initial roots in the early 12th century right up to modern day, with artefacts, paintings and often amusing descriptions depicting life over the centuries. While the entry fee of 10 Euros is fairly expensive it's well worth visiting and is much larger than you'll first think. You can also get an audio tour headset for an extra 4 Euros if you really want to immerse yourself in the history of Amsterdam.
Canal tours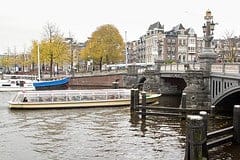 There are many canal tours in Amsterdam, usually around 30 Euros a ticket. You can hop on and off whenever it stops and you'll get to see the city from a whole new perspective. The pace is slow so you'll need to factor in the time it'll take to get from one location to another, but you'll have the advantage of a relaxing sit with great views all the while. For more things to do in Amsterdam I can recommend checking out Time Out's "What to see in Amsterdam" which has a great list of the latest events and tourist attractions.
Bars in Amsterdam
One thing Amsterdam does very well is drink. The dutch produce some truly world class beers (usually Pilsner) and in Amsterdam they have some world class pubs too. They also have some of the smallest pubs you'll find in any city! Down the cobbled streets in the centre of town you'll often find them next door to each other, with maybe 15 to 20 stools and ornate Olde Tavern decor. Every pub should look like the pubs in Amsterdam. Everyone of which looks inviting, cosy, friendly and full of character. Stop at a pub or two and people watch for a while. It's a tourist attraction in itself. Visit during summer for blue skies and outdoor seating or visit during Autumn and watch the colourful yellow leaves fall from the trees while sipping a Grolsh or two.
Accommodation in Amsterdam
As with any well connected European city you'll find accommodation to match any budget here. I've stayed in cheap bunk bed hostels here right in centre, I've always experience some great boutique hotels overlooking beautiful canals too. Personally I would recommend a serviced apartment or "short term rental property". It's basically a home away from home giving you the best quality of stay while you're there. Apartments in Amsterdam aren't as expensive as you might think. If you do enough searching you'll often find their prices match those of hotels but of course you get a lot more for your money. If you really want to feel part of a city then I recommend you stay in a real city home.