You definitely won't go hungry if you're visiting New York City on a budget. With enough cheap eats to keep even the most serious gastronome happy, all you need to do is find some cheap flights and start exploring New York's foodie underbelly.
Forget about India and Thailand: some of the best street food in the world can be found in New York City. You can ask for recommendations from staff in your New York hotels (although they might want tips of a different kind in return), or simply follow your nose. I recommend the following food carts. Some have won awards, some have queues in front night and day, and some are just so good you'll almost wish you hadn't tried them.
Best for… Mediterranean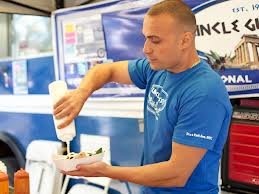 Head to 345 Park Avenue to sample Uncle Gussy's Traditional Greek Cuisine for a taste of the Med. Made from scratch by Katerina, an authentic Greek mama, the food is lovingly seasoned with oregano imported from Greece. Try the Tzatziki sauce; made fresh every day, it's the best in New York. Visit unclegussys.com for more info
Best for… Halal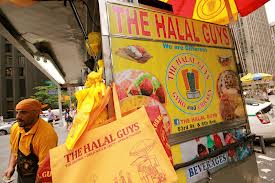 For the most famous street food in New York, a visit to the Halal Guys on 53rd and 6th is a must. You can't quibble with $6 for a huge portion of chicken, lamb, or both over rice. Mix your hot sauce into the white sauce for a truly blissful dining experience.
Psst… if the queue's too long, they own the cart across the street; and that's open all day. Check them out at 53rdand6th.com.
Best for… Asian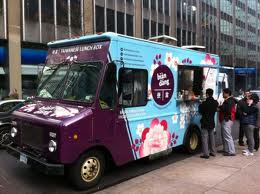 If KFC isn't your thing, try TFC (Taiwanese Fried Chicken) at Bian Dang. Or try something a little different: their appetiser of anchovies and peanuts makes a surprisingly tasty snack. Their menu is short and simple, allowing them to concentrate on perfecting their specials.
You'll find more information at biandangnyc.com.
Best for … Mexican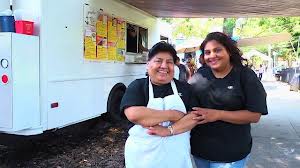 Red Hook Ballpark in Brooklyn is well known for its outstanding South American food stands. You'll be spoiled for choice in this area, but don't miss the opportunity to visit Piaztlan Authentic Mexican; winner of the top Vendy award in 2012. No bells and whistles, just awesome barbacoa tacos.
You can find them on Facebook here.
Best for… Vegan
If the thought of street meat leaves you feeling queasy, seek out The Cinnamon Snail, serving up organic gourmet vegan treats. Think vegetarian food is boring? One bite of the Provençal white wine grilled tofu baguette with kalamata olive tapenade should change your mind.  If not, the raw food jalapeño chocolate brownie definitely will.
For more on these guys go to cinnamonsnail.com.
Best for… Dessert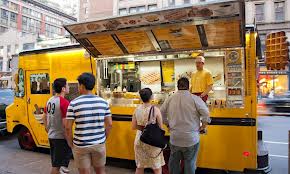 To finish up try Wafels and Dinges: a moving waffle cart that can usually be spotted around the Central Park area, serving up savoury and sweet waffles with a variety of toppings (dinges). Try their spekuloos ice cream, which is, according to their website, made from spiced cookies and "children's laughter."
Definitely go check out their website at wafelsanddinges.com.