Since 2010 when the first iPad was launched, tablets have taken over the computing world and there's now a huge range of devices to suit everyone's budget. Not only are they the sexy new face of modern computers, they're also one of the best options for taking your computer on holiday with you.
We were recently invited to a blogger outreach by Acer, a brand that has been building tablets for other companies like Google for a while but only recently launche their very own tablet, the Iconia. We were given the opportunity to put it through its paces and see whether it stands up to the travelling lifestyle.
What is the Acer Iconia A1-810?
There's some important things to know about the Iconia A1-810. It sits within the "mini tablet" range with an 8 inch screen (20cm). Its built to be highly portable and runs the latest version of Google Android. It weighs just 410 grams and has a battery life of around 7 – 9 hours constant use. I had the wifi only version but 3G capable versions are available. The biggest selling point over the Iconia is it's price. At around £160 its the first tablet I've used really brings the portable smart-tech era to the hands of pretty much anybody. But will be able to handle everything this tech loving traveller can throw at it?
Travelling with the Acer tablet
My previous smart phone and tablet experiences have all been with Apple's iOS devices so I was keen to see how Android tablets stack up. Especially as the current opinion is that Android is now more feature rich than iOS. The Acer Iconia runs a very standard verison of Android rather than a skinned and themed version that Samsung devices seem to have. The min tablet size can almost be handled in one hand with your fingers behind it and thumb to navigate. Most of the time its a 2 handed device though but its mini size means you can easily fit it in to any bag. It slide perfectly in my day pack and even in my wife's handbag. Its lightweight enough that you could happily take it anywhere. The casing is robust and solid enough to feel it could stand up to most situations. The back is white plastic rather than the brushed metal you get on the iPad but it still feels well-built, especially for the price.
Living with Android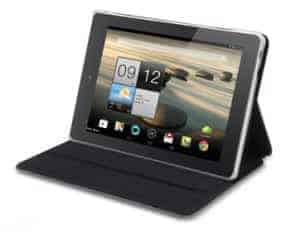 From the moment i first switched it on i had most of the setup done for me. Once I'd conected the wifi, Android asks for any google account details. My gmail account was easily connected for me along with my Google+ account. The screen offers a number of places to put a selection of apps and even some widgets that can display latest news, emails, weather reports. While the screen isn't HD "retina" quality it was bright and colourful enough and easily read in sunny conditions too.
I've spent the last few weeks using this tablet as my primary means of browsing the internet, checking email, playing games, facebook and twitter to name just a few. It handles it all pretty well and pretty fast too. I've noticed a few quirks along the way worth pointing out.
Google Play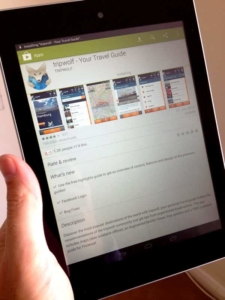 Google's answer to the AppStore. This is where you can get all the apps you need, from games and social network apps to the all important travel apps. While its fair to say there's definitely fewer apps than compared with Apple's AppStore, it pretty much has everything you need. Digital guide books, hotel and flight comparison apps and Google Maps too with turn-by-turn directions. The one thing that lets Android down is the way in which you purchase. It's rather daunting at first when it's not made clear how to buy and install apps. In my opinion it gives too much information at once creating a messy and confusing experience. The device does automatically update apps which is great although apps are by default kept in an "apps" area where you have to drag them to your home screens to use them with less taps. Not sure why they can't just be on a new home screen.
Unlike it's Apple based competition, there's no "home" button on the front of the device. Just the screen and a small camera. Because of this i spend more time trying to work out which way up the device is. While this doesn't affect the software as it just flips the screen for you, it does matter when you're hunting for the only button the device that wakes it up. I actually prefer a front facing button to wake up quickly.
Design
While the tablet itself is nicely designed, the look and feel of Android is a bit clunky. The device can handle all the animations with ease but the general look of slide-down menus and buttons is a bit drab and "windows 95" looking. Maybe this is why some manufacturers decide to skin their versions of Android. One appealing feature is the ability to customise so much of the look with your own personal touch. From lock screen widgets and backgrounds to animated home screen backgrounds and interactive features on multiple sliding pages. It's easy to make this device your own and easily access just the things you like the most.
Everyday use
Overall I found the tablet easy to use and a welcome addition to the increasing number of mobile devices. I wasn't sure if the "mini" format would suit me as I usually go for power and larger screen size but the Acer Iconia was surprisingly a great fit. I didn't think twice about taking it out with me, whether to take photos, digital guide books, source local information or just relax and play a few rounds of Candy Crush.
Conclusion
I think Android devices and especially mini tablets like the Iconia feel more like leisure devices than work devices and this was definitely the way I treated it. As travel usually falls in to the leisure category it was a good fit. Enough power to do the things I want without the size or weight to worry about.
At around £160 it brings tablets in to the realms of a near throw-away item. Something you could happily take with you anywhere and not worry too much about the occasional scratch, happy to upgrade a year or two later and take your android eco-system with you to another Acer device. While its no "iPad killer" it does punch well above its weight for its price.
Watch the promo video here to see it in action. I can't promise owning one will make you as smug as these people look but personally I enjoyed using the Iconia.
http://www.youtube.com/watch?v=-nulhwoRQRU